The genesis of this groundbreaking series was a moral obligation to highlight obvious discrepancies in the coordinated smears against Jacob Appelbaum (IOError). That smear campaign's self-pronounced and ostensibly achieved aim was to permanently shut down his (anti-surveillance, anti-three-letter-agency) public speaking by casting him out from the very communities he has dedicated his life to supporting.
Implemented, that aim had very little to do with protecting actual rape victims but everything to do with manipulating (by asserting social control over) the speaking circuit which is the visible face of the privacy and infosec movements, as well as dominating the critical infrastructure and the corporate structure (at board level) of the Tor Project: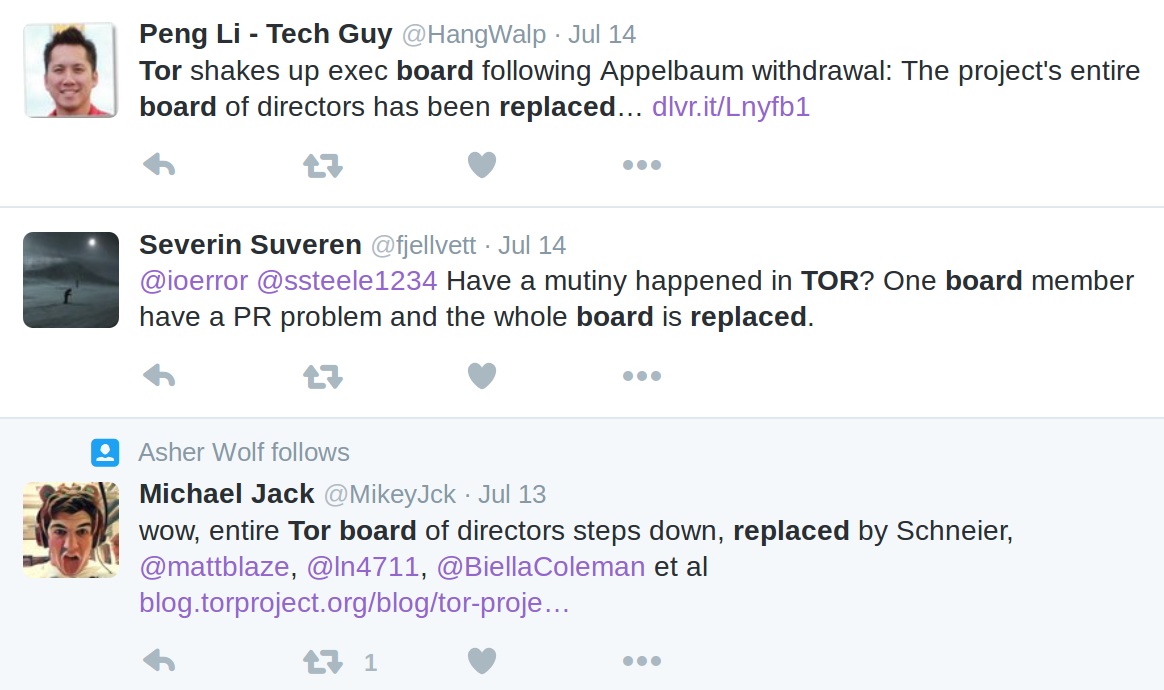 Series In Review
"The Weaponising of Social" series kicked off with the first long-form article with the guts to seriously analyse the allegations against Jacob Appelbaum. This hit a lot of nerves and got a lot of exposure, with word-of-mouth more than making up for the total lack of commercial platfom, promotion or marketing of the work.
While intended to be a 3-part series, it really turned out to be 4 parts:
1. "The Weaponising of Social Part One: The Crucifixion of IOError"
Performing a rudimentary linguistic analysis of the statements of the alleged victims (which range between 81 and 703 words each), the article notes that "people who are not survivors of rape cannot competently impersonate survivors of rape" and explains precisely why that is:
the inordinate brevity and apparently manufactured linguistic conformity of the JacobAppelbaum.net claims;
the profound and highly unusual absence of victim impact in those statements; and
the obvious presence of editing by third parties, giving the effect of multiple 'voices' within a single piece, when the norm is to respectfully allow the words of survivors to stand on their own merit without editorial manipulation.
The smear website's initial exposure, then non-transparent retraction, of the name of a woman unrelated to the claims, is highlighted.
The article mentioned Meredith L. Patterson, the founder of a think-tank called "Weaponising Social". One of three self-appointed "eye-witnesses" that famously went to media with a story about an incident that was promptly debunked by the alleged "victim" herself.
The piece raised a plethora of concerns surrounding the site copy and the plagierism allegations, and pledged that a deeper look into the responses and conduct of the Tor Project and media, as well as the WikiLeaks connection, would follow.
2. "The Weaponising of Social Part Two: Stomping On IOError's Grave"
Part Two dives headfirst into what it really means to be a Person of Interest – which there is no doubt Jacob Appelbaum is, especially given the context of the FBI and DoJ (amongst other agencies) investigations into WikiLeaks.
It discusses Appelbaum's 30c3 revelations of spyware emitting up to a kilowatt of hardware radiation (which we dubbed #spycancer on Twitter at the time) – literally microwaving targets – and tells of my own experiences of being directly stalked and persecuted by state intelligence contractors when trying to amplify Jacob's findings.
The near uniform anti-WikiLeaks positions of Jacob's public critics are exposed, in their own words – including those of Leigh Honeywell, Valerie Aurora, Meredith L. Patterson, Andrea Shephard and Alison Macrina, just to name a few.
The article proved that Isis Lovecruft had (presumably unsuccessfully) attempted to gain access to the back-end of WikiLeaks' secure whistleblowing platform, a year prior to her allegation against Jacob, and according to her own timeline, one year after he allegedly assaulted her.
While the smear website was designed by supposed privacy activists dedicated to anonymity, the article identified numerous security compromises inherent in its design.
Finally, it cautions that the desecration of Jacob Appelbaum is being actively used to hurt others associated with him including but not limited to Edward Snowden, and demonstrates that known FBI informants like Adrian Lamo (responsible for the arrest of beloved whistleblower Chelsea Manning) and Hector 'Sabu' Monsegur (whose betrayals led to the arrest of Jeremy Hammond among other whistleblowers) have been cheerleading the ostracision of Appelbaum from the outset.
3. "Orwell's Swan Song: Free Speech Activists Whitewashing Wikipedia To Silence Dissent"
This much shorter piece was initially intended to cover just a single issue – that Jacob Appelbaum's Wikipedia page was being constantly monitored and manipulated by an editor, Kenneth Freeman, who openly espoused Tor and EFF affiliations and touted a personal friendship with one of the accusers – Alison Macrina.
However, the rabbit hole got even deeper. It emerged that some of the vociferous anti-Appelbaum troll accounts which had been, on a daily basis, lambasting anyone who questioned the narrative of the smears are allegedly operated by some of the accusers themselves.
In the interim, their associates were leaking information to, of all people, the very journalists at The Daily Dot who had worked to redeem the reputation of FBI informant Hector 'Sabu' Monsegur (but abysmally failed – he remains almost universally reviled to this day).
Meanwhile, it was revealed that Jacob Appelbaum had been incensed by the discovery of CIA infiltration at the Tor Project.
The same CIA proven to have a track record of editing Wikipedia pages.
4. The Weaponising of Social Part 3: The Resurrection of Jacob Appelbaum
This monolithic undertaking will dive deeper into some of the above issues and cover those aspects yet to be discussed – namely:
The attitudes of those involved in the smears, in their own words, and further details of the extent of their involvement
The professional conduct of the Tor Project management and the web of associated relationships
The role of mainstream media, particularly the New York Times
The wider political environment and effects on the movements
The Worm Turns? Die Zeit Investigate
In a long-awaited move, Jacob Appelbaum has spoken with the German weekly magazine Die Zeit, who performed an in-depth investigation into the allegations against him.
The results – a depiction of that particular corner of the Berlin hacker scene as being drug-fuelled and sexually promiscuous – aren't particularly flattering to anyone, but the findings with regards to the lack of veracity of the key allegations are utterly damning.
Speaking to eight eye-witnesses who spent the days in question with River and who vehemently deny that any sexual assault took place, many further details emerge, including some hard evidence that things may not be as she initially depicted. Particularly pertinent is that River had sent Jacob affectionate email communication after the fact, and spoke publically of wanting to return to Germany for more 'fun'.
Furthermore, it is revealed that Alison Macrina – author of the 369-word "non-consensual washing" complaint posted under the pseudonym 'Sam' – is alleged to have had consensual sex with Jacob after his bath, a material factor that she did not reveal in her complaint against him, or apparently since.
When questioned about this by Zeit, she became incensed, and suggested that she did not consider her alleged omission of the consensual sex to be relevant.
The encounter between Jacob and Alison is said to have occurred in the days following what is alleged to be a consensual threesome with River that occured privately in a bedroom, rather than non-consensual sex in the lounge as had been claimed. This raises the possibility that the complainants becoming aware of the close timing of each other's sexual encounters with Jacob may have retrospectively impacted the way they viewed, portrayed and related their interactions with him.
Taking Down An NSA Target
Regardless of the women's motives, the net effect of their action has been the utter desecration of Jacob Appelbaum's public image.
More, they have quite literally, now taken down an NSA target: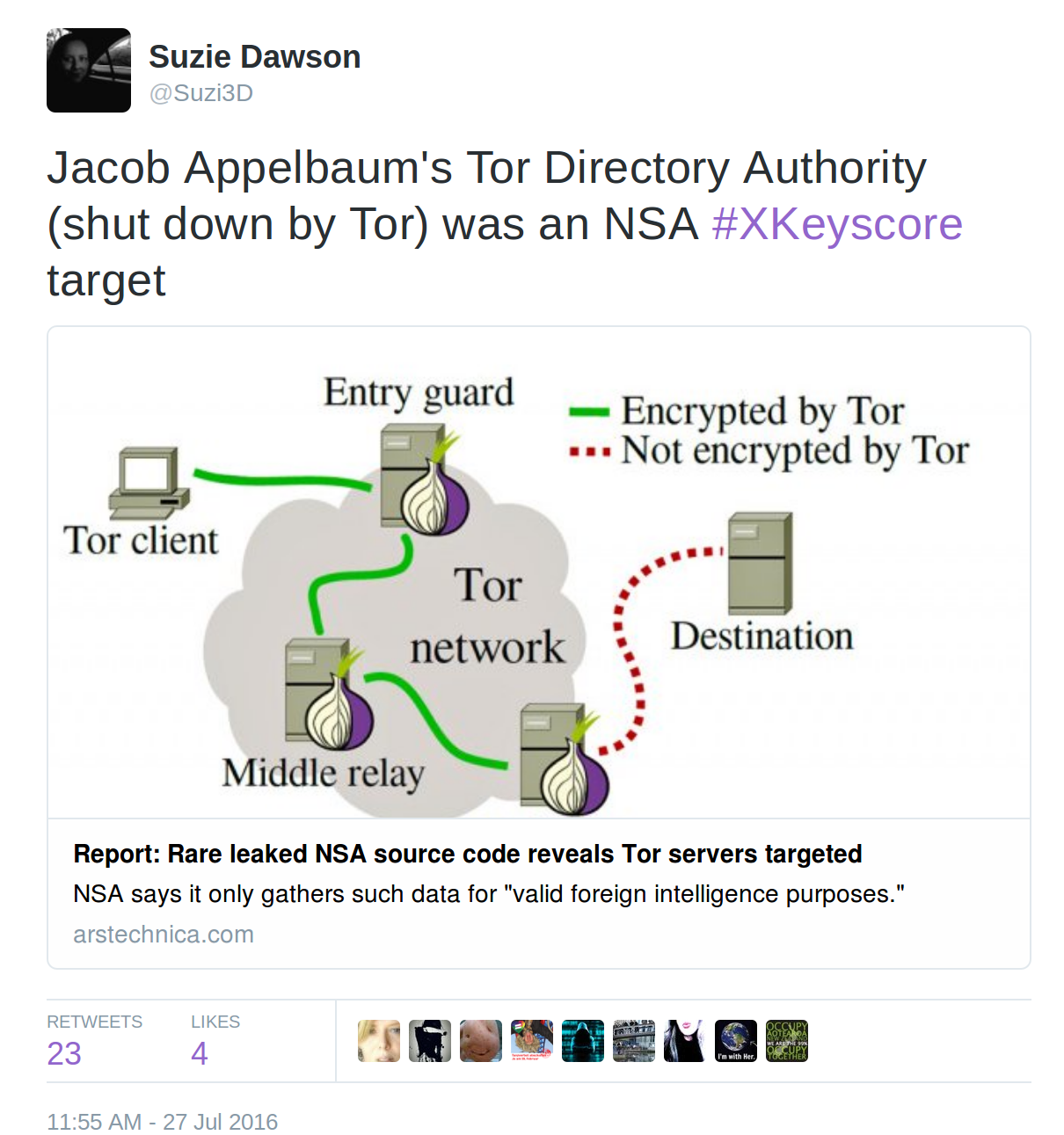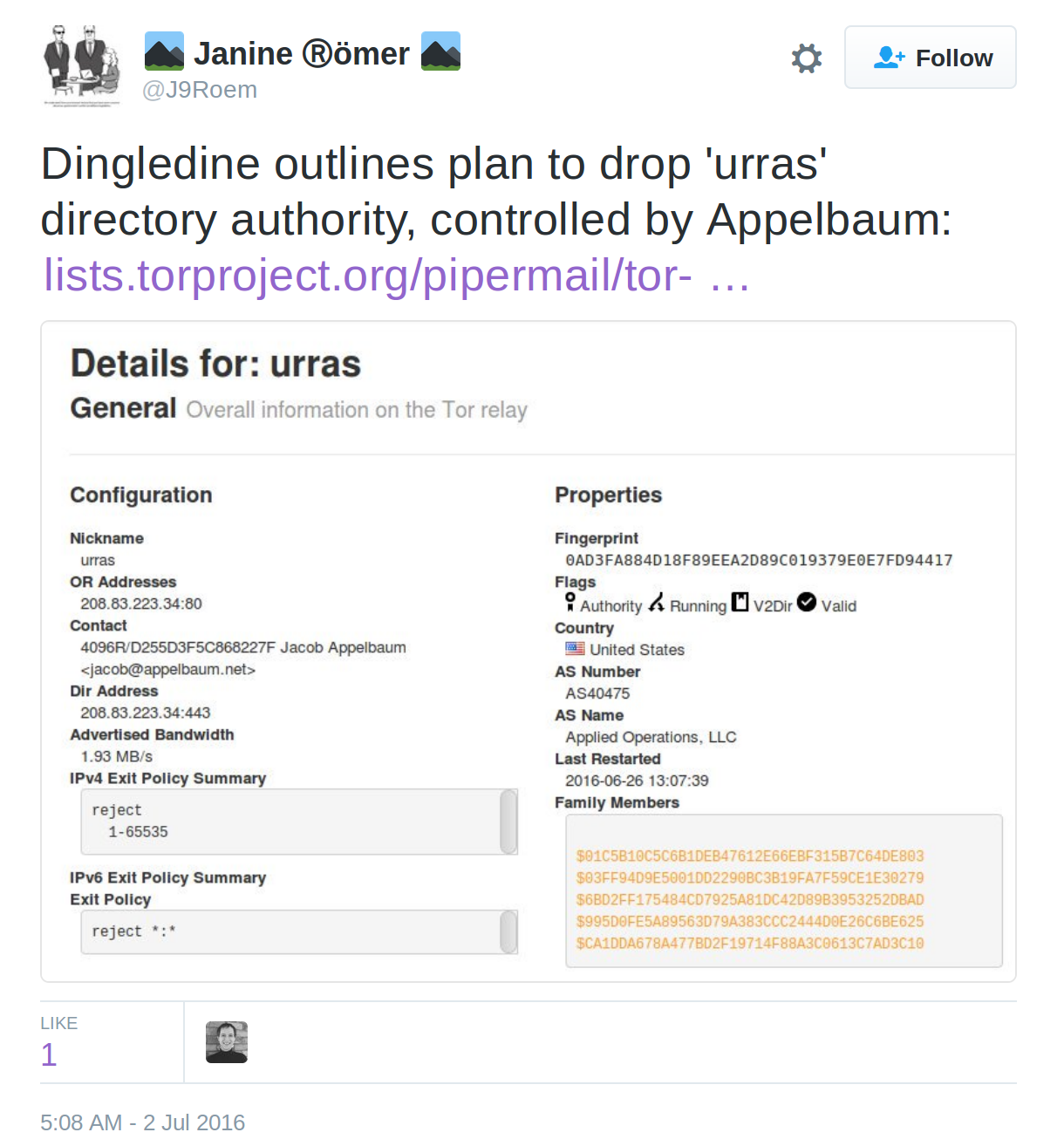 Appelbaum's Tor Directory Authority had been specifically listed as an XKeyscore target in leaked NSA documents.
Jacob's work with the documents furthered his interest and involvement in trying to curb the excesses of intelligence agencies engaging in surveillance.
There is a long, long list of reasons why the National Security State and its international counterparts are extremely pissed at him.
In the below video of an event at which he appeared with WikiLeaks' Investigations Editor, Sarah Harrison (who is also the Acting Executive Director of the Courage Foundation) Jacob openly calls for direct action to be taken against US military bases, specifically the drone operation relay center at Rammstein, suggesting that activists should target its water supply:
Fastforward to this week and Alison Macrina tweeted: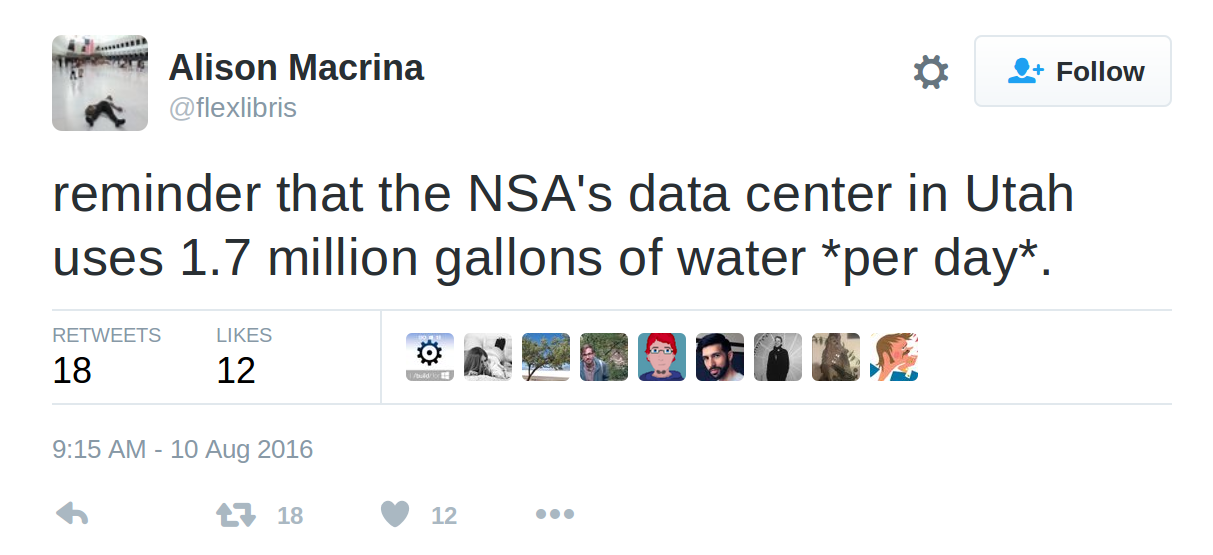 According to Zeit and others before them, after Jacob Appelbaum's expulsion from Tor their website listed Alison Macrina in his former position:

When I had questioned Macrina about this, she replied to me via Twitter that it was not true and stated that she does not work for the Tor Project. She then promptly blocked me before I could retweet her denial or screenshot it. Her tweet then disappeared from Twitter.
Why she stated that she does not work for Tor and may have deleted the tweet, is unclear. She is published on the Tor website, directly amplified through the official @TorProject Twitter account and additionally was named by Roger Dingledine in internal communications as someone that Tor staff should speak to with regards to the accusations against Jacob Appelbaum.
The association is beyond denial. So why would she attempt to distance herself from Tor? The only distinction that can logically be drawn is that as the founder of the Library Freedom Project, she may be in fact a Tor contractor/supplier of services rather than a salaried employee. Which, for someone so visible within the organisation, is splitting hairs.
Desecrating The Heroes Who Shared Their Platforms
Alison Macrina's rise in exposure got a giant boost via the Library Freedom Project being amplified by Edward Snowden on Twitter in October 2015. On February 8th, 2016 she officially introduced herself to the Tor community by authoring a guest post on the Tor website.
Her profile was raised even higher after her inclusion at a March 2016 CIJ speaking event alongside Julian Assange of WikiLeaks.
Alison's body language during the event was in stark contrast to the others present. Nervous laughter and fits of protracted too-loud and too-long giggling, combined with, at one point, her arms folded tightly across her chest. When it was her turn to speak, she spoke eloquently and confidently; when it was others speaking, she picked at loose strands of invisible fluff on her shoulder, kicked her crossed leg back and forth and leaned back in her seat.
At 54:35 in the video, when the person sitting next to her on the panel, David Mirza Ahmad, mentions Jacob Appelbaum by name, Alison Macrina does not even blink. There is no sign whatsoever of any recognition, discomfort, negative association, suppression of emotion or even the most subtle reaction to hearing Jacob's name.
Despite the event occurring several months after she now alleges he had sexually assaulted her and some eight to ten weeks prior to her involvement in publishing the accusations against him.
In the wake of going public with her allegations, Macrina was directly pressuring WikiLeaks for comment.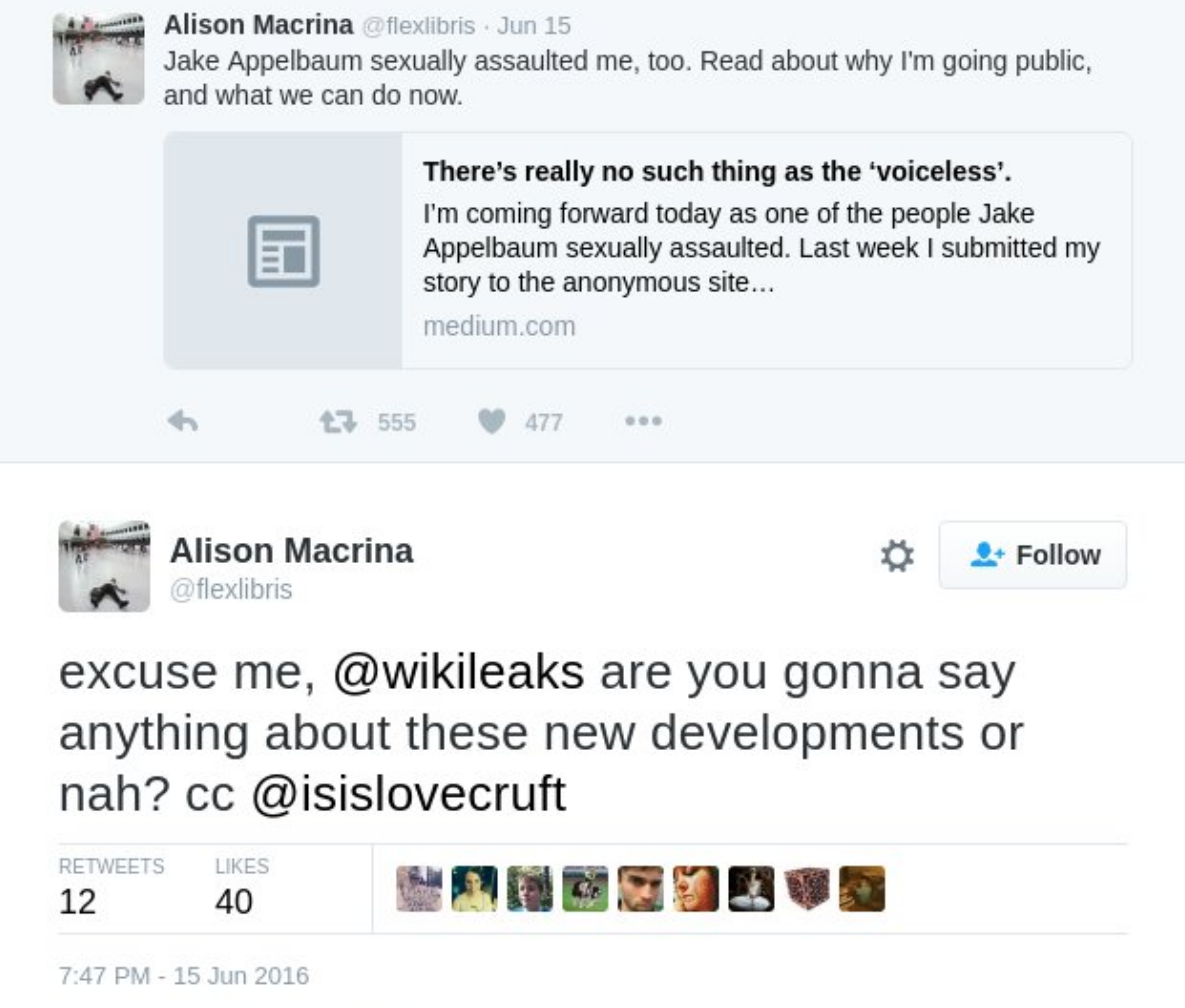 By the end of July 2016, Appelbaum dispensed with, Macrina's constant ribbing of and ire towards WikiLeaks, who were understandably reluctant to be drawn into the maelstrom, was being ratcheted up several notches: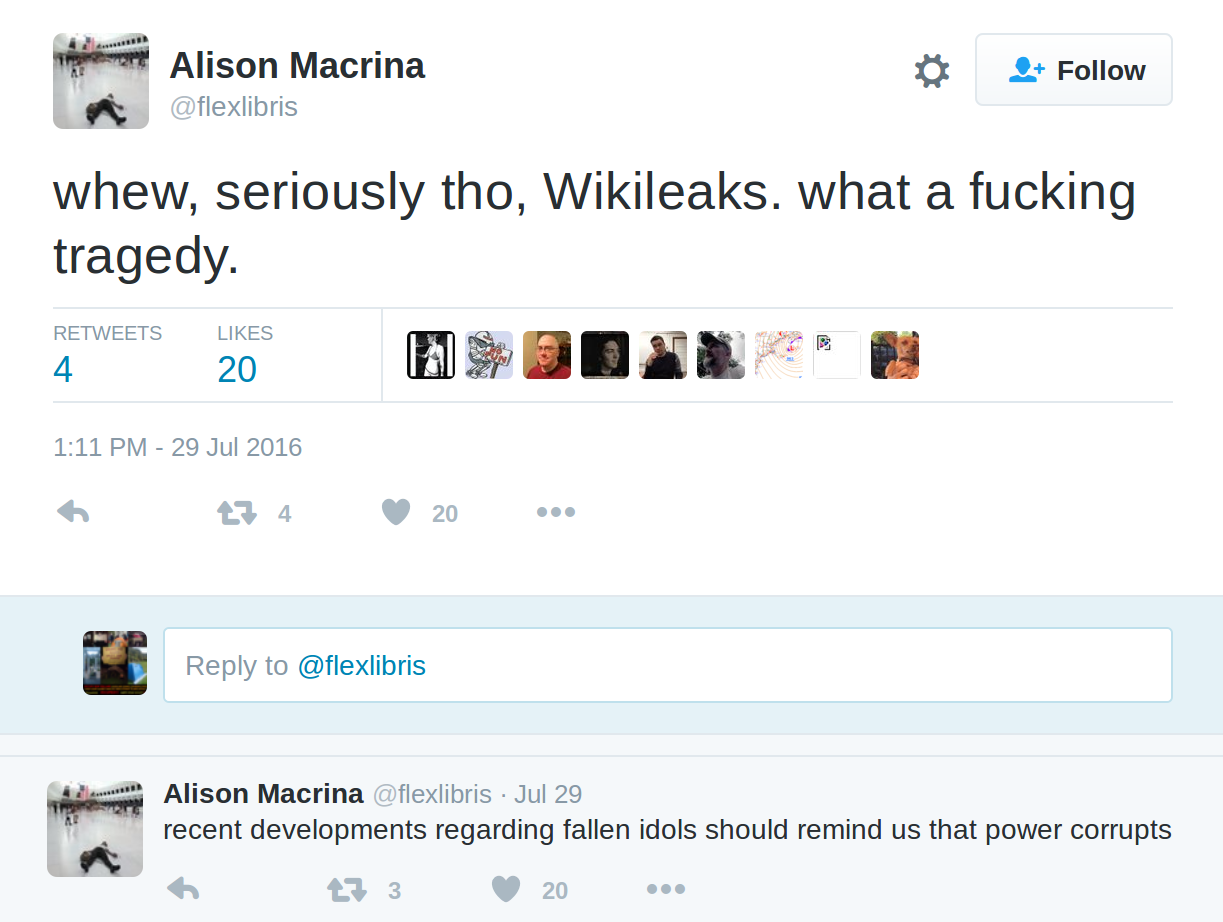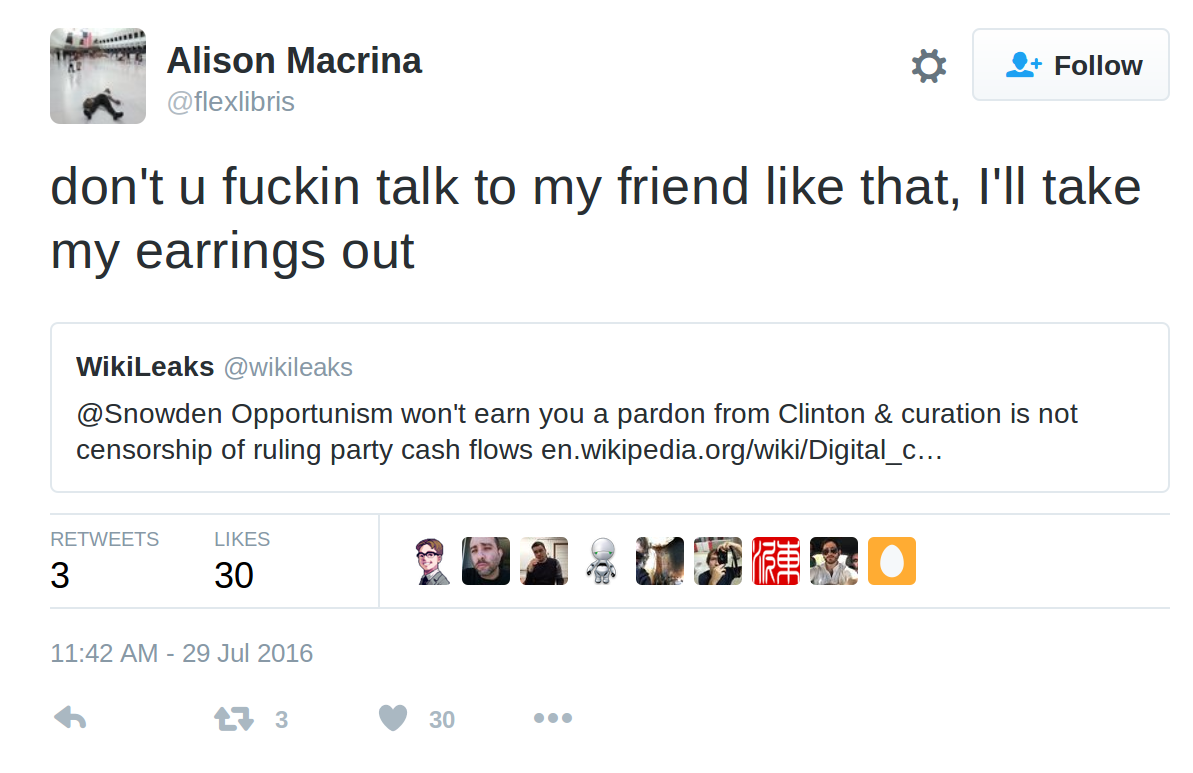 Her above tweet – which was in defense of Edward Snowden – seemed ignorant of the fact that as a direct result of the campaign against Appelbaum, Snowden himself was being attacked by sock puppet accounts who were accusing him of being a rapist by association.
Some of the ensuing rhetoric got really, really nasty: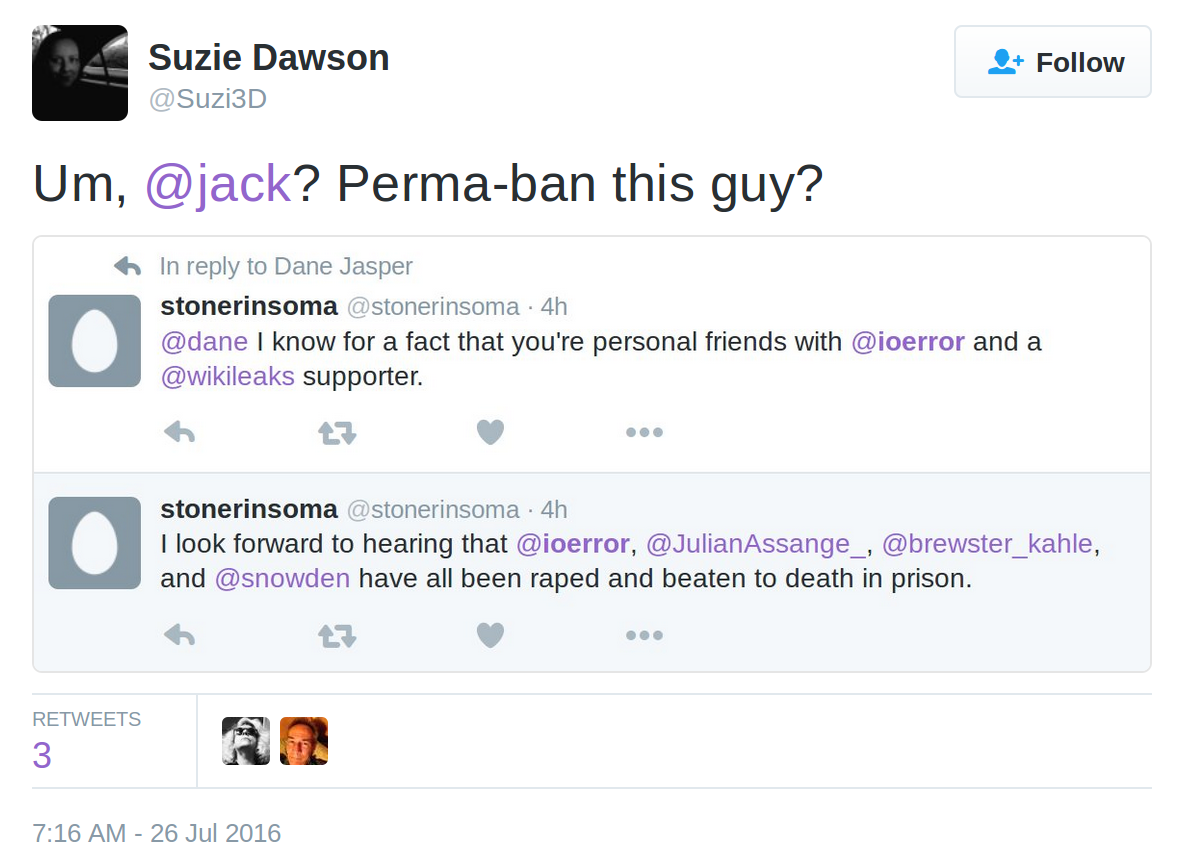 Unfortunately, it is not just sock puppet accounts attempting to take chunks out of Snowden.

After some discussion about 'gatekeepers' and leaking methodologies, this: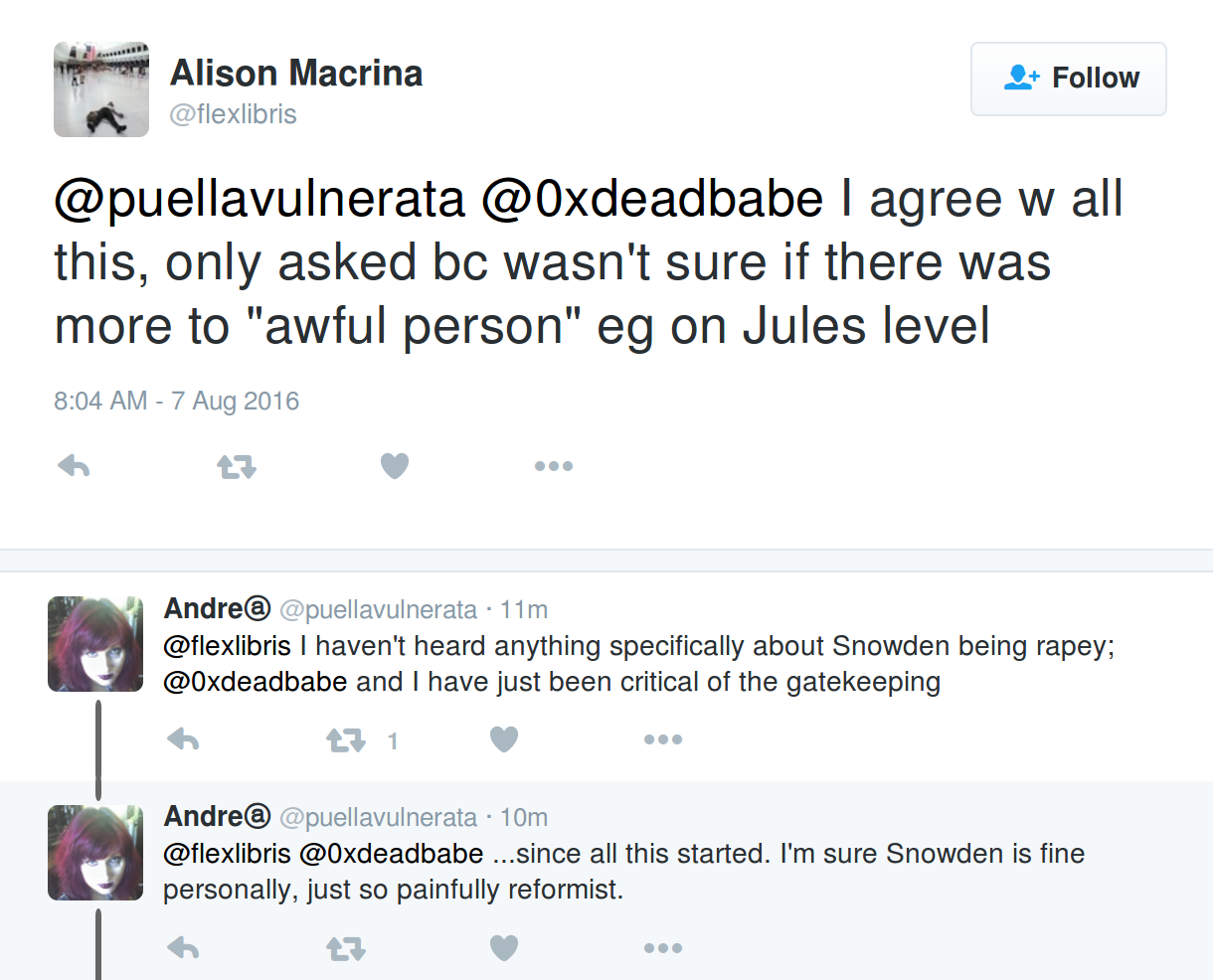 The term "rapey" is itself, offensive. With its use, the definition of rape is being willfully expanded into borderline meaninglessness and obscurity. As if there can be "racisty" or "sexisty" or "homophobicy". There cannot. Rape is an absolute, and a serious crime against humanity. The term should not be callously invoked; watered down for the social convenience of he or she exercising the privilege inherently wielded when bastardising the language of the violated.
Macrina's participation in the desecration of the very people who helped her rise to prominence, extends to jumping on the bandwagon of any criticism against WikiLeaks whatsoever, whether or not it was subsequently proven to be founded.

New York Times writer Zeynep Tufekci's varying accusations of WikiLeaks having published (it didn't) a dump of private information, have been thoroughly debunked: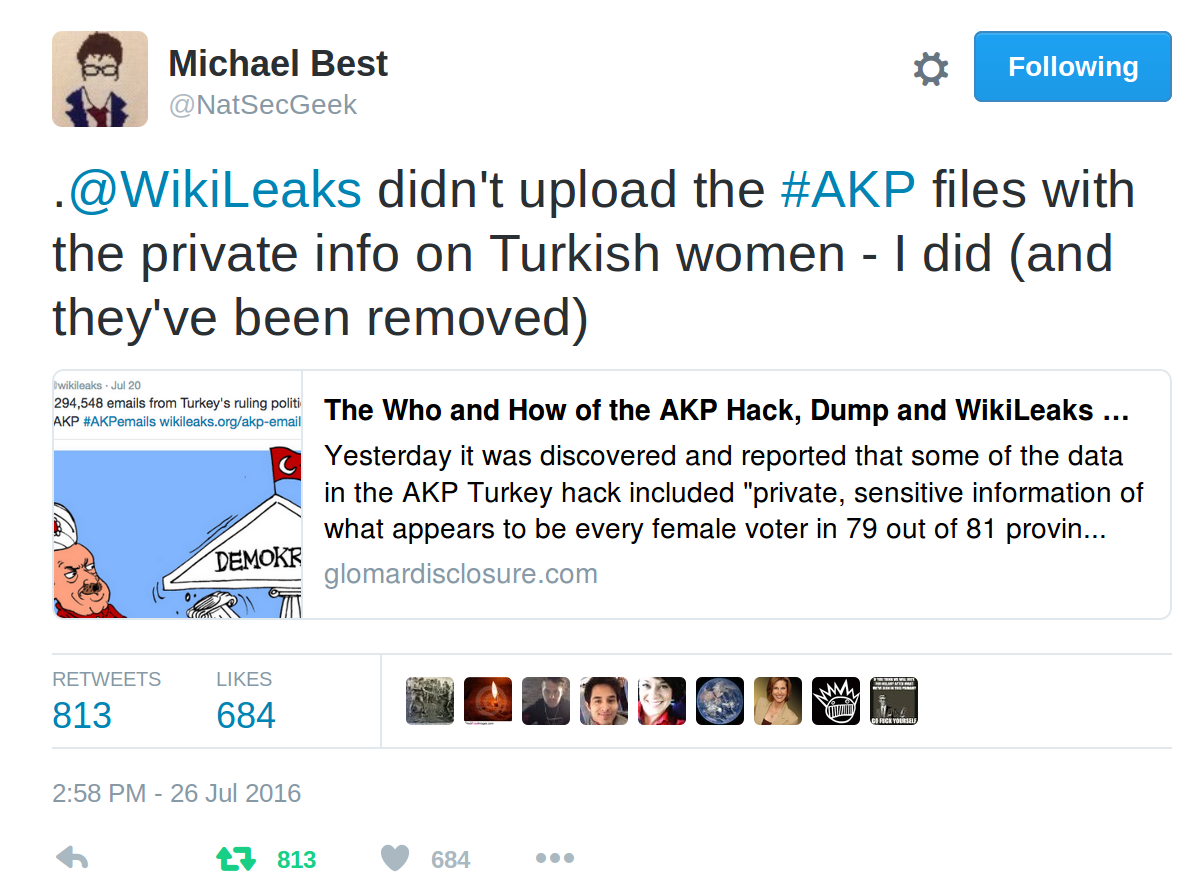 And debunked again: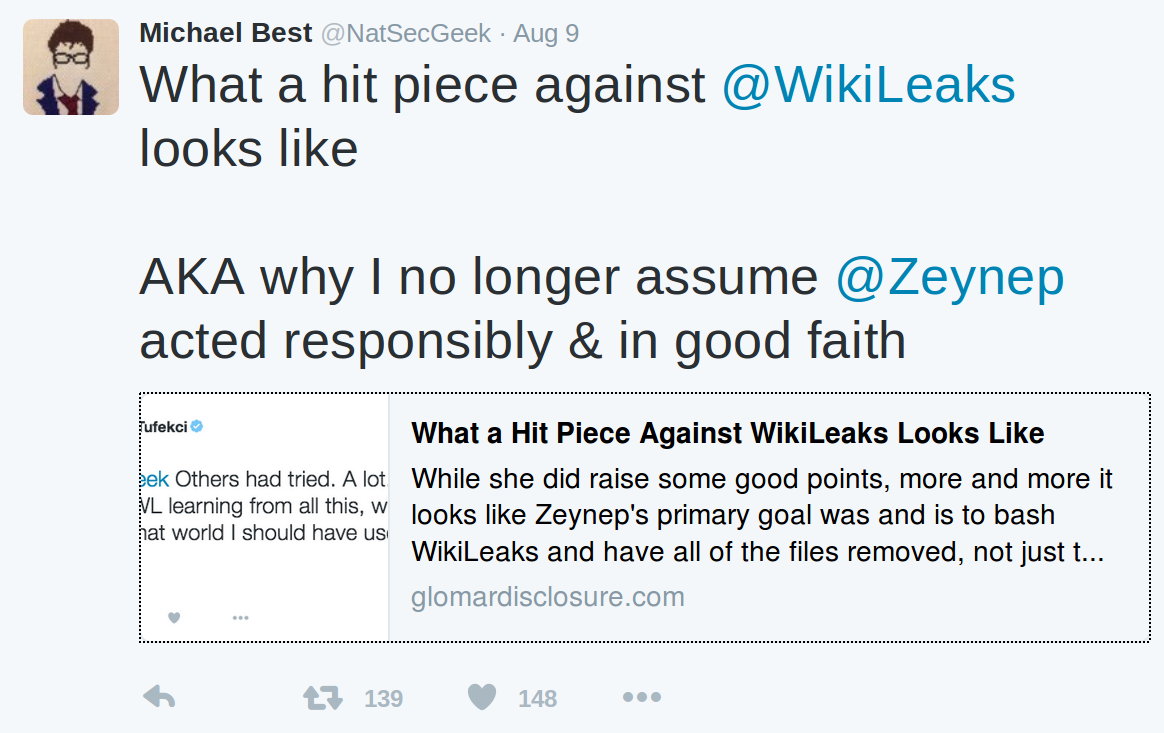 Yet this has gone unacknowledged by Macrina and supporters, who lambast WikiLeaks at every opportunity.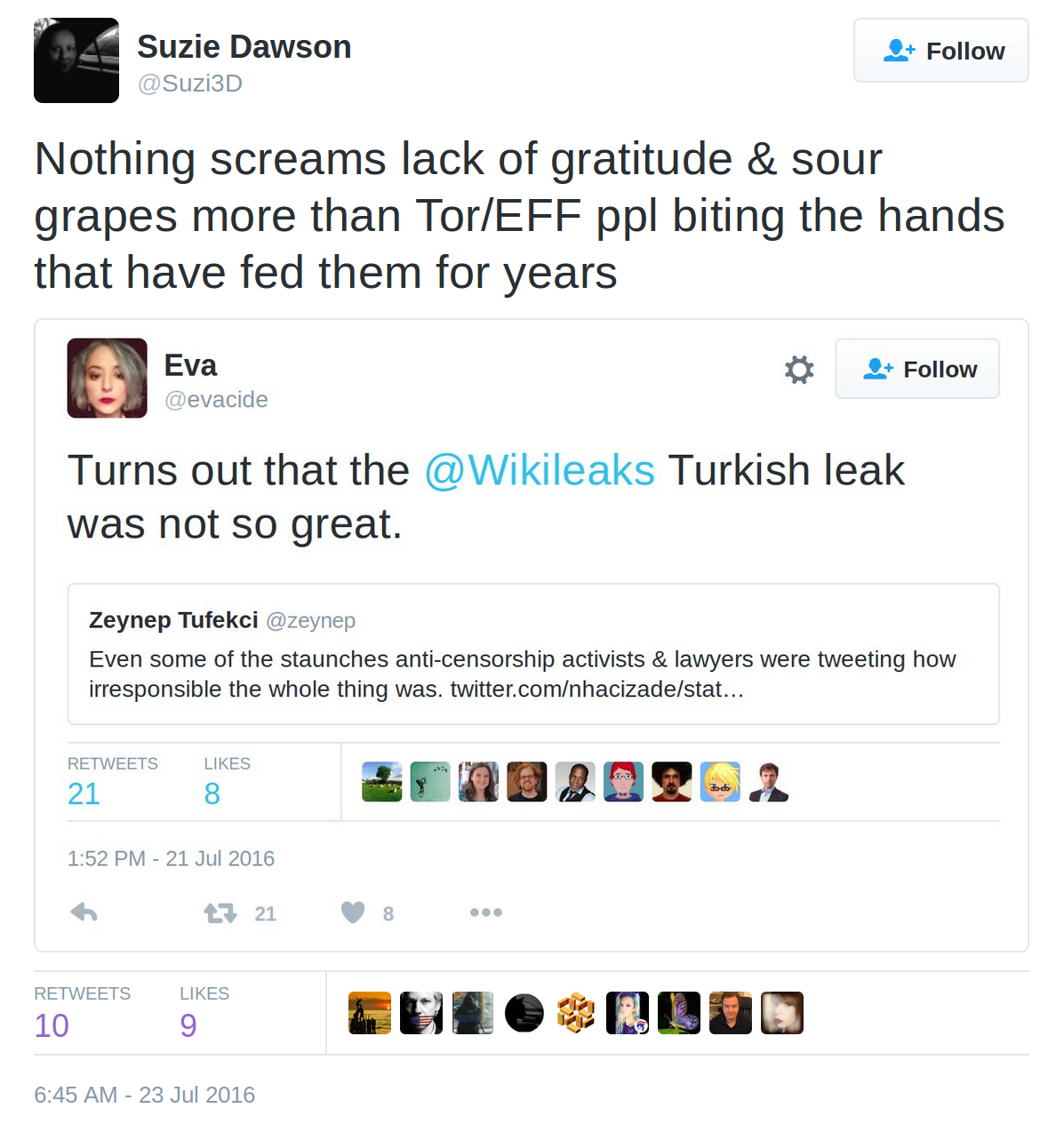 Amazingly, WikiLeaks staunch support of organisations whose staff are actively undermining it, has continued unabated. When someone tried to deny that support exists, WikiLeaks made the salient point that in fact, every single page of their website promotes the use of Tor.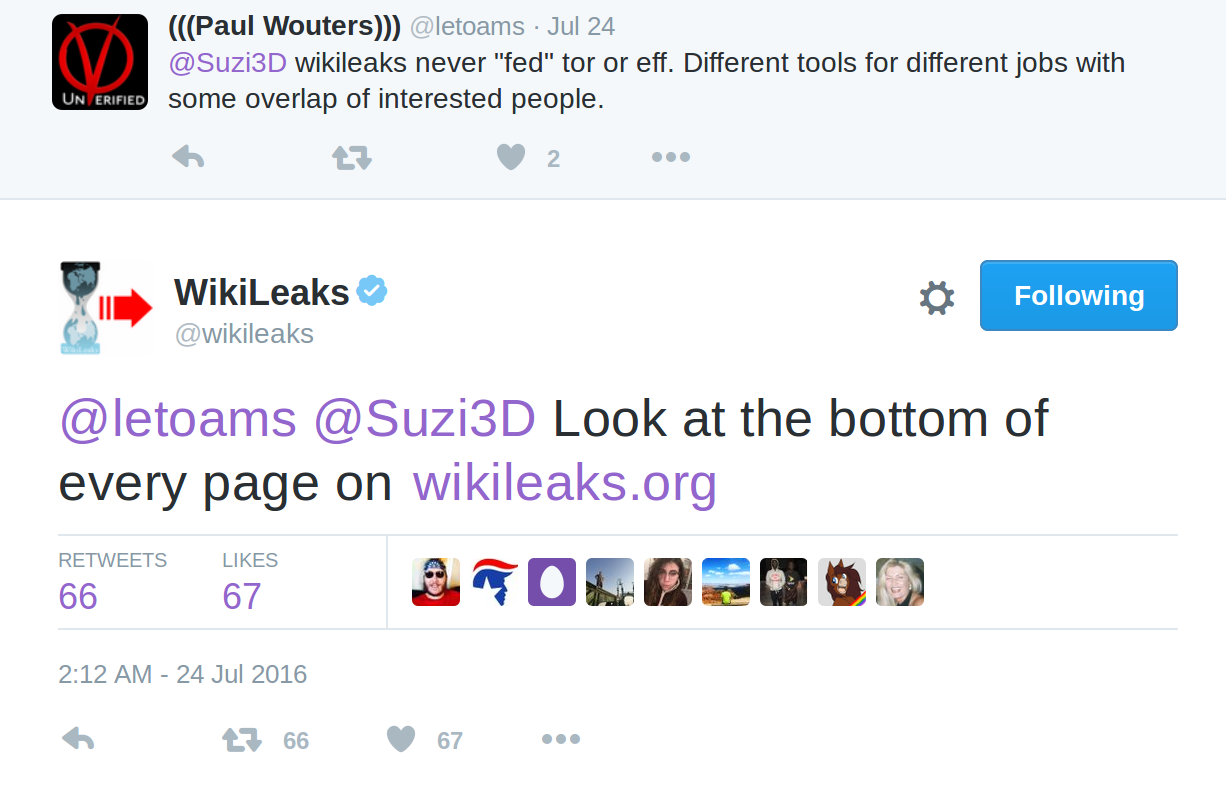 Unfortunately, these days WikiLeaks' solidarity with these organisations seems to be a one-way street.
By August 2016, Alison's original guest post on the Tor Project website had evolved into "Alison's blog" – a dedicated space for her voice to be amplified by Tor, where she has now championed the release of official Tor internal policy documentation.
Die Zeit raises a fascinating point:

The passage they quote is from what I think of as the 'second voice' in River's testimony… and we'll look into how that may have come about soon.
A 'Come To Jesus' Moment

So how did Alison get from sitting on a stage with Julian Assange mid-March, not even registering or flinching at the mention of Jacob Appelbaum's name, to claiming to be a sexual assault victim?

"I had my 'come to Jesus' moment months ago when I started hearing from victims." – Alison Macrina, 6/6/2016
Herein lies a common thread in these stories.
What Alison is saying explains why she didn't twitch a muscle at the mention of Appelbaum's name on March 16. Because she didn't realise she was a "victim" until later, when she heard complaints from other women.
River also says she didn't realise she was a victim until she was told that her experiences were rape.
Isis Lovecruft says she had tried to convince herself she wasn't a victim.
As explored in this series previously, Leigh Honeywell said she didn't realise she was a victim until she took exception to Jacob Appelbaum's support for Julian Assange.
So all four of the most significant claims of sexual assault, took years/months and group-think/collaboration in order to "realise" that they had been assaulted.
The strangeness doesn't stop there. Isis's blogpost revealing that she is the accuser 'Forest', simultaneously claims that she:
had spent "six months" collecting the stories of 'victims'
didn't initially tell the 'victims' who supposedly confided in her, that she was also a 'victim'
didn't intend to tell the Tor Project
planned to threaten Jake that they would tell the Tor Project "and other organisations"
told the Tor Project, but didn't initially tell them she was a 'victim' either
After Jake caught wind of the intervention and, Isis alleges, threatened her, she presumably shelved the plan for an intervention. Her recounting of the so-called threats is really oblique at best, although later in her piece she subjectively lists a prospective legal count of blackmail.
In fact, she lists an entire slew of prospective legal counts against Jacob, with a final count of 35 years imprisonment as per her own calculations, all under the guise of answering why she wouldn't pursue legal remedy. But the entire exercise just comes across as, ironically, a threat.
Especially given the sheer invention of counts such as "instructing a third-party to rape", which do not reflect the published accusations at all.
Multi-party Edits, Manipulations and Manufactured Testimony

Given the obvious contentiousness of non-survivors editing or interjecting their own voice into alleged rape testimony, it is past time for the administrators of the site to come clean as to whether this indeed did happen, and to what extent.
Janine also brought to my attention the following tweet by one of the authors of the Die Zeit article: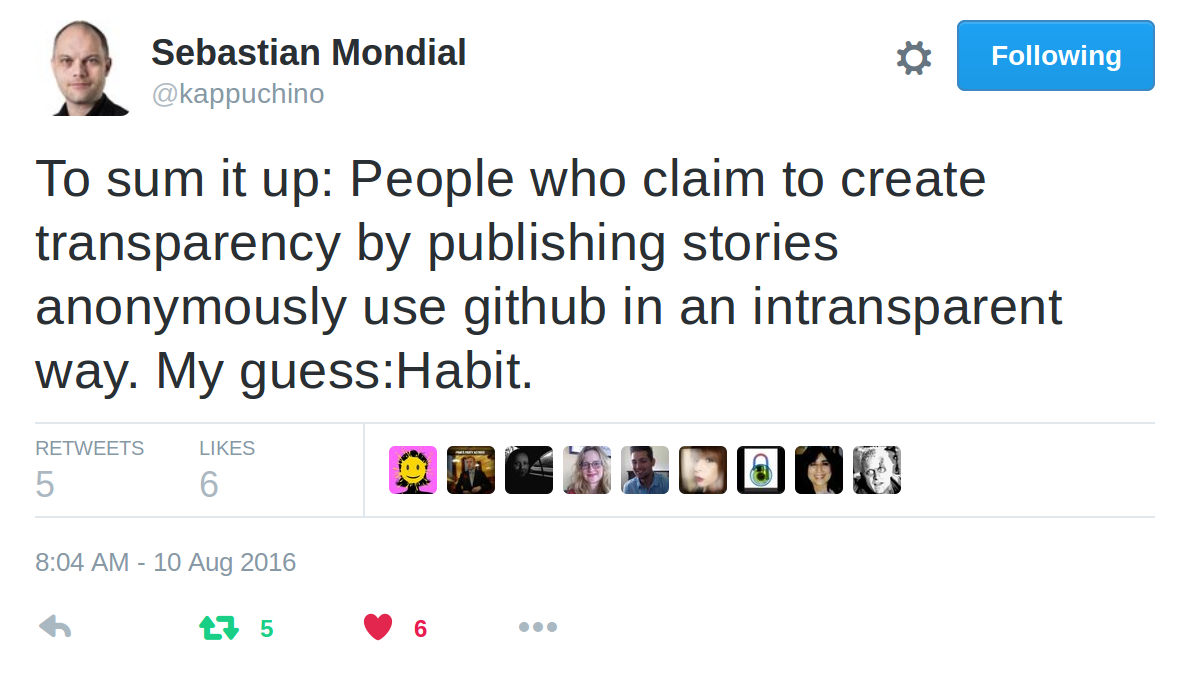 Janine says of the above tweet:
"It sums up my thoughts on it. People who use GitHub do so for transparency reasons – open-source code, open-source writing. But the way they did it was not transparent, as they tried very hard to erase evidence of mistakes by deleting repositories." – Janine Römer
Additionally Janine tells me that there was "an obvious tampering" with the dates of the entries on the website:
"The GitHub copies of the entries are PNG images. Initially, all the entries were marked with the same date of December 31st, 2015; since then, newer entries have not only been given different dates but the dates on earlier entries were changed (you can [compare them in the archives](https://archive.is/https://github.com/ioerrror/jacobappelbaum.net*)). It is unclear what the date signifies." – Janine Römer

According to Die Zeit, at least one of the 'victim' testimonies was manufactured on their behalf without their permission:

That the creators of the site saw fit to outright concoct a testimony on the basis of hearsay and rumour, then to publish it without the consent of the so-called 'victim', jeopardises the integrity of all of the testimony that they published.
Of additional concern, is the 81-word testimony of 'West':

From the beginning, this account seemed anomalous. How could someone traumatised by an unwanted advance of a sexual nature only have 81 words to say about it? The reference to being 'very wary of communicable disease' reads as if the writer needed to create a reason why the subject would be so offended by a surprise kiss. The reference to 'others present voiced their disapproval of the surprise advance, especially given my concerns about disease' begs the question – how did these others know of said concerns?
Is West an actual complainant, willingly participating in JacobAppelbaum.net? Or has this account been manufactured to, yet again without consent, represent the subject of the later-debunked claims of what Shepherd, Patterson and Tan said they saw at a hacker event?
Regardless, the fact that such a benign allegation was ever included alongside a claim of rape, speaks volumes about the intentions of the editors. Their focus on quantity of allegations over quality has only served to dillute and detract from the severity of the accounts of River and Isis.
Revisiting The Linguistics
In the first part of this series, I published screenshots of linguistic analyses of each of the allegations. All of the originally published testimonies including Sam and Forest's, with the exception of Daniel and West, resolved to a reading level of 9th-10th grade.
Daniel and West's pieces were written at 'College Student' reading level.
Curious about the anomaly, I analysed multiple samples of each of Alison Macrina, Isis Lovecruft and Meredith Patterson's published writings on other blogs. All of the test samples produced a 'College Student' reading level.
So who wrote Daniel's testimony? Did that same person then write West's? If so, logically these accounts would be written by Meredith. Only she can confirm whether that is true. And why would the 'Sam' and 'Forest' testimonies on JacobAppelbaum.net be written at a 9th-10th grade reading level, when their writings on other sites are all 'College Student' level?
Apparently, if you want your information to have impact, good writing is all about knowing your readers:

According to the below statistics (from the website linked directly above), the average adult reads at a 9th grade reading level. The maximum "tolerable limit" is 11th grade.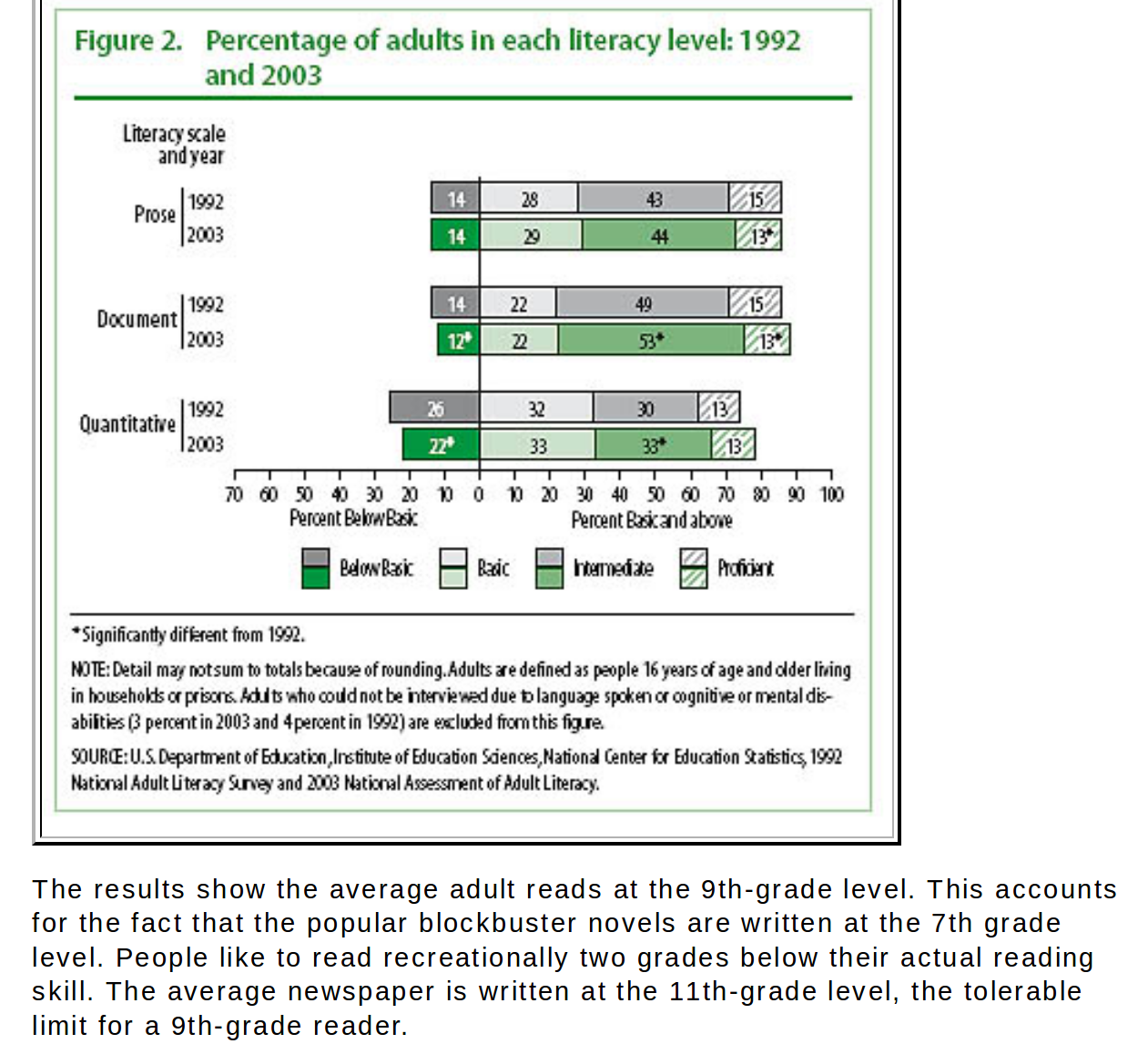 According to The Clear Language Group:
It appears that the core testimonies on JacobAppelbaum.net were carefully constructed to have impact with a wide, common audience, and thus needed to be dumbed down in order to be approachable.
Yet the editors apparently felt that Daniel's either couldn't or shouldn't be altered, which speaks to the power dynamics within the "collective".
In short – the site copy was constructed to achieve maximum saturation.
Maximum damage.
Meredith, Victims of Jake & Weaponising Social
What first gave me the idea to analyse the linguistics of the allegations was the early discovery that Meredith L. Patterson is a linguistics graduate.
Her widely circulated Twitter commentary on the scandal, along with her track record of many years of labelling Appelbaum a plagiarist, and later a rapist; the prominence of the accusations of plagiarism on the JacobAppelbaum.net website; and the early reference of the @VictimsofJake account (then called @TimeToDieJake) to her deceased husband, Len Sassaman, led to a logical conclusion that she may have a deeper significance in the campaign against him.
However, the @VictimsofJake tweet was not the only instance of Sassaman's death being tied to Appelbaum by someone who dislikes him:

According to Janine Römer:
"The VoJ account was created on June 3rd and that's when it first tweeted and it had relatively early knowledge of the website because it tweeted a link to an early version that wasn't live anymore. That was also the day Steele published the first blog post…

…very few knew about the website before the 4th [of June], so anyone who did is significant." – Janine Römer
Founder of the think-tank Weaponising Social, Meredith has, funnily enough, published a 3-part blog series about the saga. It is framed as a complex theoretical-cum-practical academic discussion about psychopathy and sociopaths.
The first line of the first part is:
There's a pattern most observers of human interaction have noticed, common enough to have earned its own aphorism: "nice guys finish last." Or, refactored, "bad actors are unusually good at winning." – Meredith L Patterson
She soon launches into a mini-lecture about social engineering:

She sneers at the idea that federal agents might work to engineer a scenario like this, even though the Snowden revelations re JTRIG, and many other real-world examples have proven that is precisely what they are employed to do.
"As accounts of the sociopath's misdeeds come out, the sociopath's narrative has to become more and more convoluted in order to keep the fanboys believing. "They're all feds!" he shrieks. "Every last one of them!" Uh-huh. Sure. Because the feds always assign multiple agents not only to target one guy who can't even keep his dick in his pants, but to become his coworkers, don't they? This is not exactly an inexpensive proposition. Reality check: if the feds had wanted to pull a honeytrap (which there'd be no reason to do, given his mascot-only status at Tor), everything would have been a lot more cut-and-dried." – Meredith Patterson
Funnily enough, the extrapolation of valid, precedented, founded fears of malicious interference by state agents into "They're all feds… Every last one of them!" is something I have not seen suggested by any of Appelbaum's supporters, but which is constantly touted by his detractors, in defense of themselves.
The obvious reality is that it wouldn't have to be "all". That is simply a smokescreen. It would only have to be one.
One who for example, dressed the "collective" action up as a good cause (defending victims! Holding a serial rapist to account!) to convince a couple of others close to them that they had been wronged and should participate. Who then collectively convinced increasing numbers of people that they should side with the 'cause', for everyone's benefit. While, funnily enough, the end result is to almost everyone's detriment. Except the engineer/s of the plot and their small handful of key beneficiaries.
Patterson is right however that HUMINT infiltration of activist's lives is not an inexpensive undertaking. That is why, literally, billions of dollars are assigned to funding U.S. Counterinsurgency strategy, which has been proven to be at play against activists and is predicated upon a theory that the target's ideology, places of refuge or sanctuary, and resources must be relentlessly attacked and ultimately denied them.
Precisely as has happened to Jacob Appelbaum.
The sanctity of his home, his established reputation, his community affiliations and organisations, his employment and income, his reputation and even his ideology, stripped from him.
In the 3rd part of her blog series, Meredith resurrects her claim that this is somehow an unfounded fear rather than a daily reality:
"The rockstar activist plays on non-rockstars' fears of organized state opposition to their activism, and convinces non-rockstars that any challenge to the rockstar's status is evidence of an organized plot against the activist group."
It defies logic that Meredith isn't well aware of how The Empire operates. She quotes military theory in her own blogposts:

Especially in the context of her think-tank, Weaponising Social, her last sentence is really worth quoting again, as it is just so fitting to this entire situation.
"Push hard enough from enough directions, and possibly the victim even becomes overwhelmed and stops functioning – a distributed denial of service." – Meredith Patterson
There are further edifying references to her own involvement. In the 2nd part of her blog series Meredith says:

She continues:

The first Twitter accounts to tweet out the 'early version' of the website were: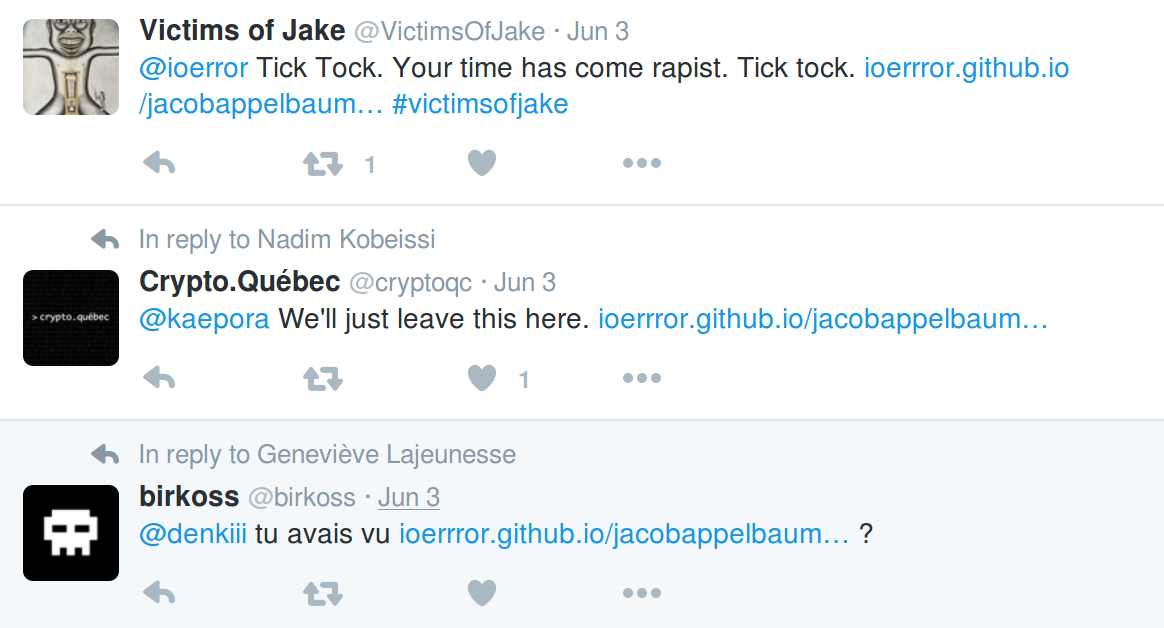 On 15 June 2016 @VictimsOfJake intimated that Wired magazine would be interviewing River.
No such interview eventuated. Wired's June 6th article appears to be their only published piece on the scandal.
However, the suggestion that River will be coming forward to the press reinforces information provided to me by various sources. Though the subject of that information also seems to take issue with the @VictimsofJake account.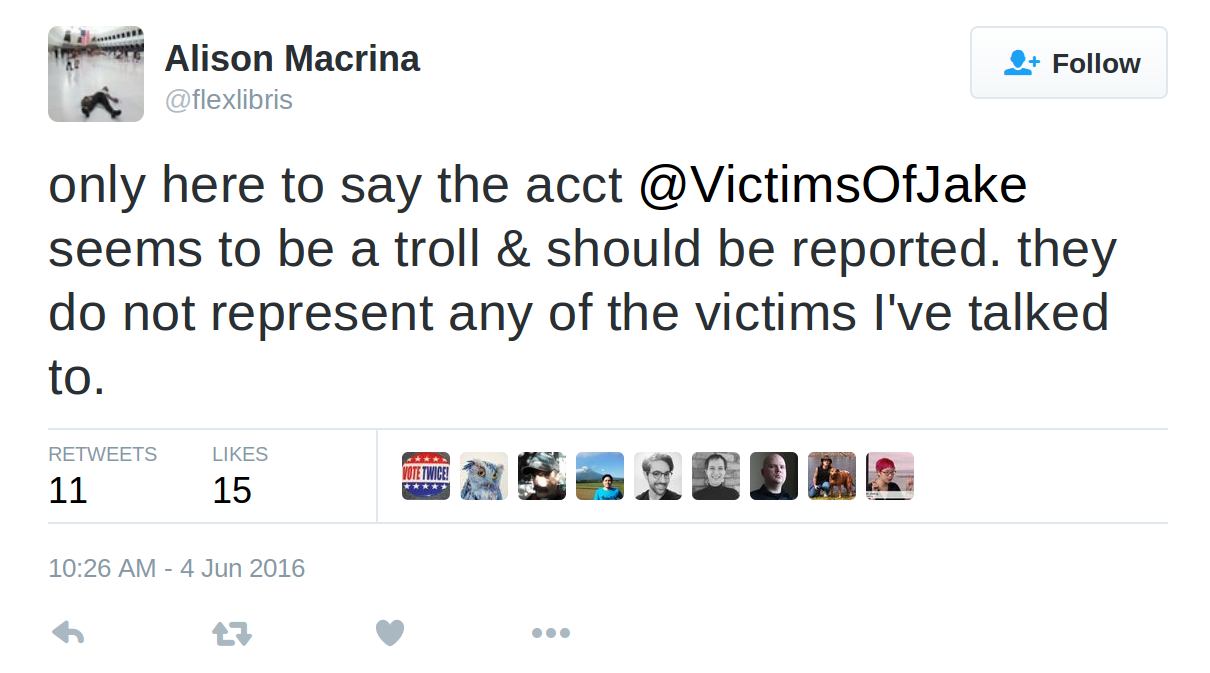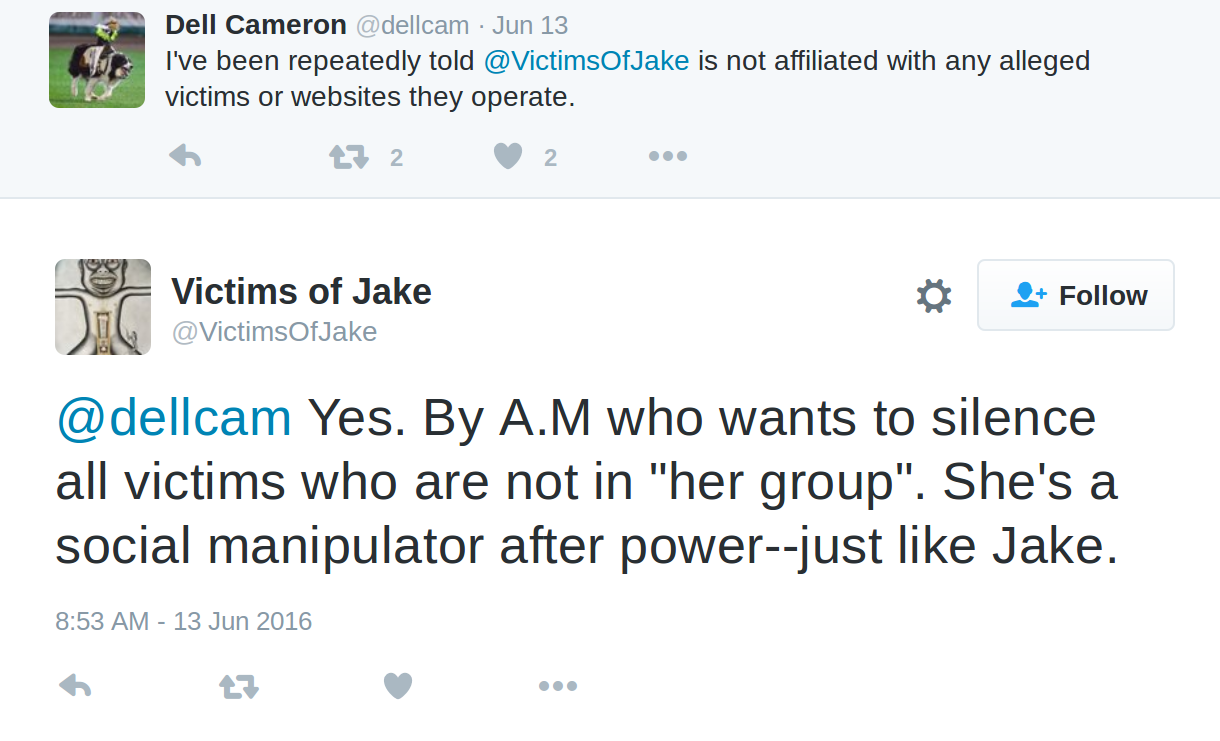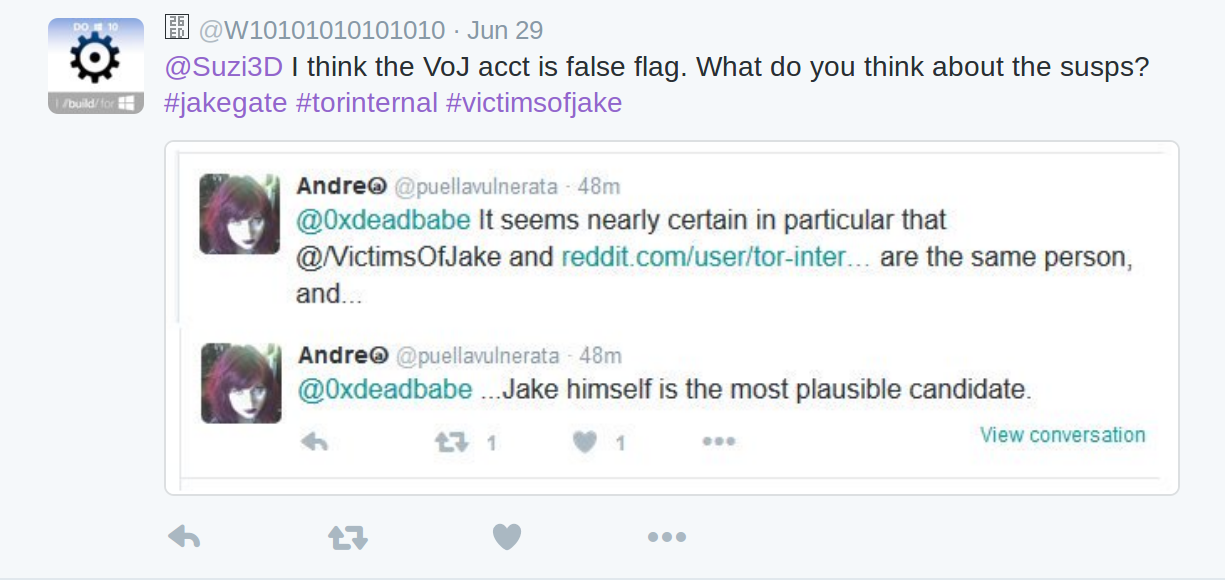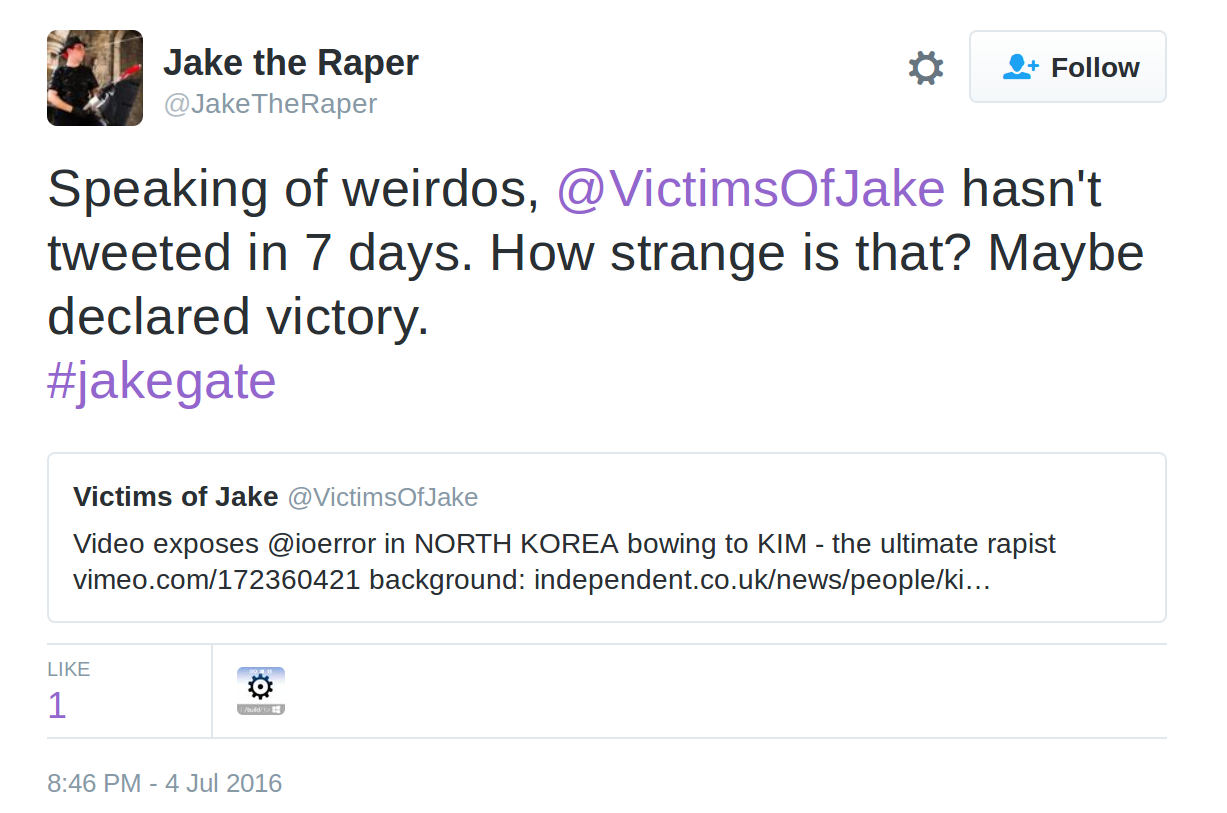 One person suggested that @VictimsofJake is EFF Director and journalist Jillian C. York, although based on other evidence, it is unlikely to be the case.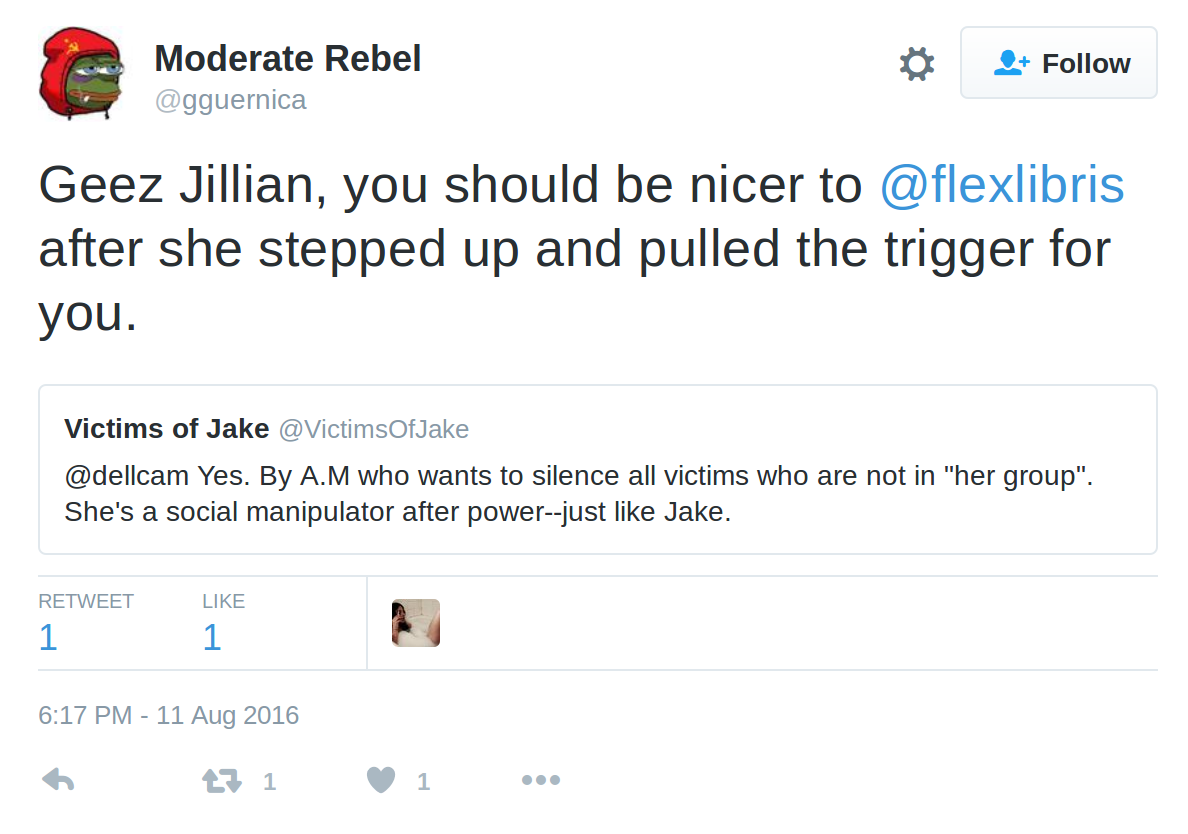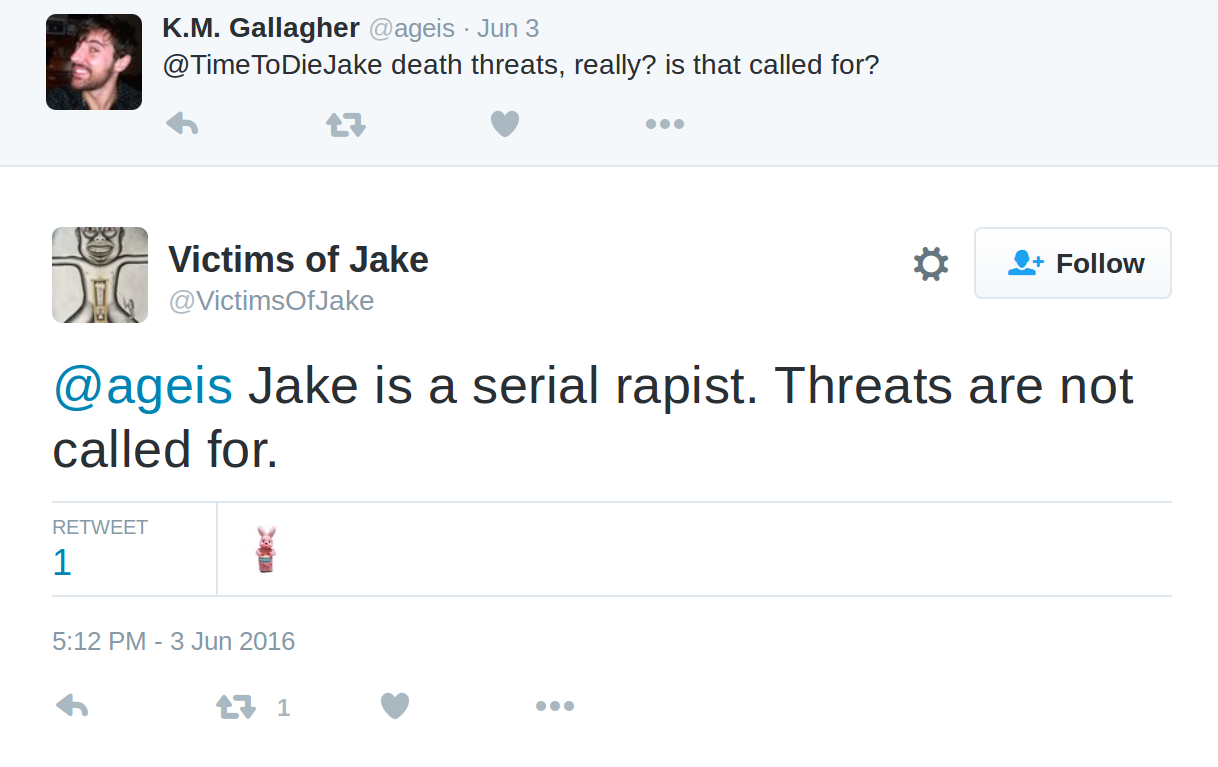 Distancing Themselves From Themselves
On August 9th, two months after the fact, Meredith finally covered off the topic everyone had been wondering about, for so long: why she hadn't apologised for coming forward as an 'eye-witness' to an alleged incident that turned out to be a misrepresentation of yet another (non)victim: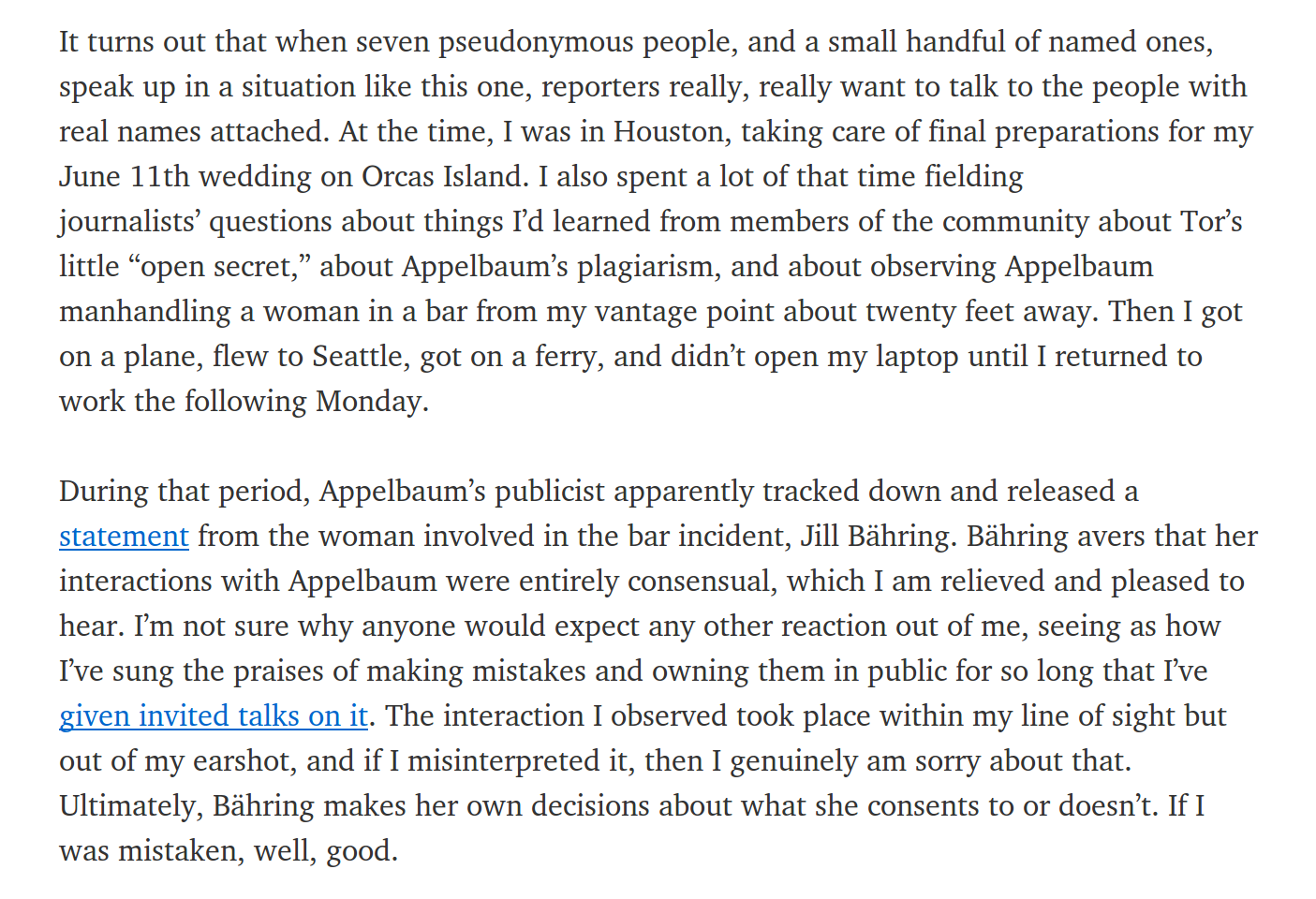 As for Andrea Shepherd, this is the closest to an (non)apology that I've been able to find: [note: if something more substantial exists elsewhere, I'll happily include it here]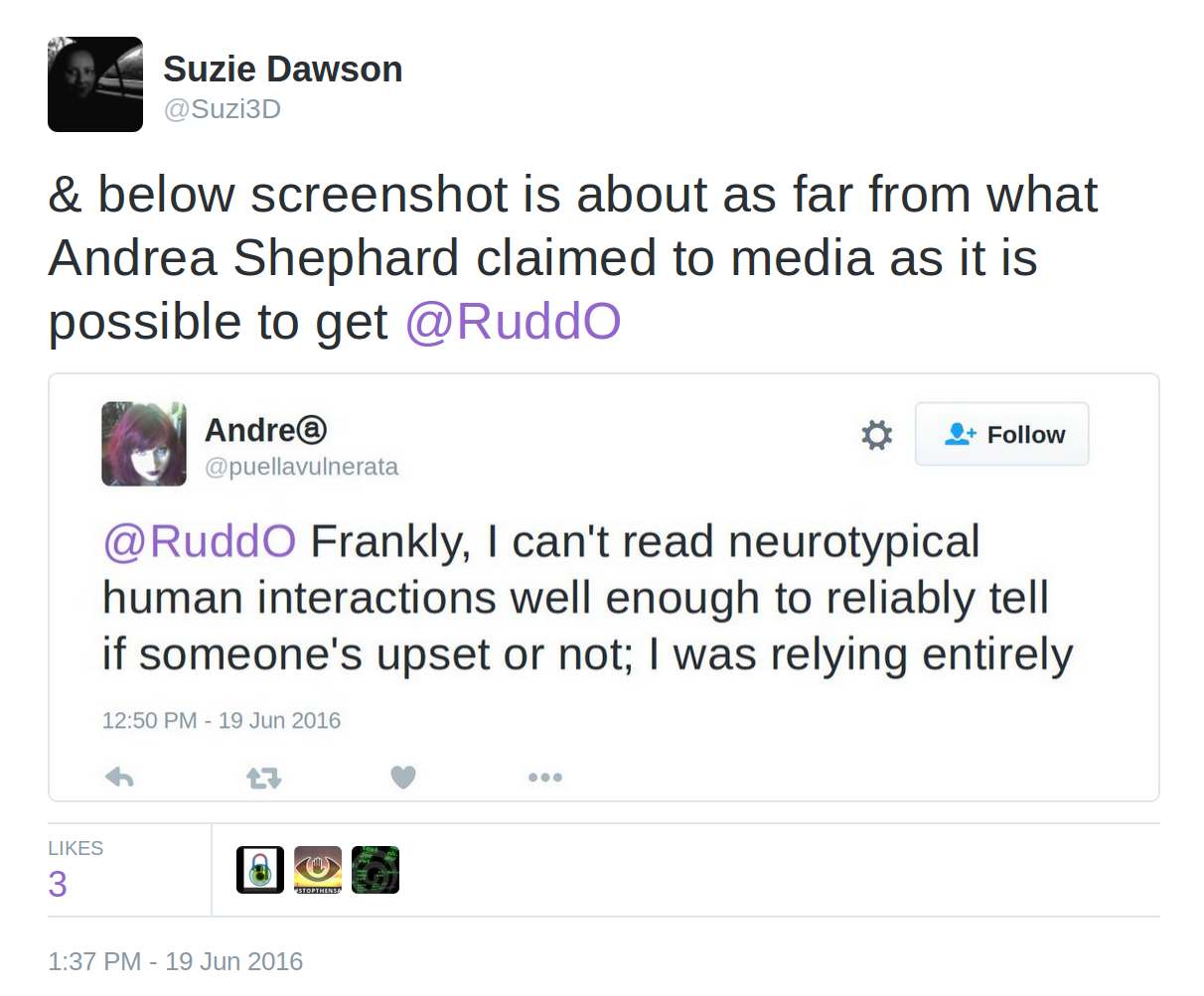 The full-time anti-ioerror troll account @VoodooHacks seems to think Shepherd was the instigator of the scandal: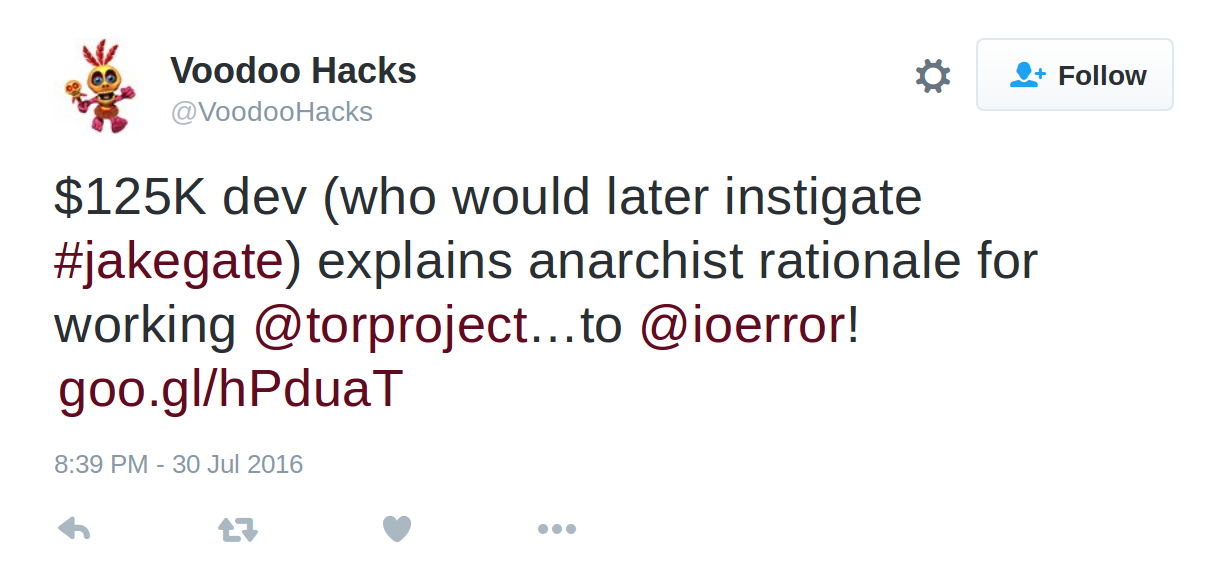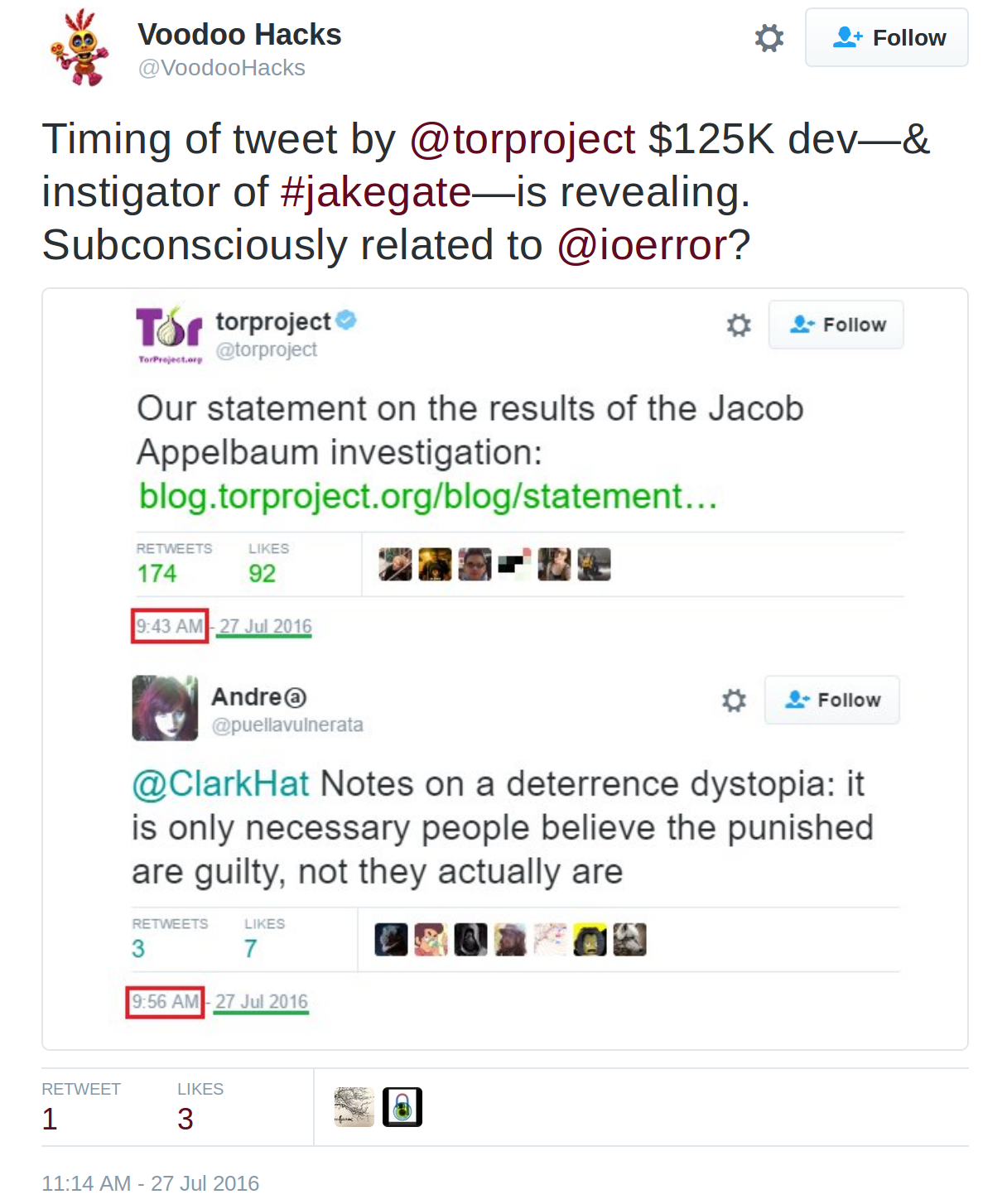 In Meredith's posts, she ostensibly admits to being an organiser of the events, chides accuser Leigh Honeywell and alludes to Andrea Shepherd being a survivor of rape:
"Honeywell conveniently neglects to mention that this solution has its own critical failure mode: what happens to members of marginalized groups whom the existing affinity group considers unpersons? I can tell you, since it happened here: we had to organize on our own. Honeywell's report came as a surprise to both me and Tor developer Andrea Shepard, because we weren't part of that whisper network. Nor would we expect to be, given how Honeywell threw Andrea under the bus when Andrea tried to reach out to her for support in the past." – Meredith Patterson
This seems to be reinforced by the @VictimsofJake account: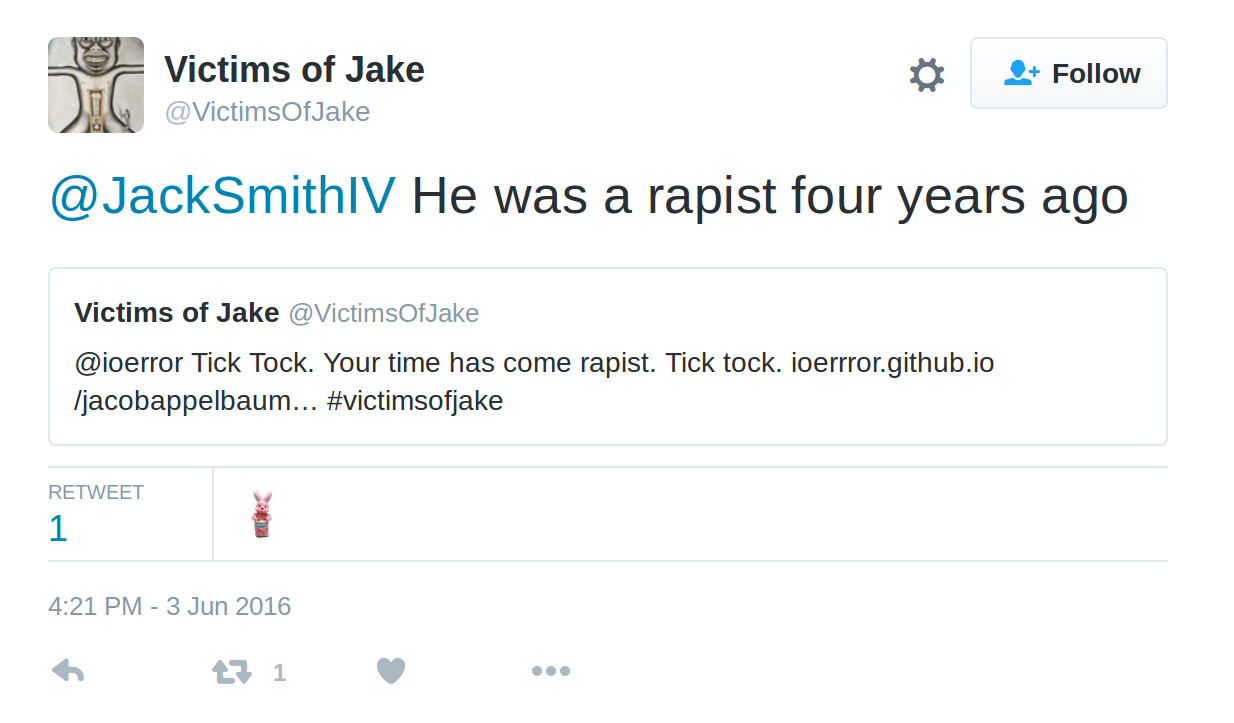 [UPDATE: further information has shed light on Meredith's comment – she was apparently not intimating that Andrea had complained of rape to Honeywell, but of harrassment re the Pando crowd]
Clearly there is no love lost between the organisers of the campaign.
Or at least, as Meredith says of sociopaths:
"the opportunity to gloat over seeing one's prey stumble is too difficult to resist." – Meredith Patterson
It is a shame Shepherd, Tan and Patterson didn't take Meredith's own advice and just frankly and immediately publically apologise for what they did to Jill, who was needlessly dragged into this highly public mess through no fault of her own.
"An honest person will try to find out how to make it right, while a bad actor will try to make it all about them." – Meredith Patterson
When Friends and Enemies Say The Same Thing
An anonymous Tor developer posted a text file to the internet which made a number of significant claims about who is behind the JacobAppelbaum.net site and what their involvement is.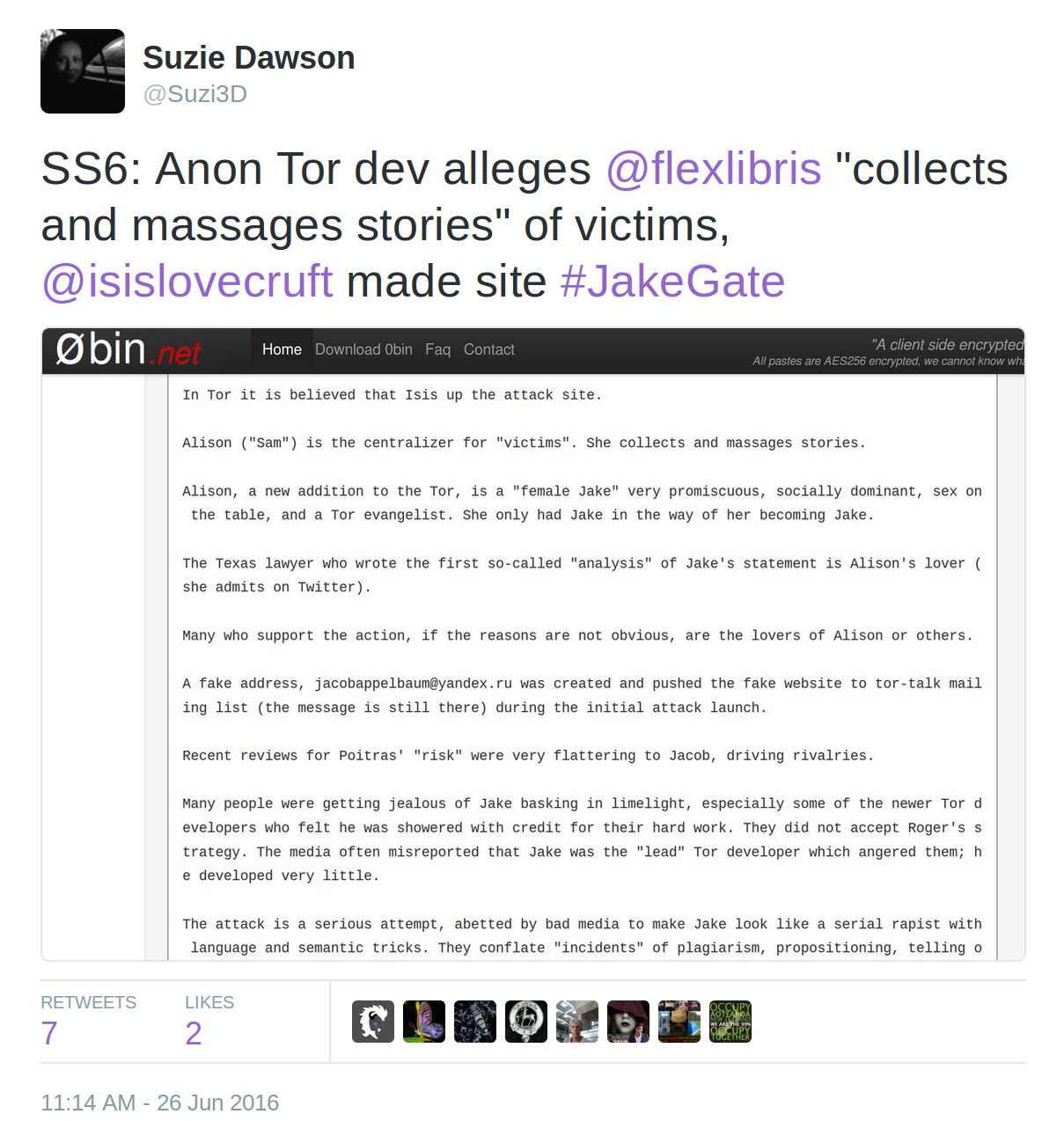 @VictimsOfJake promptly responded in a similar format.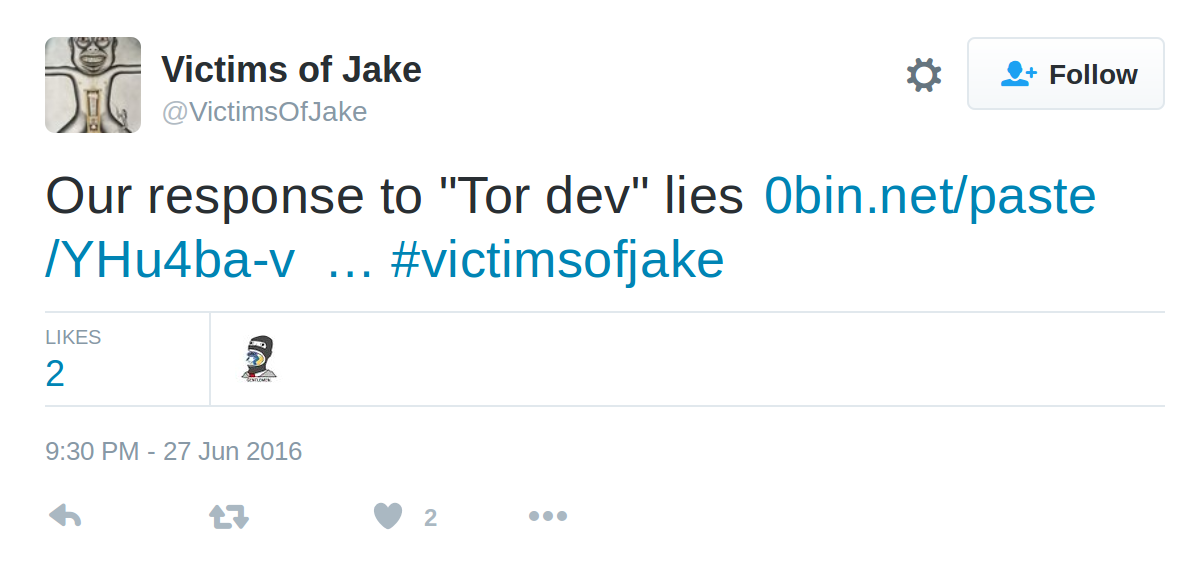 Meanwhile, one of Alison Macrina's friends was inadvertently corroborating some of the claims of the anonymous Tor developer and dropping Macrina in the proverbial by bragging about the extent of her involvement, on Jacob Appelbaum's Wikipedia Talk page.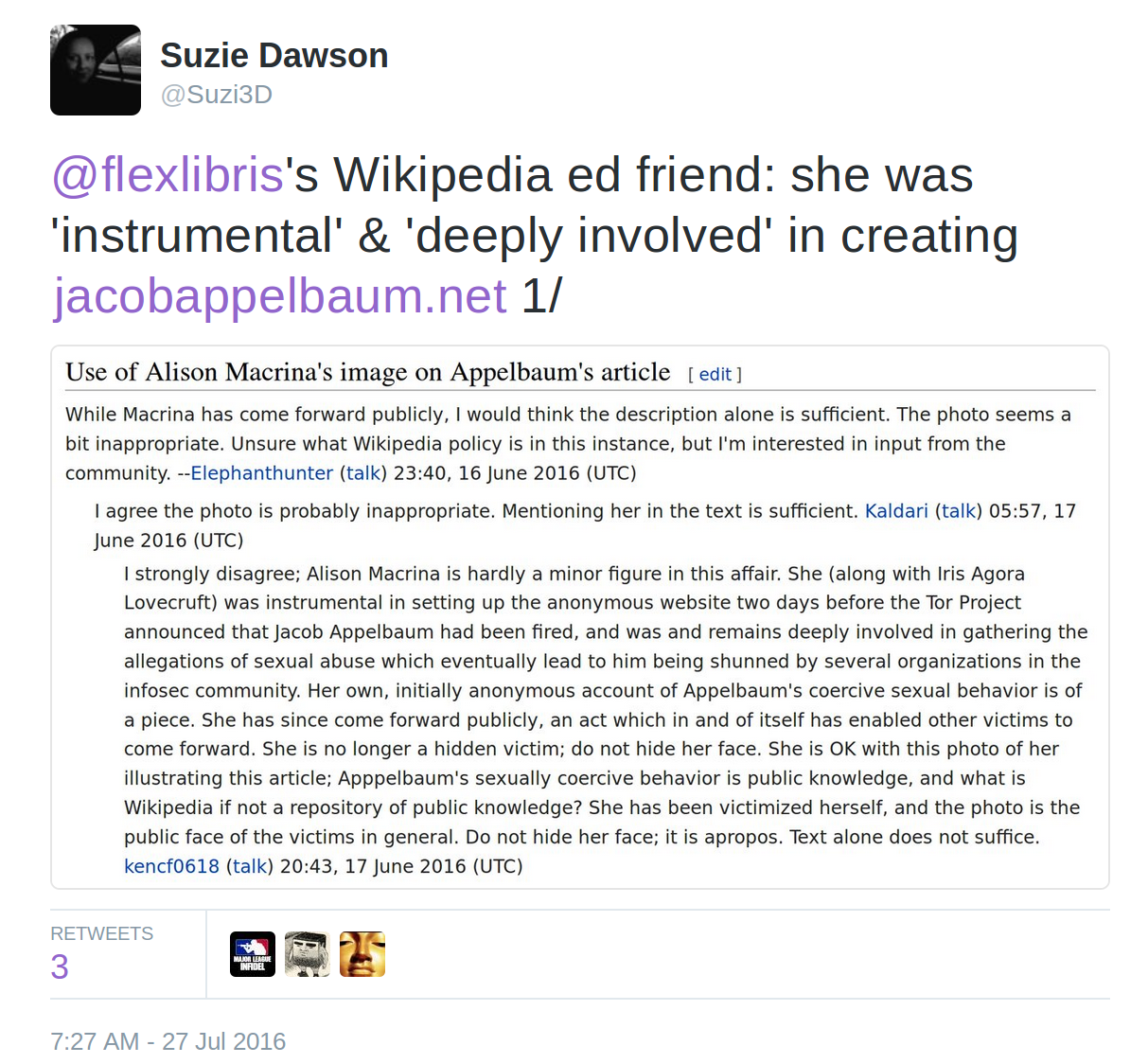 He then recanted "for legal reasons".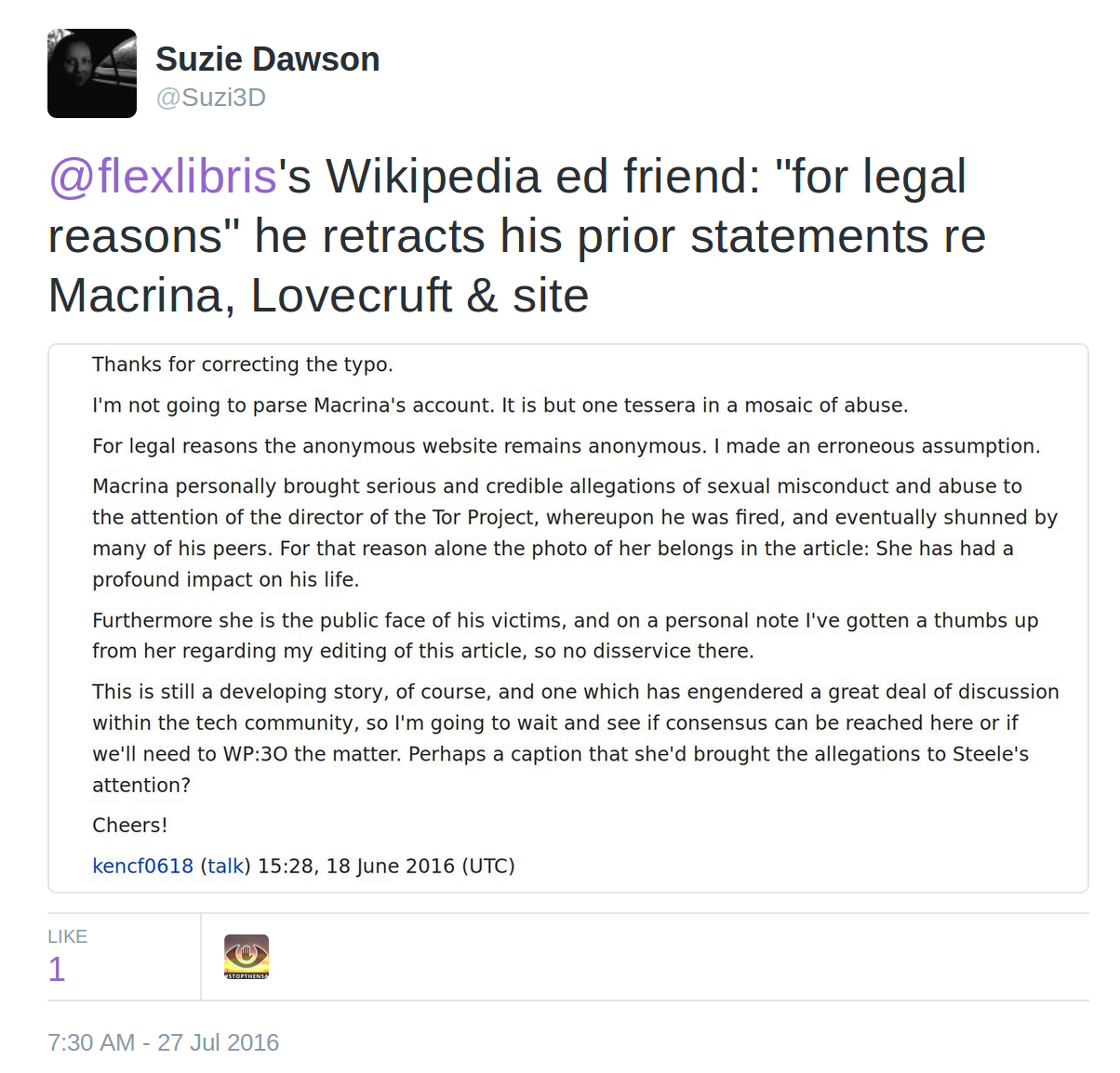 A puzzling element regarding Macrina's involvement, is why her 'Sam' story was not published when the site went live. It was in fact at that time, merely a placeholder.
Looking back at her Twitter timeline, she spent the night of the release of the allegations "excited to see the morning sunlight". Her next tweet was a retweet of the Stanford rape survivor's statement – seemingly a deliberate attempt to prep her audience for what would come. However, as discussed in Part One of this series, at 7,200+ words chock-full of victim impact, that statement bears absolutely no resemblence whatsoever to the so-called testimonies subsequently posted on the smear website JacobAppelbaum.net: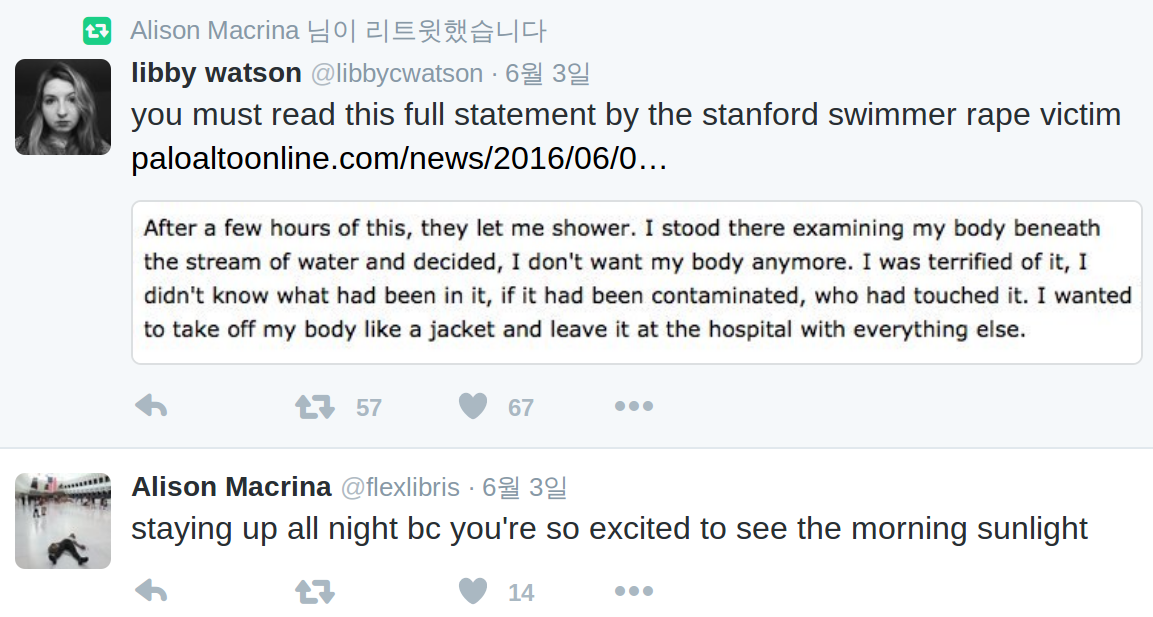 So Macrina went from not realising she was a victim and not being one of the original statements posted, to being the first to 'out' herself as a victim publically, to being 'OK' with her face being plastered onto her alleged attacker's Wikipedia page.
Branding The Take-Down
There was a clear agenda to brand Macrina as "the face of victims" – despite the fact that she had not been raped.
The attempt to have a non-survivor become a self-styled representative for the survivors of violent rapes is reprehensible.
But there is no doubt that the scandal was yet again raising Macrina's profile.
When being called out by Shava Nerad, ironically the original Executive Director of the Tor Project, for decrying "rock stars" while quite obviously becoming one, none other than Macrina's Wikipedia-editor friend jumps to her defense:

Becoming The Police

The unfortunate Tor employees and advocates who had nothing to do with either those being smeared or those doing the smearing, were inevitably feeling the strain.
As were the wider activist community. What was done to Appelbaum had a catastrophic effect on personal relationships between long-time colleagues and friends, and fractured solidarity between organisations and subgroups.
"We've seen peak Berlin", a core member who had been around for more than a decade told me.
Anyone who had visibly worked closely with Appelbaum and didn't choose to instantly abandon him became collateral damage and subject to attacks and rumourmongering.
Even if their choice was based on knowledge that what was being said about him didn't add up.
Tor allowing months to go by with accusations of rape hovering over the heads of unnamed persons known only as "Jake's friends" was a callous and effective smear on everyone that knew him. Their constant refusal to this day to elaborate on precisely what those friends are supposedly guilty of or alleged to have done, on what basis two of them have now been fired, and the masking of their identities, is a brush that has tarred scores of people.
Meanwhile, the over-saturation of the story, which was being rehashed by anti-ioerror sockpuppet accounts on a daily basis, who were acting as a thought police by asked leading, open-ended questions of anyone who even mentioned him on Twitter, began to wear thin.
The controversy became more than an attack on Appelbaum – it became an existential threat to the Tor Project itself: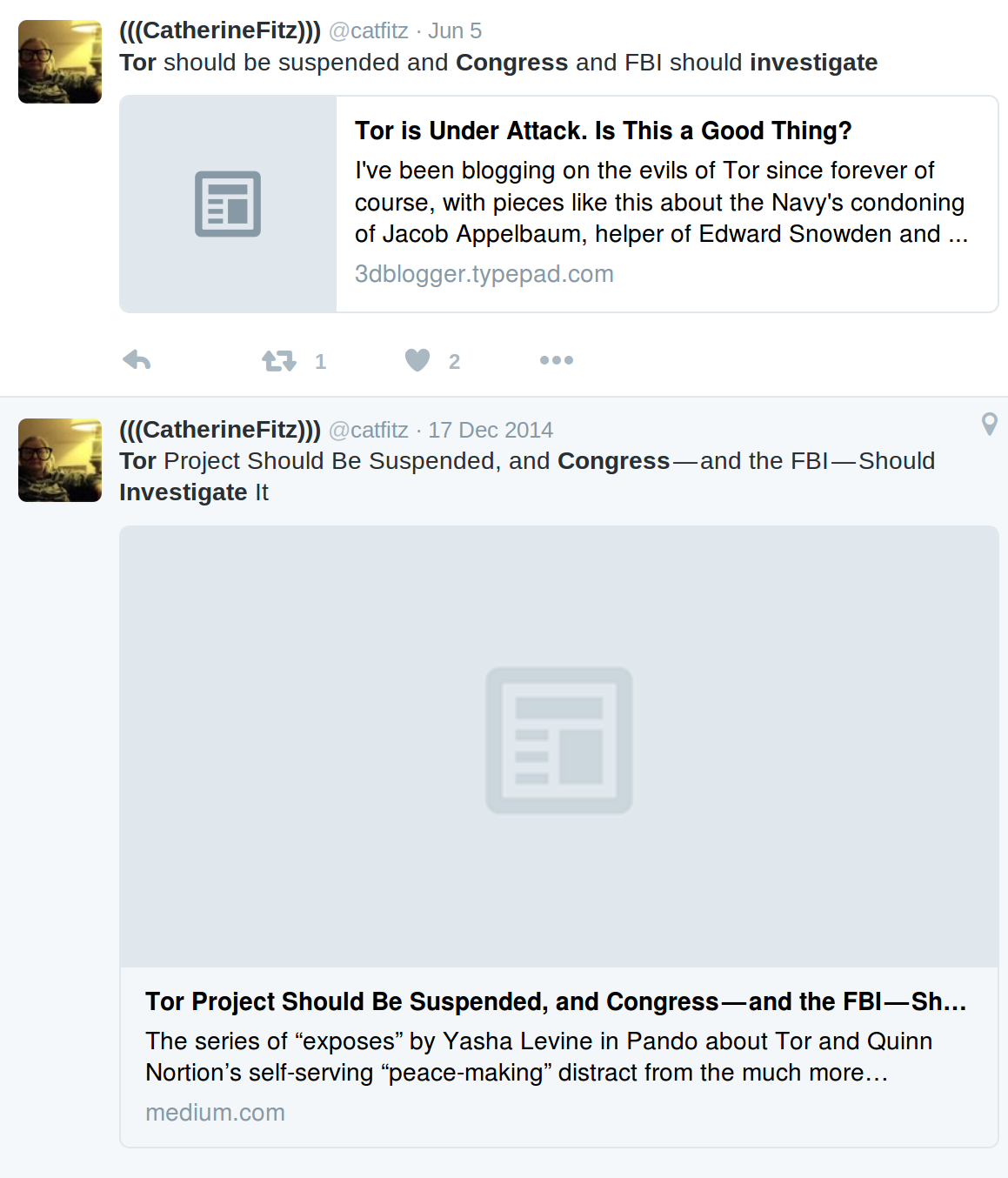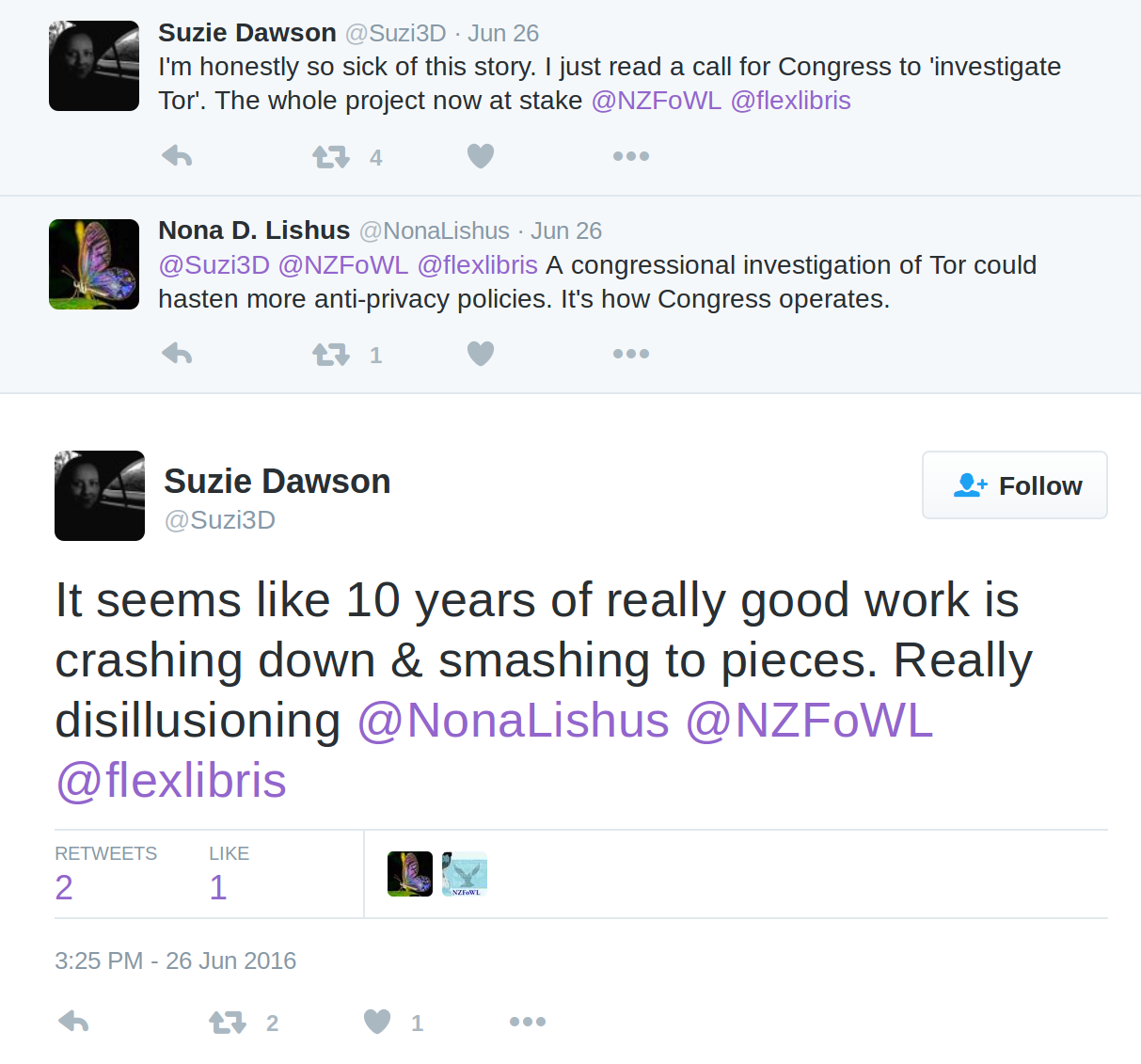 The narrative of the so-called 'victims collective' was 'codes of conduct' and '(un)acceptable behaviours' and 'safe spaces policy' – social contracts that have ironically been used to rip activists groups apart for decades.
The introduction of safer spaces policy at Occupy had been the turning point that marked the rise of the movement becoming the demise of the movement. As soon as your personnel and resources are spent writing social contracts that then require enforcement, your focus is no longer external but internal.
Because when you start making laws, then someone has to become the police.
And having police around doesn't make anyone feel any safer.
The message has been very clear: if you are with the newly ruling clique, they have your back. If you question them, the bees are coming.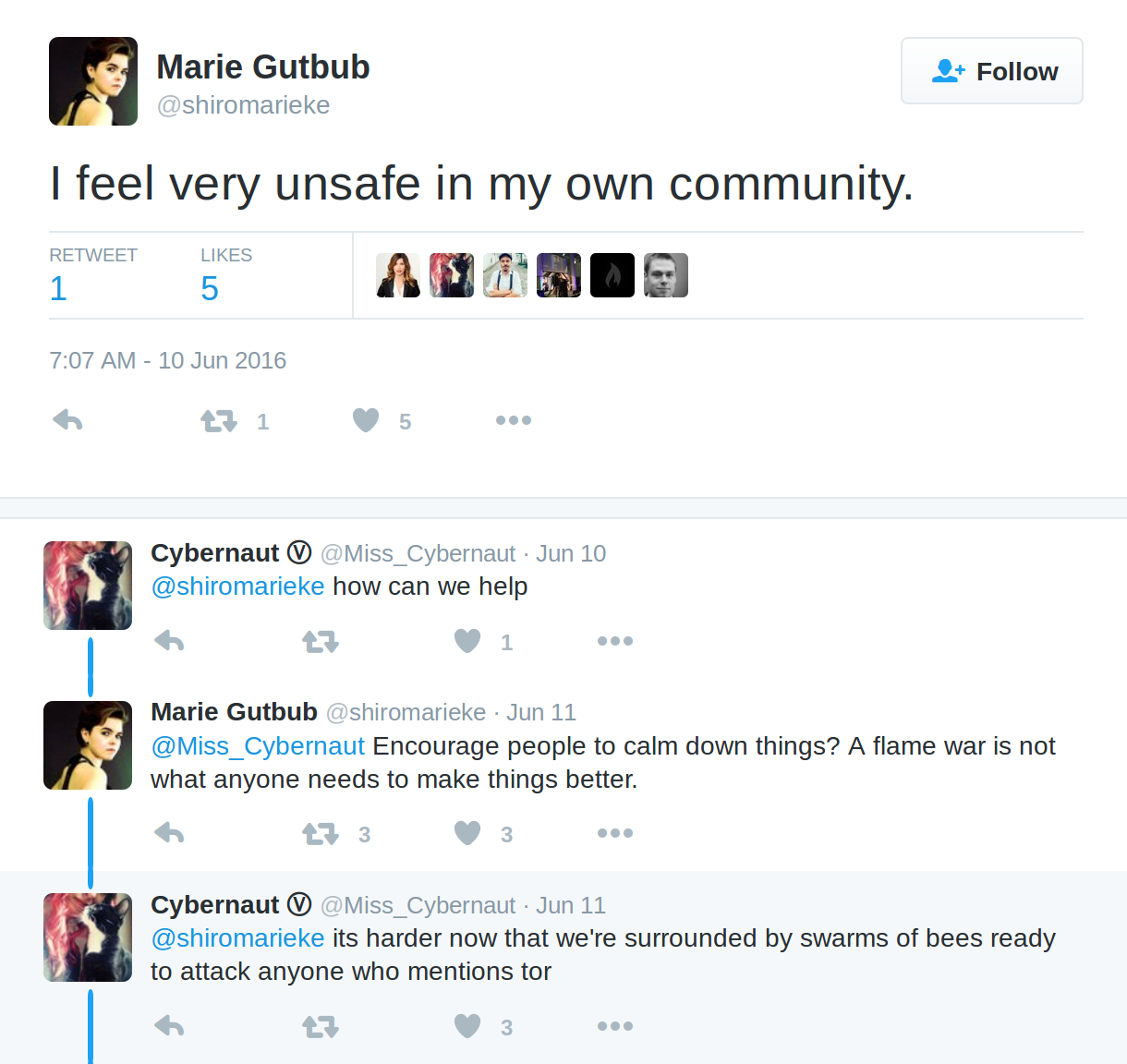 In this instance, the institution of safer spaces policy and codes of conduct is a reinforcement of the rule of those who have formed a new executive governance.
That the policies are being instituted by the same people who have wreaked havoc upon the community, is a signal: if you don't bow down, then as Meredith says, either jump or be pushed.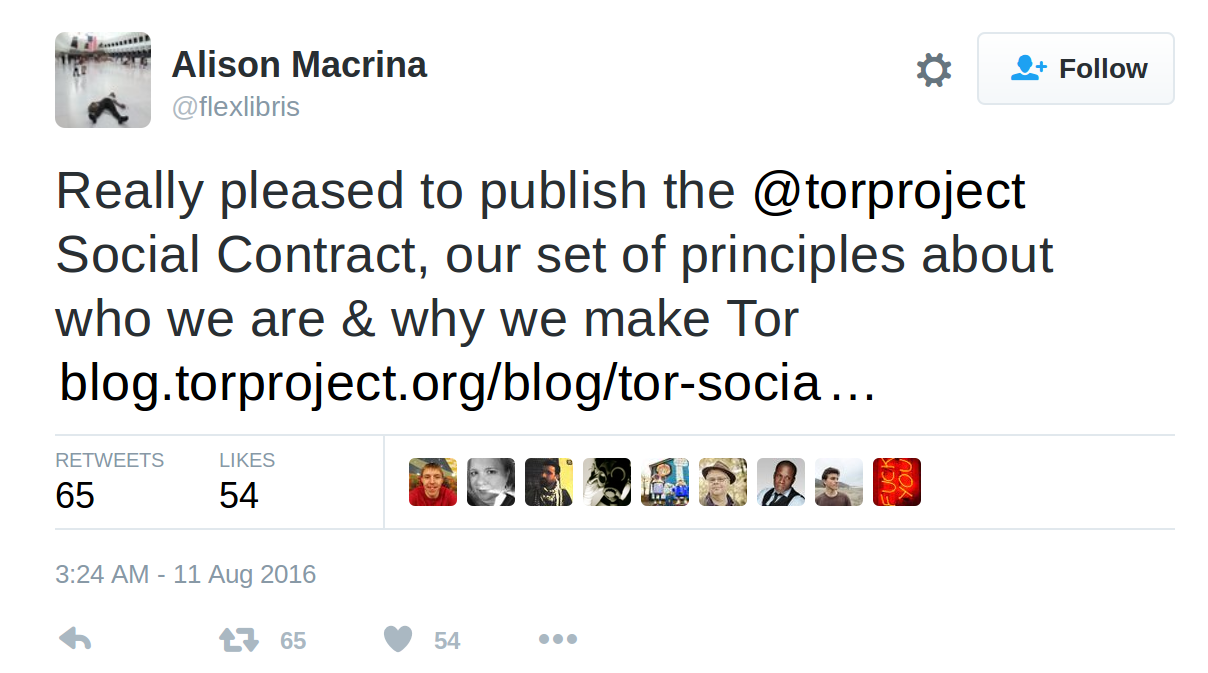 [Note: the social contract promoted by Macrina above is not the new code of conduct and community guidelines which is supposedly, to follow.]
Selective Solidarity and Dirt Digging

Little of the conduct evinced in this article by Tor's new police force aligns with the creation of inclusive, safe spaces.
While perceived adversaries are mocked and mobbed instead of embraced and reconciled, the hostility culture is only going to get worse.
Likewise as ideological disagreements become highly personalised.
Throughout this series I had people come foward to me with information. I also uncovered a ton of it myself. This included veritable mountains of info about people's intimate and sexual relationships. Some of the evidence I found blatantly contradicted other public claims they have made about them. I have decided not to publish any of it, because, as Shepherd once said of Pando: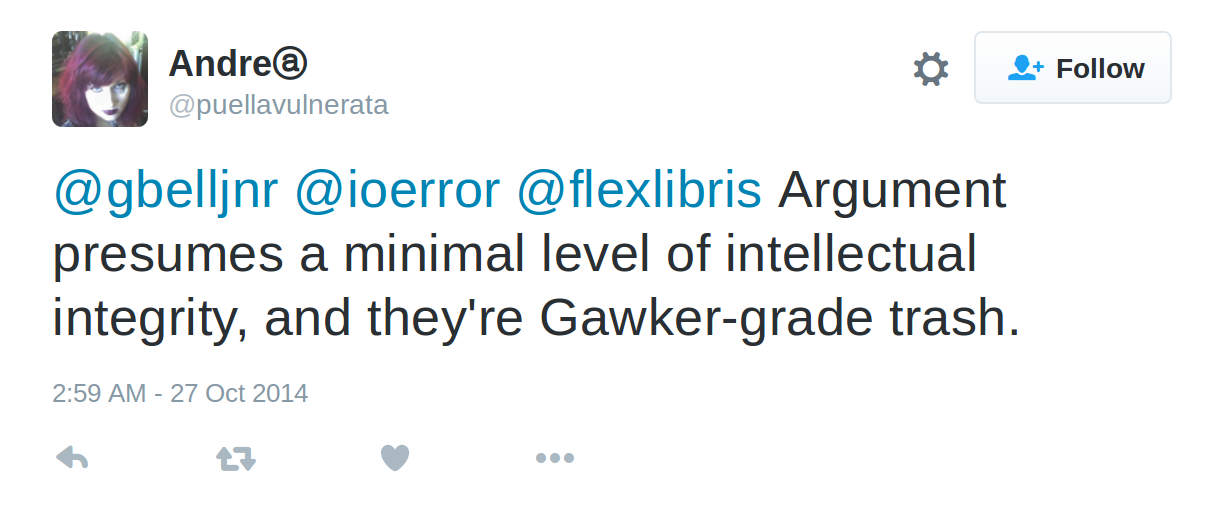 In defense of her misrepresentations about the AKP emails "dump", Zynep Tufekci sent me a link to a New York Times piece that was supposed to reinforce her claims. Being me, I clicked on the source links and found myself at Gawker and Gizmodo, reading about Julian Assange's children, and his ten-year-old love letters.
Any credibility the article had went straight out the window.
The state agencies come at you through your romantic relationships, whether it be past, present or future; through your children, through your family, through your work, through your identity. That is the methodology of the unscrupulous; the immoral. Of scoundrels.
It is clear without any doubt that all personal grievances aside, the ultimate target is WikiLeaks and the aggravating factor is that the U.S. Presidential election is now a matter of mere weeks away.
The corporate media are speaking in unison against Trump and for the election of Clinton. You can find a half dozen articles decrying the former and another half dozen promoting the latter on any of the vast majority of big name American media websites.
It is not a coincidence.
Even though, to (very loosely) borrow from Sebastian Mondial, the candidates are two socks on the feet of the same person.
As this series progressed, the uniformly anti-WikiLeaks positions of Appelbaum's accusers and their supporters became increasingly evident. Which neatly lined up with larger governmental objectives of bringing down the entire WikiLeaks publishing organisation rather than just some individuals associated with it.
But just as with the very protracted desecration of Julian Assange's reputation, despite all the furore and spectacle the public dismemberment of Jacob Appelbaum did not stop WikiLeaks publishing, nor has it visibly hindered their work.
In the wake of the #DNCLeak, arguably WikiLeaks most successful release to date, it has become clear that yes, WikiLeaks remains the meta target, and more – that the catastrophic divisions created within the privacy and infosec community in the wake of the Appelbaum smears are falling squarely along ideological political lines.
The Circus In Full Swing
Election year madness has kicked in full-throttle, exposing the true colours of organisations and individuals alike and throwing a bunch of unlikely bedfellows together.
Wholly embracing the stage-managed divide-and-conquer dichotomy of (in Assange's words) "Cholera versus Gonorrhea", countless major players have thrown their full weight behind their preferred candidate.
The military industrial complex has stamped their seal of approval on Hillary Clinton. They fully intend her to be the next President of the United States of America.
So have the major New York magazines and newspapers – in particular, the New York Times, and more broadly, the vast majority of the media networks and the monopolies that own them.
In the case of the New York Times – denouncing WikiLeaks is not only ideological but a desperate attempt to distance themselves from any perceived culpability for having partnered with them, co-publishing their leaks, in the past.
It is the mass media equivalent of obtaining immunity by publically testifying against your co-accused. A corporate's version of "turning state witness" – before the trial, in the court of public opinion.
As was beautifully articulated by the great American actor and writer John Cusack's "What Is An Assange?", in the Huffington Post: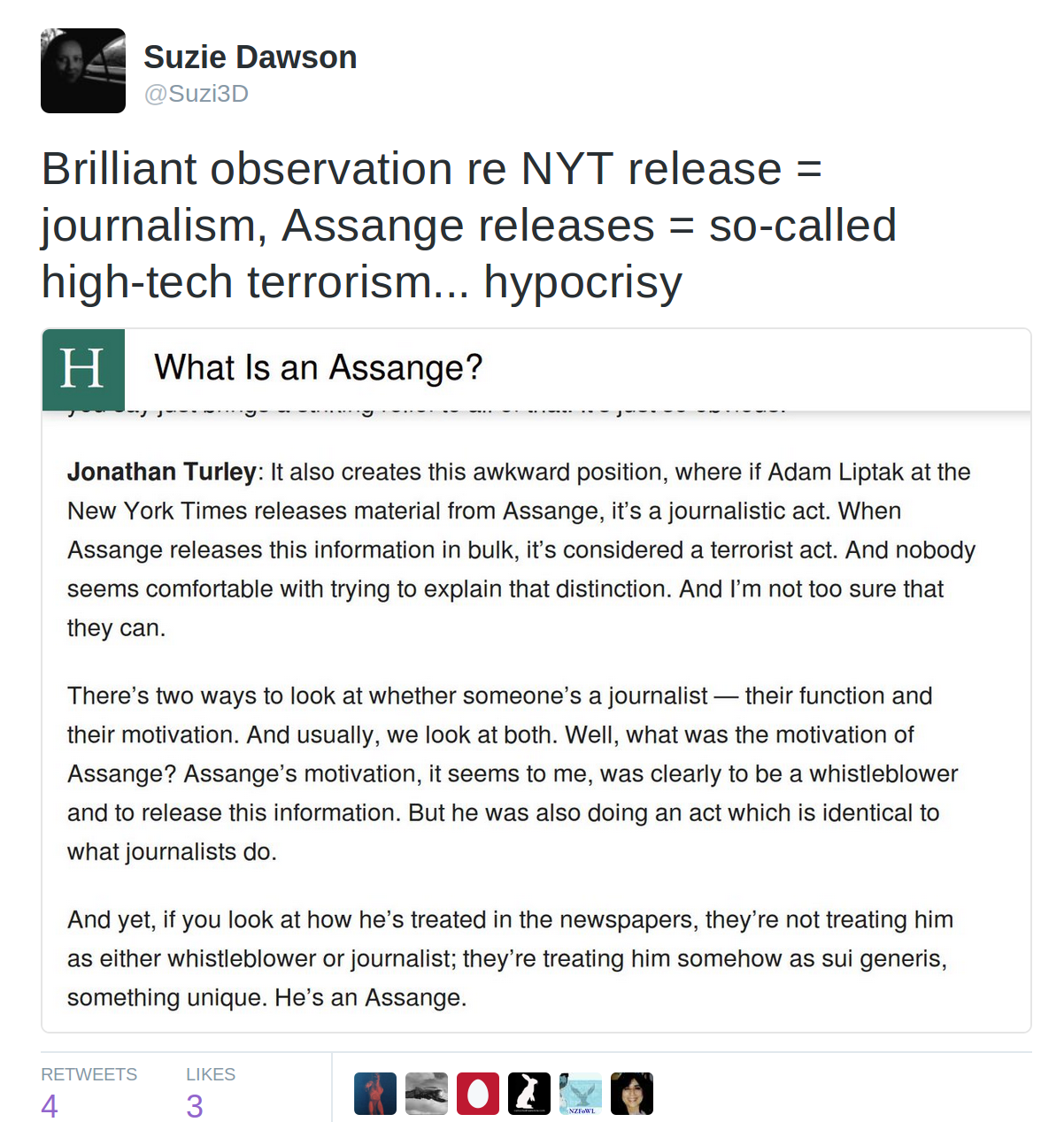 The same New York Times that told America in 2002 that Iraq had WMD's, has published at least three hit pieces on WikiLeaks this month alone, and incredibly, yet somehow fittingly, became the "exclusive" publication of choice for the Tor Project's "independent investigation" findings.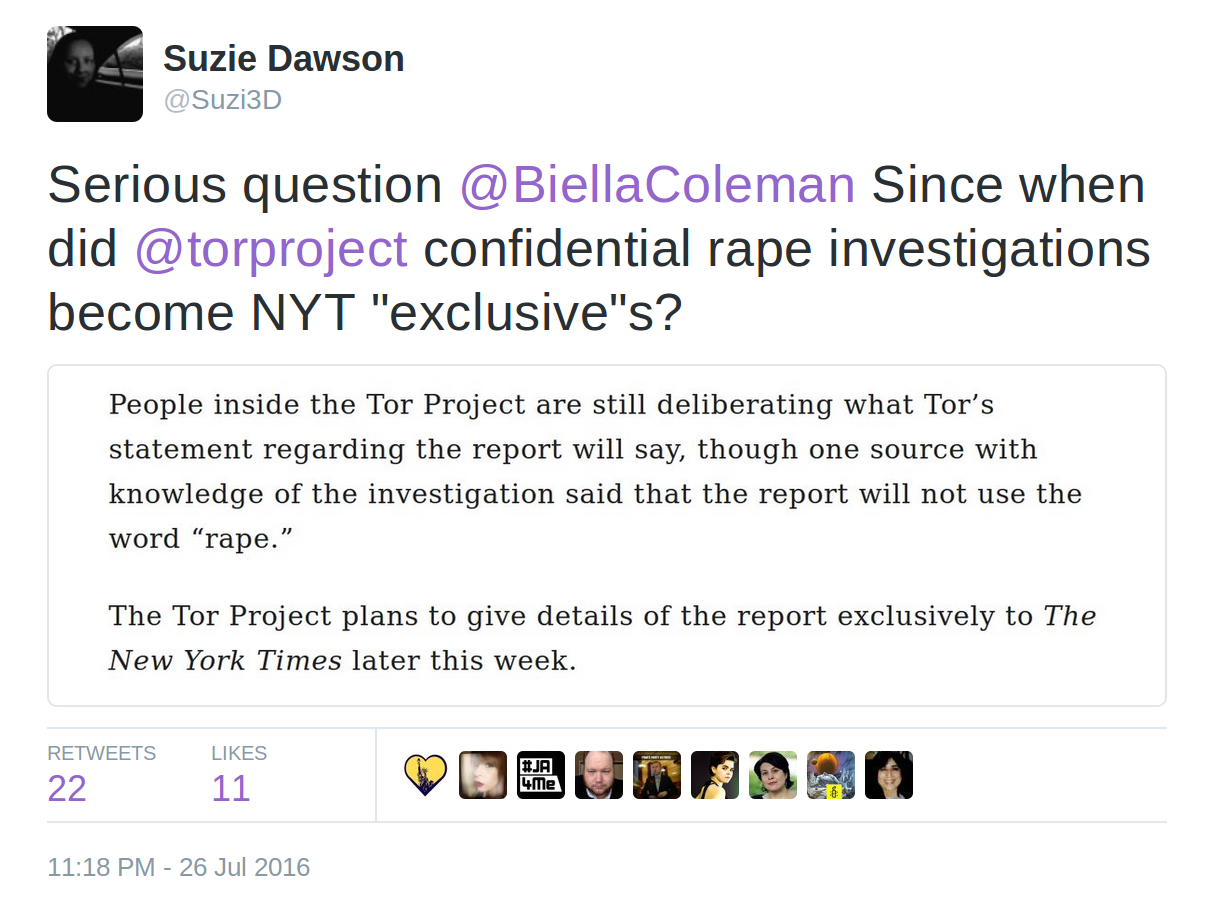 The ties between the Tor Project and the New York Times run deep. It is well known, and was publically celebrated by those close to the individual involved, that an ex Tor Project employee took up a significant position at the NYT.
Nicole Perlroth, the author involved failed to answer as to how or why they had gained access to the 'exclusive' from the Tor Project, and the Tor Project refused to answer to why the findings of a rape investigation was an 'exclusive' at all.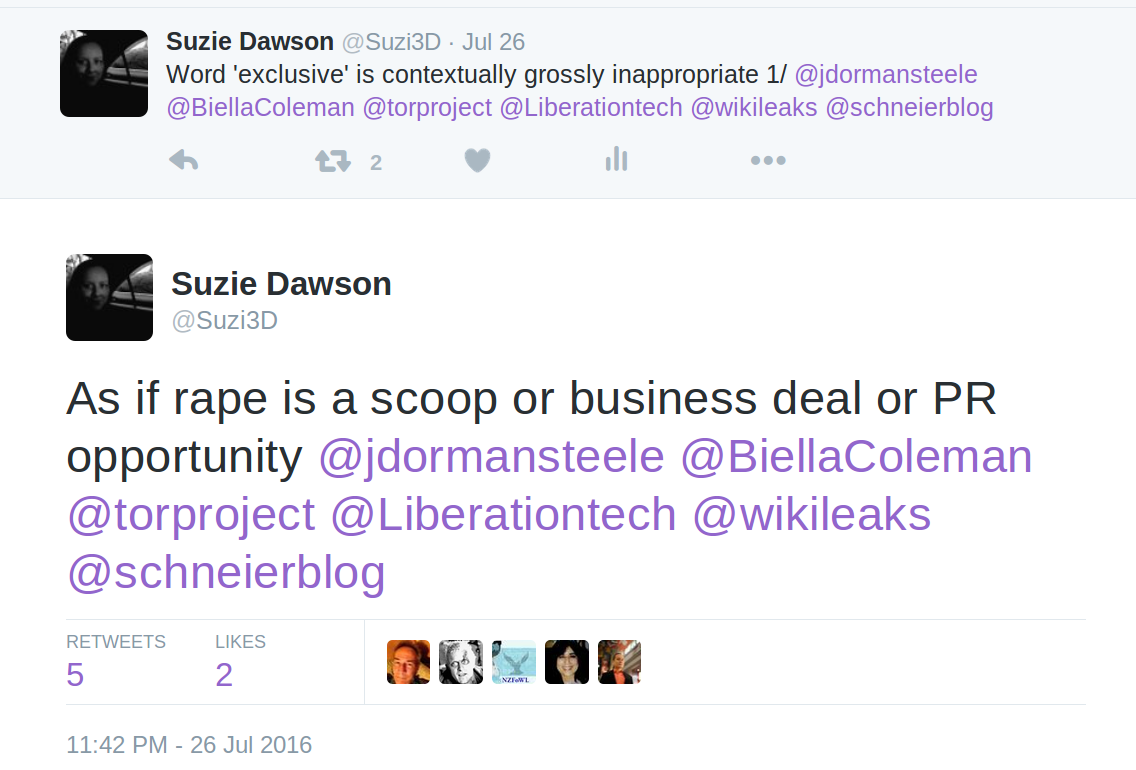 Perlroth has a history of propagating anti-WikiLeaks sentiment in the paper.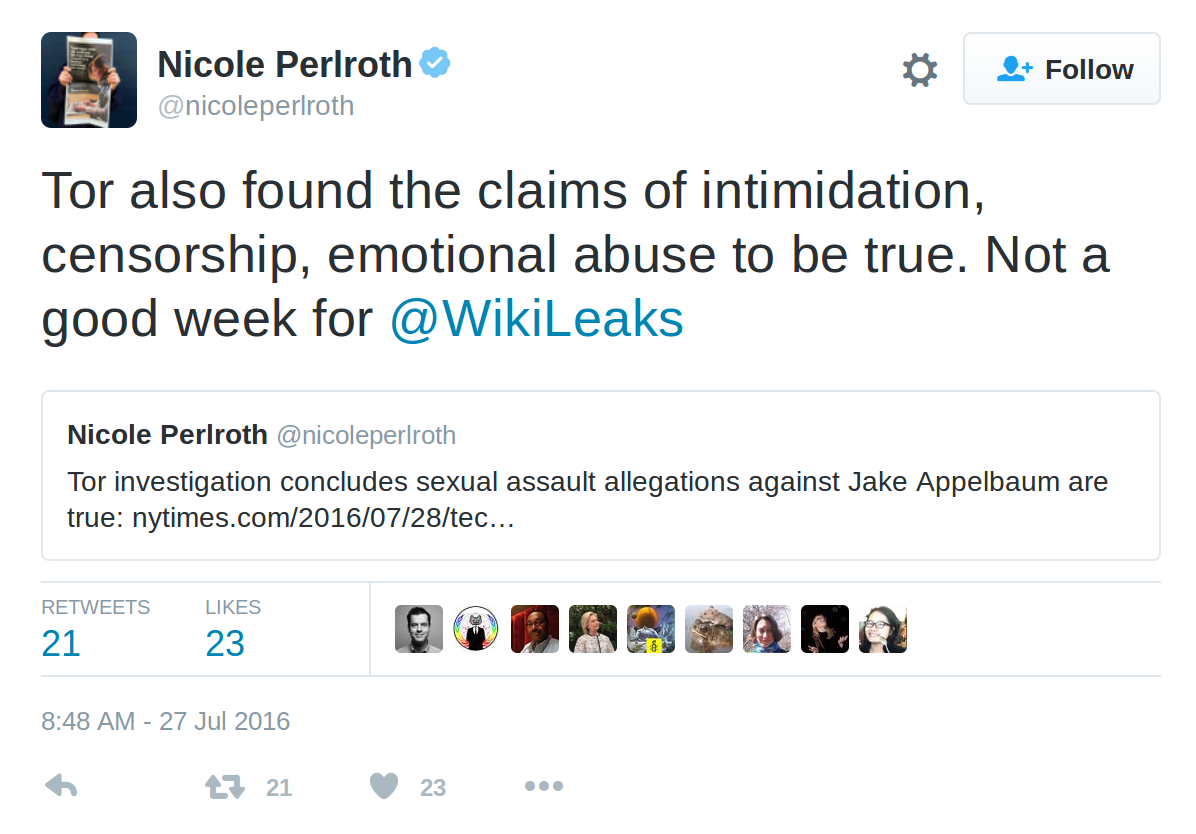 In her June 4th statement, published the same day that JacobAppelbaum.net began widespread public circulation, Shari Steele wrote:
"We expect that this will be our only public statement." – Shari Steele, Executive Director of The Tor Project
Less than two months later, Steele is exclusively interviewed by the New York Times. What happened in between, to prompt such a radical change in strategy?
Tor's choice of mass-media outlet was almost as strange as the packaging of rape-investigation findings as an "exclusive" at all. Not to mention that, without any apparent request for retraction or correction by the Tor Project, the New York Times had recently reported that the Tor Project's board "was pushed out":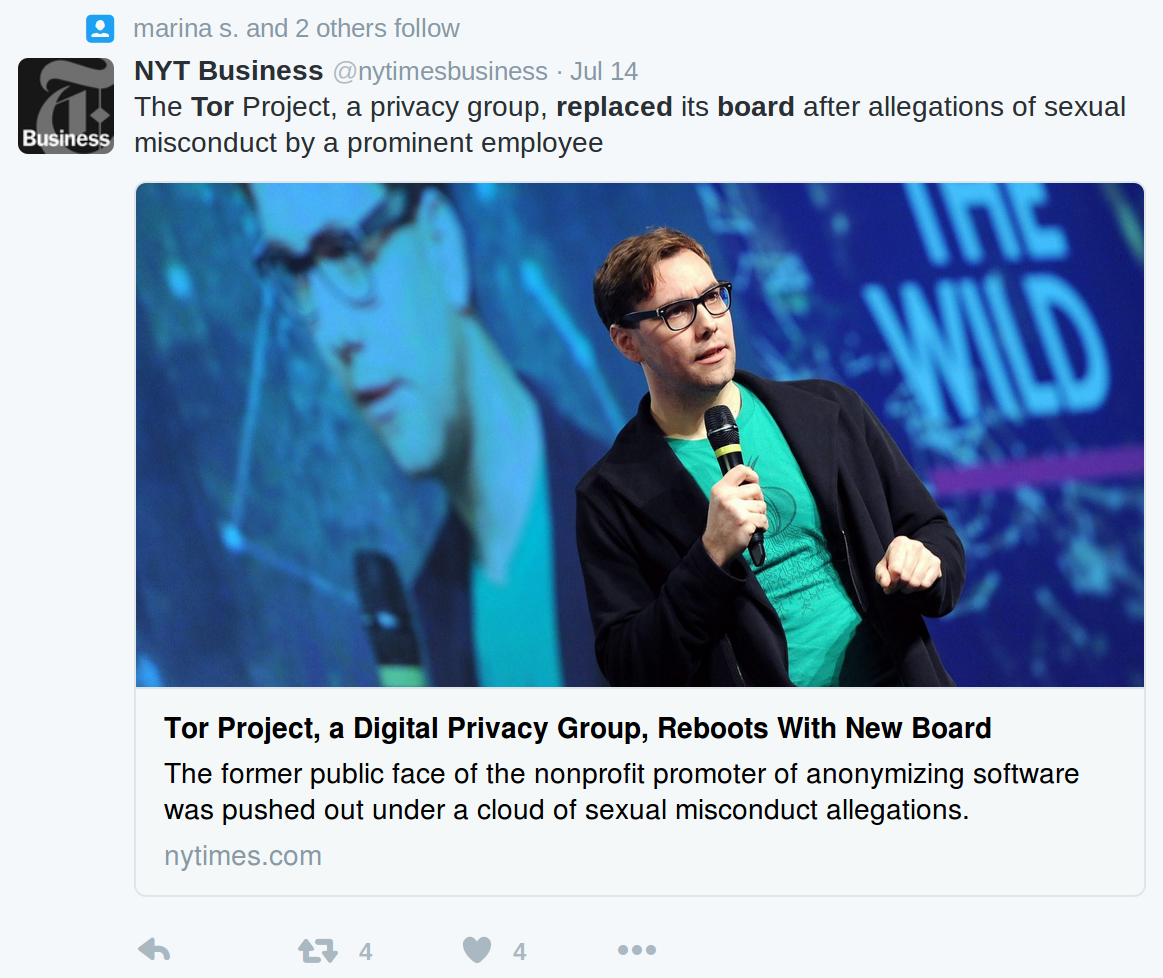 …a claim that directly contradicted Executive Director Shari Steele's statement that the board had "elected" their replacements in "a bold and selfless decision" to effectively resign en masse.
For such a claim to go unchallenged, and answered by the granting of an "exclusive", reads as if the messaging of what had really occurred was being tacitly approved if not outright pushed through the NYT, from behind closed doors at Tor.
Selecting The New Board Members
Ideological alignment with the actions of Shari Steele and "the company" regarding Appelbaum's exit, and/or those behind the JacobAppelbaum.net site, may have been an assumptive prerequisite of qualification for placement on the new Tor Project board.
On June 24th, renowned anthropology professor Gabriella Coleman, wrote a comprehensive blogpost, quoting feminist group theory and endorsing the actions of Steele and Tor.
Coleman begins with praise for the aforementioned:

20 days later, she was officially announced as a member of the new board.
Also announced as a new board member, was Associate Professor Matt Blaze: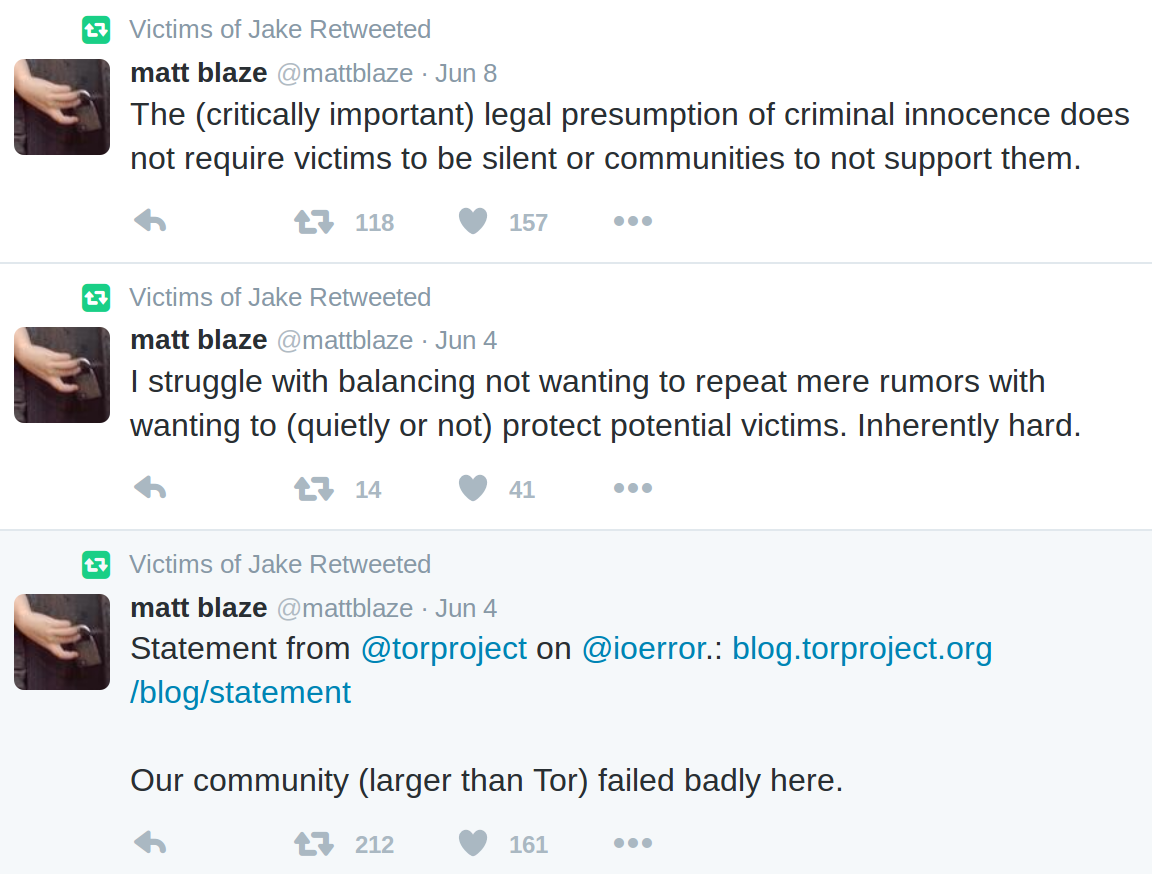 Shari Steele's NYT Exclusive

It is in the wake of this appointment of the new board that Shari Steele was 'exclusively' interviewed by the New York Times, over the outcome of the Tor Project investigation into the rape claims.
The crux of the exclusive interview with Steele isn't even mentioned until the 15th of the 18 paragraphs in the article.
The two sparse quotes from Shari appear at the very bottom and comprise less than 10% of the total word count.
Why did the New York Times feel the need to minimise their exclusive access?
They state that their interview with Steele was undertaken "late Tuesday" – that is the day before the Tor Project announced the findings of the investigation. So there is no doubt that they indeed had exclusive access regarding the outcome. Gizmodo had knowledge of the exclusivity of the interview at least several days beforehand. Yet that fact is as downplayed as the verbiage of the original allegations.
It may have something to do with the first sentence of the article:
The Tor Project, a nonprofit digital privacy group, announced on Wednesday that an internal investigation had confirmed allegations of sexual misconduct…
"Sexual misconduct."
The article references the official Tor Project statement that accompanied the so-called release of the findings.
"Many people inside and outside the Tor Project have reported incidents of being humiliated, intimidated, bullied and frightened by Jacob, and several experienced unwanted sexually aggressive behavior from him."
"Sexually aggressive behaviour."
Not sexual assault. Not rapes. Not gang rape. Not serial rape. Not instructing others to rape. Not violence, or sexual violence. Not stupefication. Or any of the other claims plastered all over social media and elsewhere, by his accusers and others.
Instead, as a result of their supposedly thorough, independent investigation, the claims have been dramatically downgraded.
I anticipate that Tor's defenders will say that this is just the organisation trying not to get sued. Trying to limit its liability. That the statement is the result of professional advice. That they are not law enforcement and cannot label something a crime that hasn't been tested in court by a judge and/or jury.
Which would run completely contrary to the lauding of Tor by those same defenders as having taken a strong stand for women, in support of the community and against rape and sexual assault.
As being 'feminist' superheroes, working for Gaia.
What is far more likely, is that the promised "dozens of victims" never manifested.
[UPDATE: the majority of the existing allegations relate to inappropriate workplace behaviour. However, with the exception of one joke at the Valencia conference where the complainant was not the person the joke was directed at, all other complaints of 'professional misconduct' did not occur at a place of work. There was in fact, no workplace. Jacob has been in exile for three years. There were no official Tor rules against, and indeed there was a culture of, social fraternising at pubs/clubs/private homes.)
The H.R. Leaks
On the liability front – Tor's prior statements and conduct regarding this debacle have been highly questionable. Tor management have allowed multiple staff members to remain employed while visibly running an ongoing online smear campaign against another employee. There is evidence senior management knew about it in advance. They have tacitly endorsed, by their silence regarding it, the leaking of private human resources documents and other information from within the organisation. Leaks that were prejudicial and likely to be in the personal interest of those anonymously making the disclosures in order to support their own claims and to shore up the position of the organisation, rather than in the public interest.
Tor's initial statement was, in the words of Roger Dingledine, "stripped down" and "bland". It was in fact 24 words.
It was soon followed up by a much more verbose statement that vastly contrasted their intially minimalist statement.
Rape Survivors Denied Justice For Decades
It is actually highly unusual for cases, even involving large numbers of victims, to get immediate attention in mainstream press.
Bill Cosby has constantly been brought up by Appelbaum's detractors, but what they fail to note is that Cosby's victims, all of whom had been raped or sexually assaulted, had to organise and fight for decades in order to be heard.
Likewise with those behind the Child Sex Inquiry in Britain, which has also spanned decades and still not yet achieved any laudable outcome.
While ignoring demonstrable, provable cases of rape, those who seek to champion rape survivors in name only have a tendency to apply their sympathies only where it suits them.
Or else those same self-appointed advocates would be raising hell about the leaked audio tapes where Hillary Clinton brags about destroying the case against the rapists of a 12-year-old victim; or about the rape and harrassment of Juanita Broaddrick.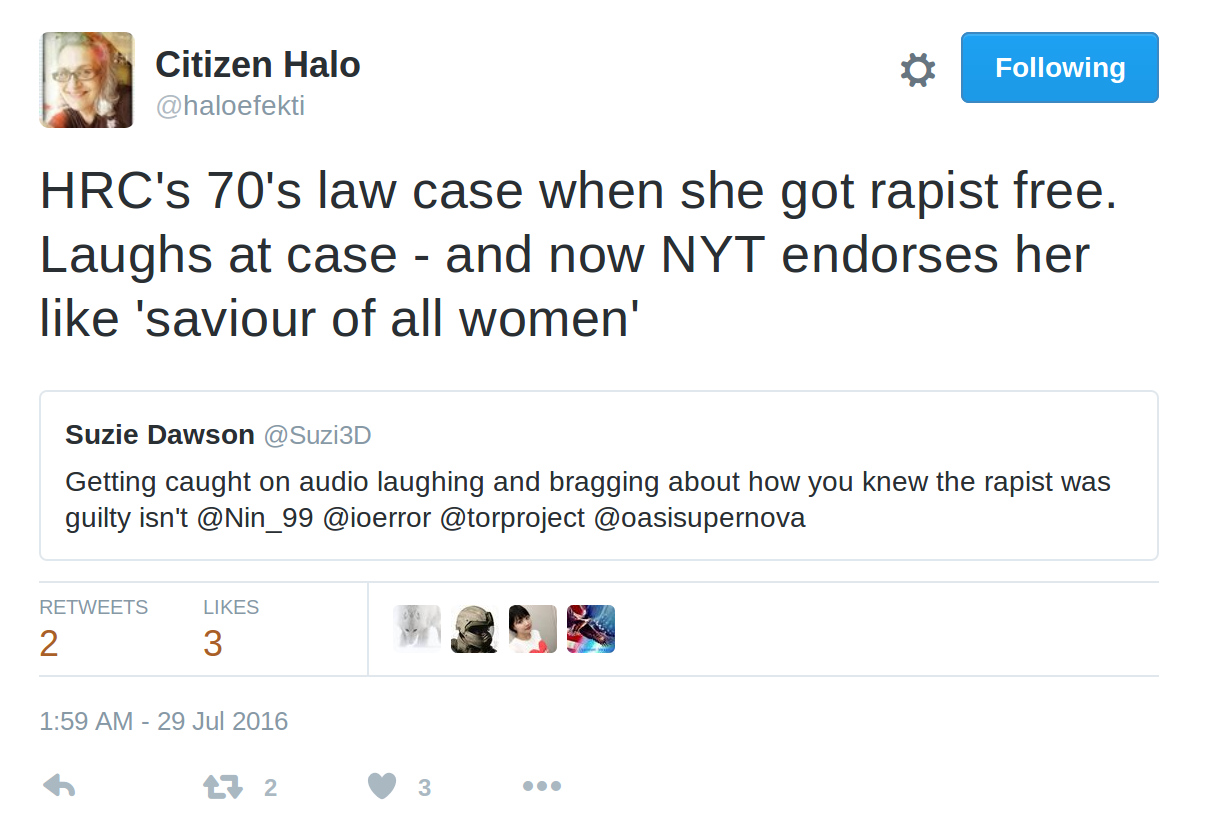 Co-option By Stealth
Worse – there is a clear pattern of partisanship evidenced by key voices in other major outlets which were specifically established to provide a critical counter-narrative to the duopoly of the status quo. Partisanship to me does not mean expressing political views – by all means, journalists should have and express political views. But when their articles are running the same lines as the New York Times on a regular basis – and ignoring material facts while quoting New York Times writers – chances are, they should still be at the New York Times.
Slowly but surely, once-radical organisations which many risked their lives to establish, grow and promote, are being co-opted into reinforcing the reality TV sideshow of the election cycle.
Those who are naturally disgusted by both the obviously corrupt and dangerous Hillary Clinton and the painfully inept and equally dangerous Donald Trump are being browbeaten into supporting Clinton regardless, constantly bludgeoned by the manufactured 'threat' of Trump being elected.
They are told that third-party 'protest' votes either don't matter, or worse. As if third-party options that have incrementally increased their vote share, maturing and ultimately rising to prominence around the world (and ultimately even winning elections) did do so by no one voting for them.
The obviousness that in order for there to be a viable third party, people have to vote for them, seems to escape these hawks, who are so obsessed by chasing their next funding round that they end up undermining their own founding objectives and principles, to the detriment of us all.
In their quest to 'play the game' and thus secure their own fiscal future – nothing guarantees a favoured status like promoting amongst their own ranks and supporters, hatred of and disdain for Clinton's number one enemy: Julian Assange and WikiLeaks.
CIA Employee Hired By Tor Project

As has been proven, Tor/EFF and associated organisations are now being dominated by WikiLeaks detractors. But even more menacing, is the revelation of a CIA employee literally leaving the agency one day and starting work for Tor the very next day.
His inclusion took employees by surprise, and none were more visibly incensed about it than Jacob Appelbaum.
Funnily enough, when the 'State of the Onion' address at HopeX rolled around this year – an update on Tor Project recent happenings that Appelbaum traditionally gives – the schedule contained absolutely no mention of the elephant in the room: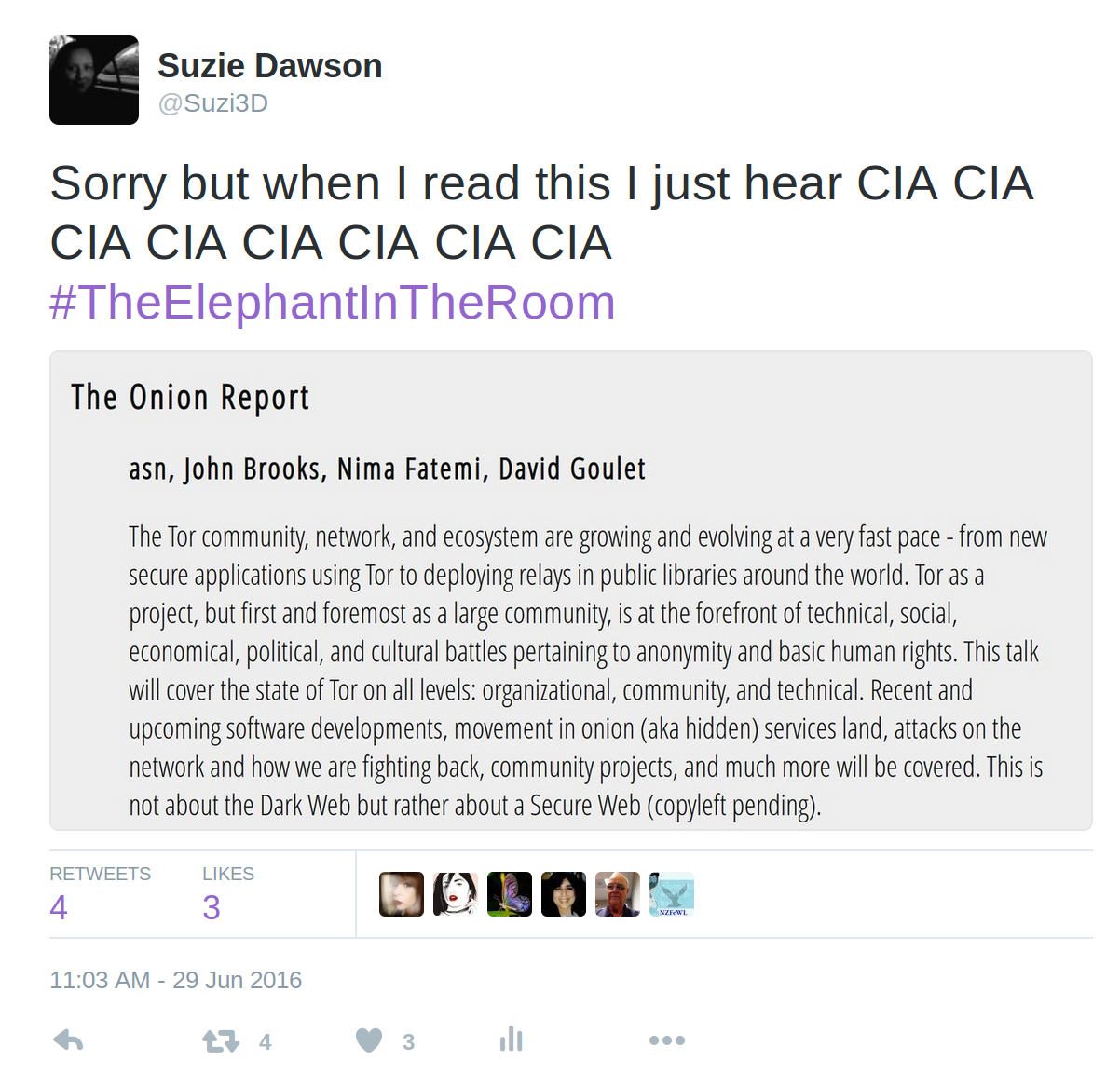 The widely-perused leaked chat log of Appelbaum and others confronting the recently ex-CIA employee about his presence in Tor speaks volumes about the internal culture, and the voraciousness of Appelbaum's understandable opposition to the hiring.
What hasn't been widely read is the full text of the email that the ex-CIA employee sent to Tor staff, which was mentioned in the above chat transcript. You can read the full email at this link.
In short, the employee says he left the CIA because he loves Tor so much. You be the judge.
Jake's concerns about Tor funding had predated the ex-CIA employee incident by some time:
While the target of widespread criticism for being effectively paid by the same government that he so often railed against, it is clear that Jacob himself was deeply concerned about Tor's funding ties and the extent to which that effected decisions made by the organisation.
[Note: Several people – none of which are Jacob – have come forward to me privately raising concerns not just about the above issues but also about other activities that Tor has been "spending money on" – including but not limited to enhanced metrics for measuring user activity and location around specific 'events'. That project has been funded "in part by the National Science Foundation", and as other specific project funders ("sponsors") are marked only by pseudonymous letters, it is an entire kettle of fish in and of itself that will need people with more technical expertise than I to examine further.]
WikiLeaks and The Iraq War
Indeed, the derision Jacob has faced has not only been due to the sexual assault/rape allegations, or the funding sources of his former employer.
Rather than ask the obvious questions surrounding the revelations of the ex-CIA employee ostensibly leaving an intelligence agency one day to arrive amongst the ranks of Tor developers the next, the topic of conversation over the leaked log astonishingly instead focused on other comments made by Jacob in the log.
Particularly, where he referenced his volunteer work with WikiLeaks.
His reference to WikiLeaks having helped to scale down military conlict in Iraq were personified to him.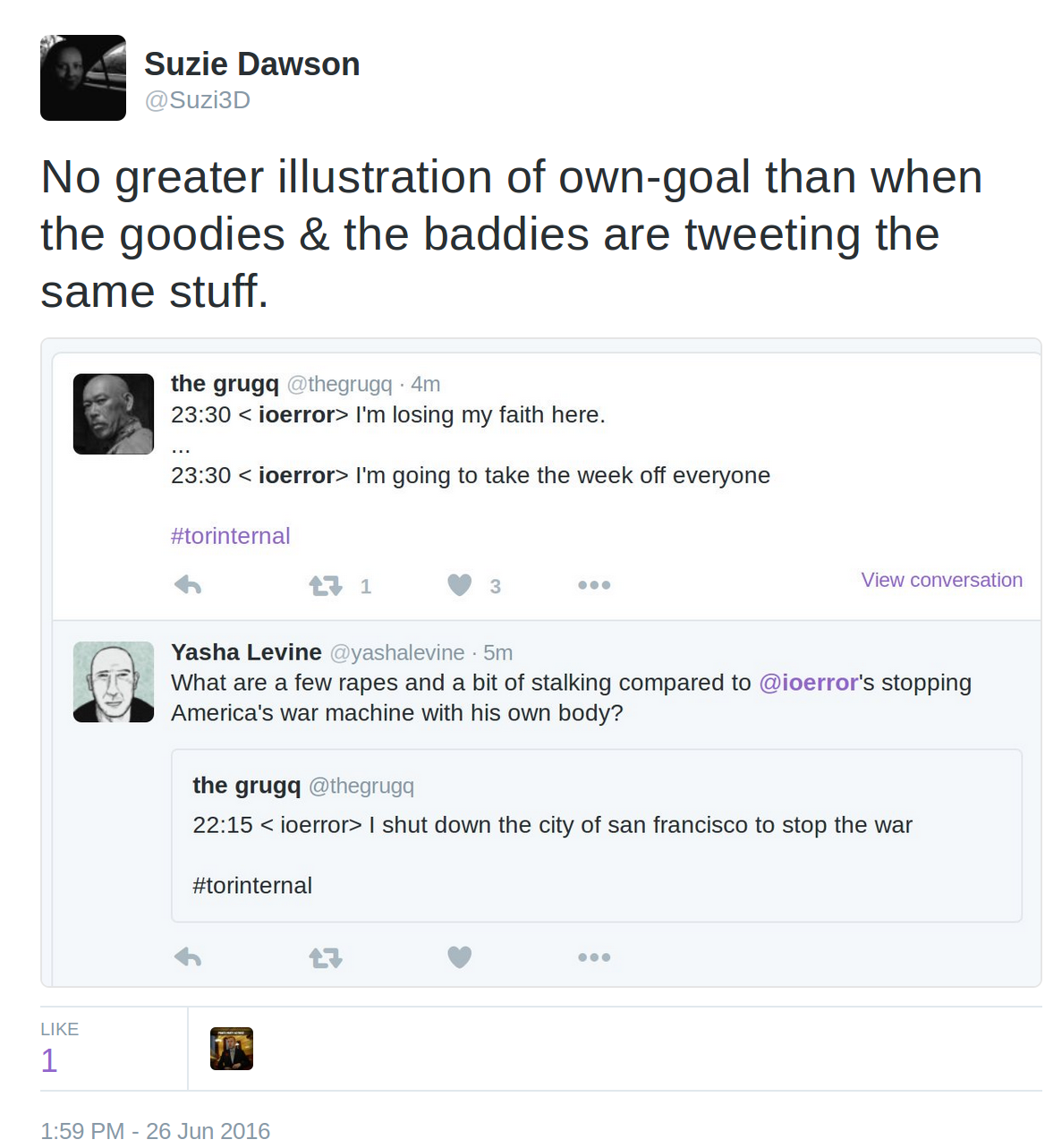 The ridicule expounded upon Jacob's comment: "later with WikiLeaks, I did help end the Iraq War." This was regurgitated by @ErrataRob, to great hilarity, that Appelbaum was claiming to have "single-handedly ended the war in Iraq".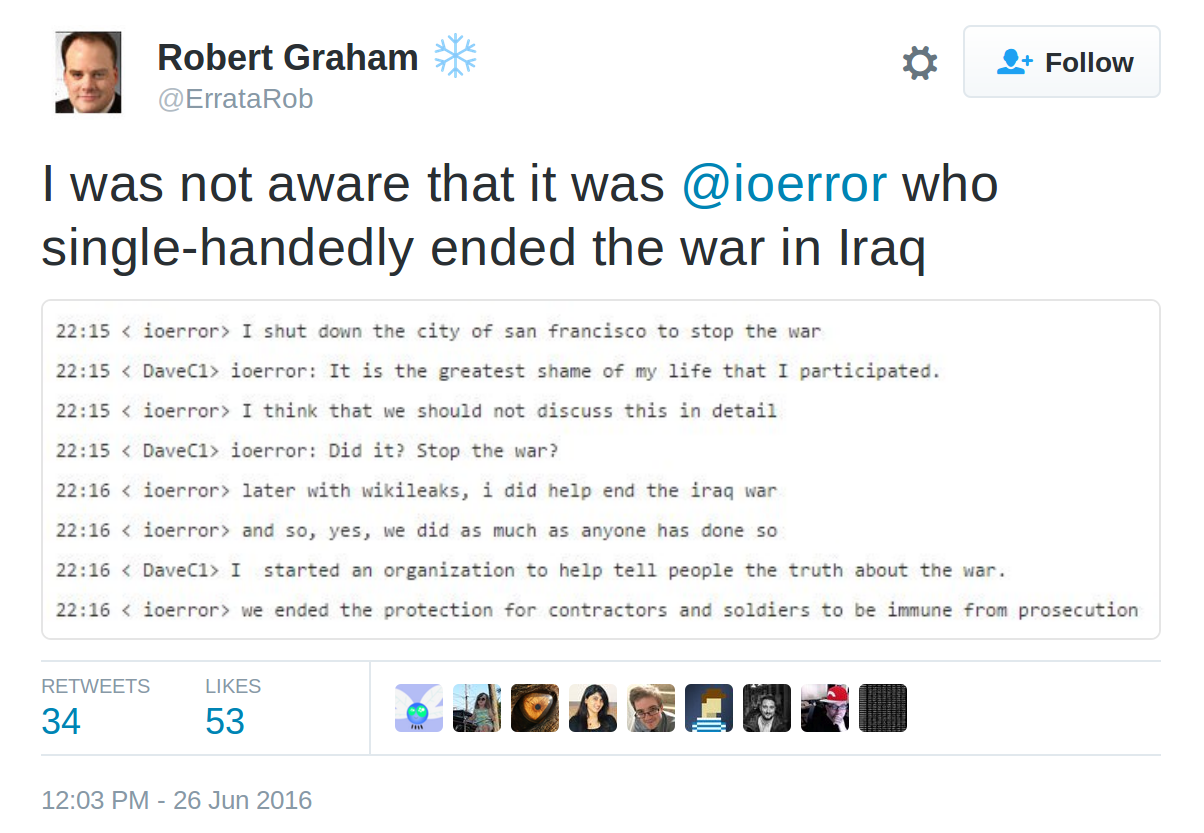 However, in the eagerness to poke fun at Appelbaum and at WikiLeaks, the facts of the matter fell by the wayside. As Glenn Greenwald had reported for Salon – WikiLeaks indeed did have a hand in events that ultimately led to decisions by the Iraqi government that led to the down-scaling of the conflict.
"..negotiations were strained following WikiLeaks' release of a diplomatic cable that alleged Iraqi civilians, including children, were killed in a 2006 raid by American troops rather than in an airstrike as the U.S. military initially reported." – Glenn Greenwald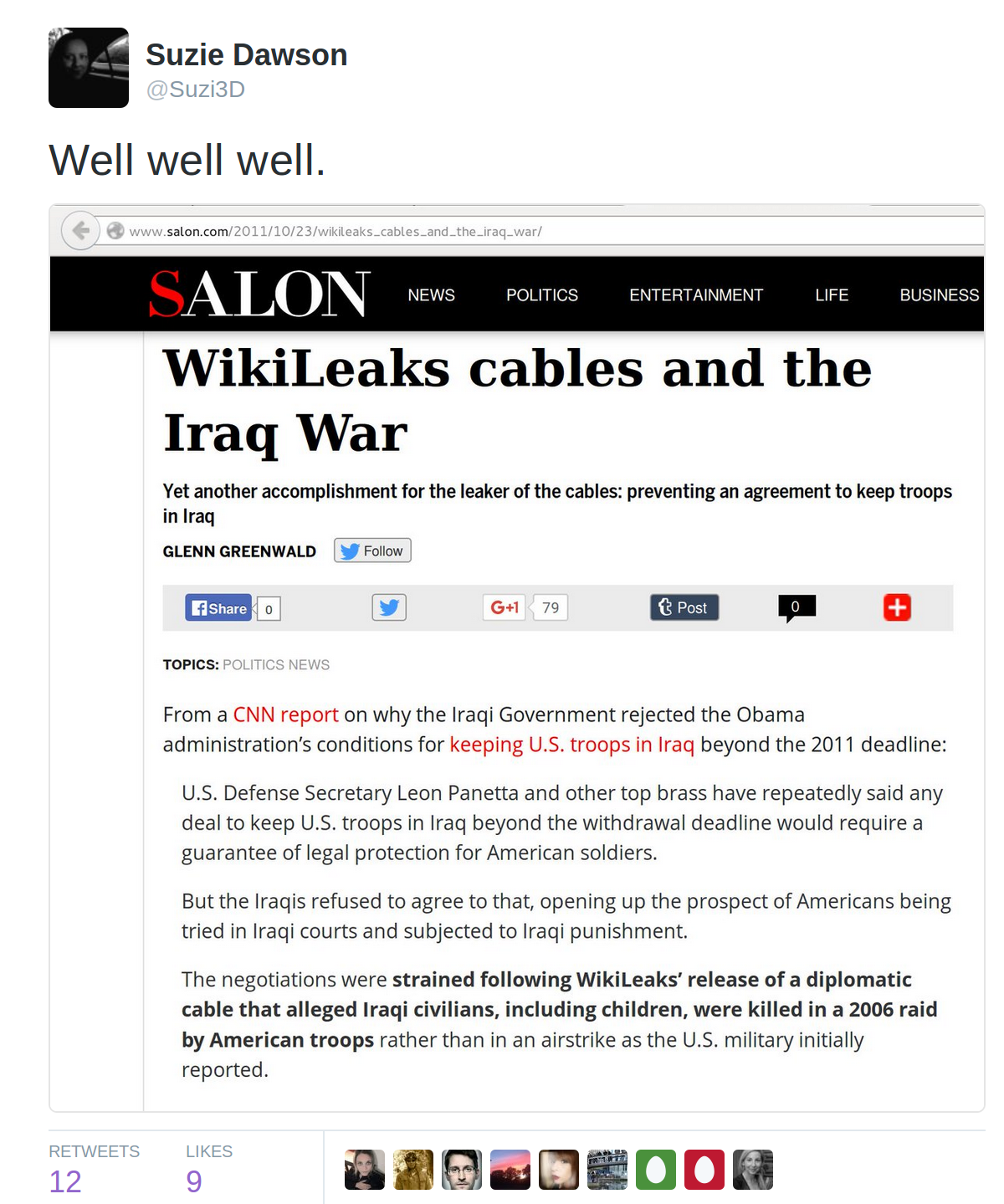 [UPDATE: as per WikiLeaks statement at the time, which ratifies the above: "It was WikiLeaks' revelations – not the actions of President Obama – that forced the U.S. administration out of the Iraq War. By exposing the killing of Iraqi children, WikiLeaks directly motivated the Iraqi government to strip the U.S. military of legal immunity, which in turn forced the U.S. withdrawal."]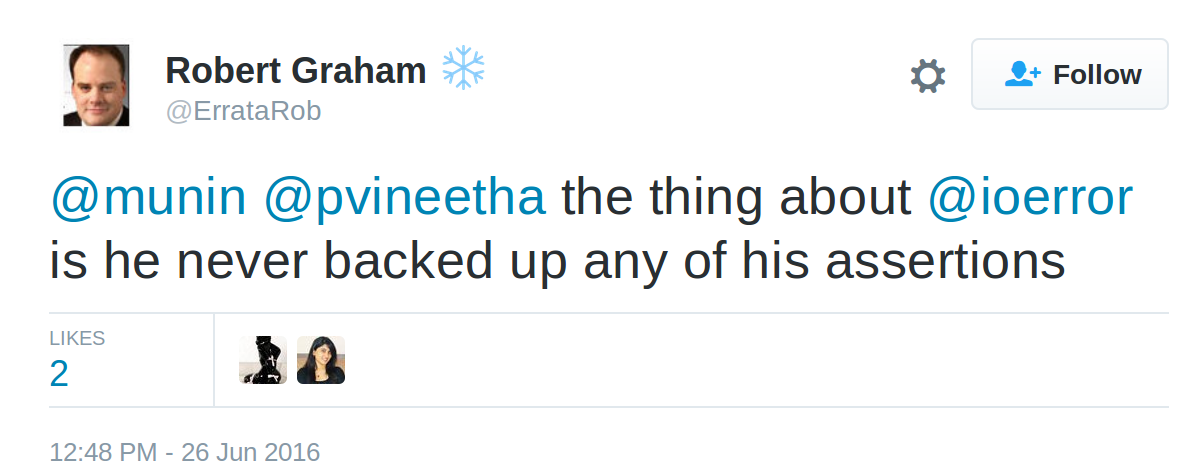 The above accusation that Appelbaum doesn't back up his assertions is eerily similar to the denials by FBI informant Hector 'Sabu' Monsegur that Appelbaum was of interest to the FBI.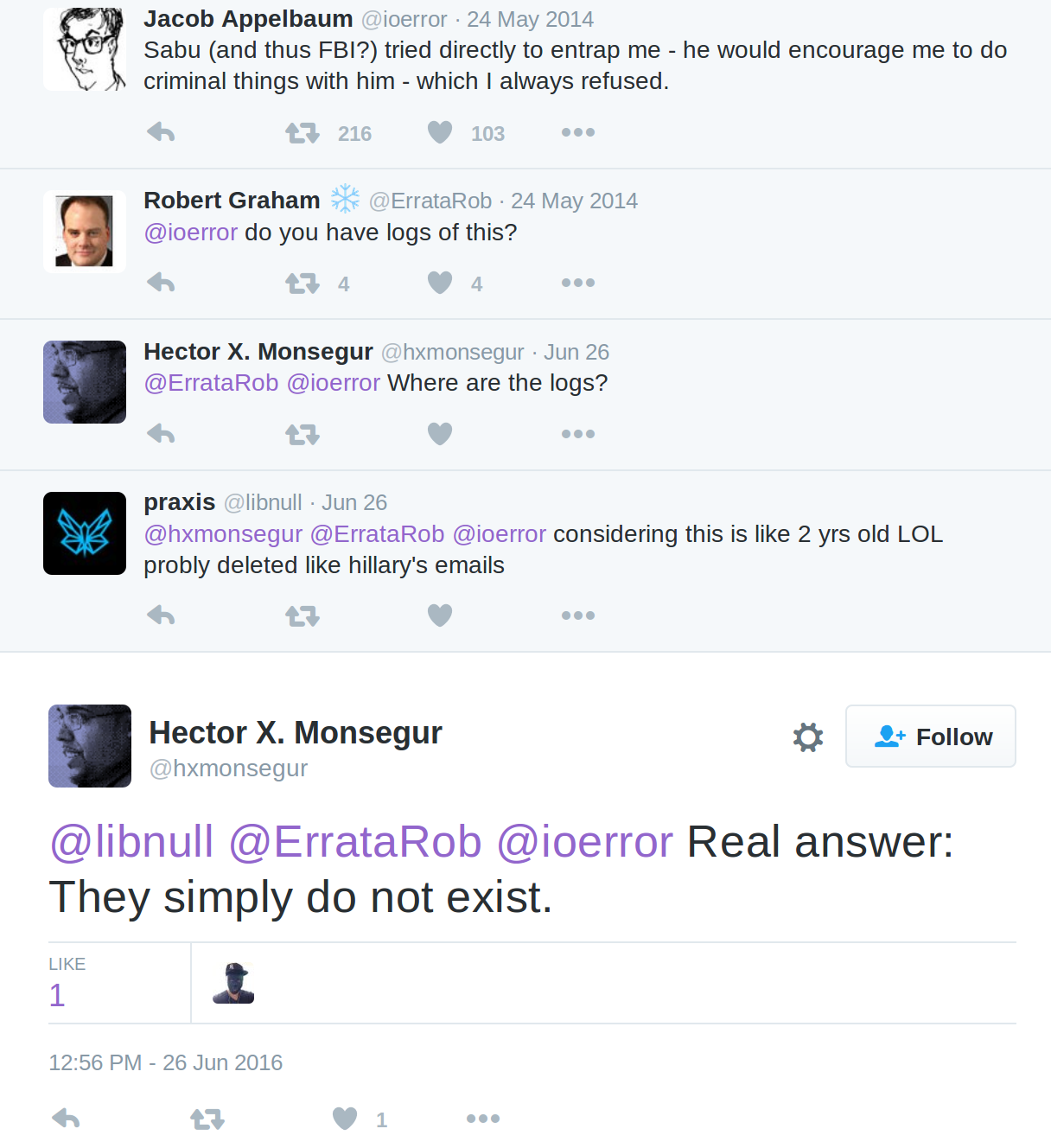 In the above thread, @ErrataRob demands logs of Appelbaum's references to Monsegur having attempted to entrap him on behalf of the FBI.
Ironically, Sabu also asks for logs. The reason it is ironic, is because it has been widely reported that the FBI monitored all of Sabu's interactions 24/7, throughout the time that he was entrapping and informing on activists and journalists, including myself. So the simple answer is – while we might not have the logs – the FBI sure do. But funnily enough, they aren't forthcoming with information, as poignantly demonstrated by the FBI General Counsel's replies to Jacob Appelbaum's questioning of her, in the below video:
National Security Letters were served on providers requesting the personal data of Jacob Appelbaum and gagging them, as reported by the Wall Street Journal in October 2011. Well in advance of Sabu's informing rampage which stretched at least throughout most of 2012, and well into 2013. Yet Sabu continues to maintain that Appelbaum is not an FBI target.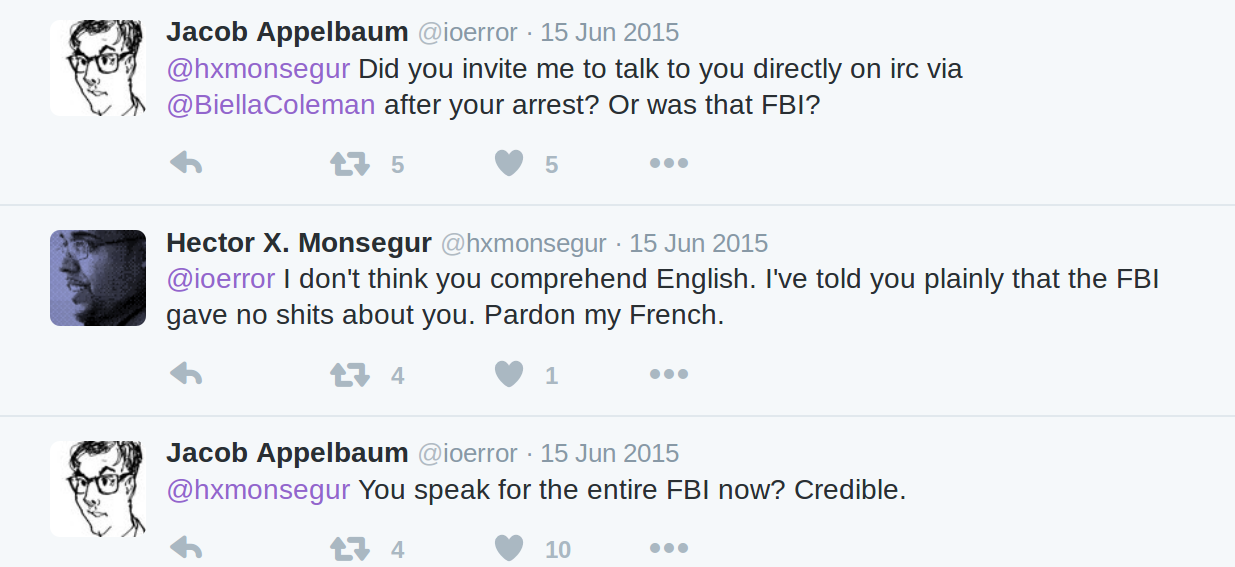 Mustafa Al-Bassam promptly replied with the obvious: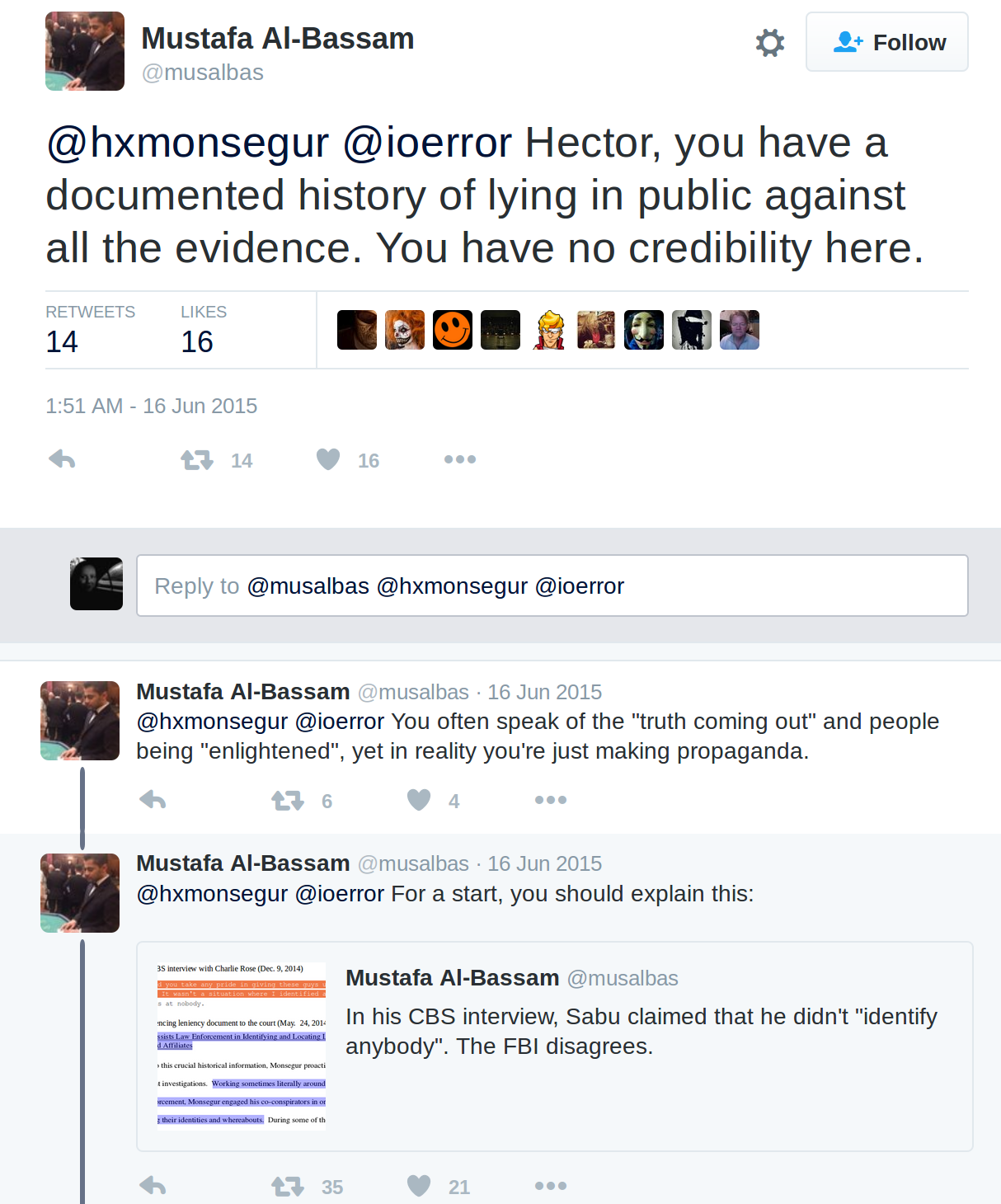 @ErrataRob has a long history of trying to debuff Appelbaum, only to be shot down with publically available information.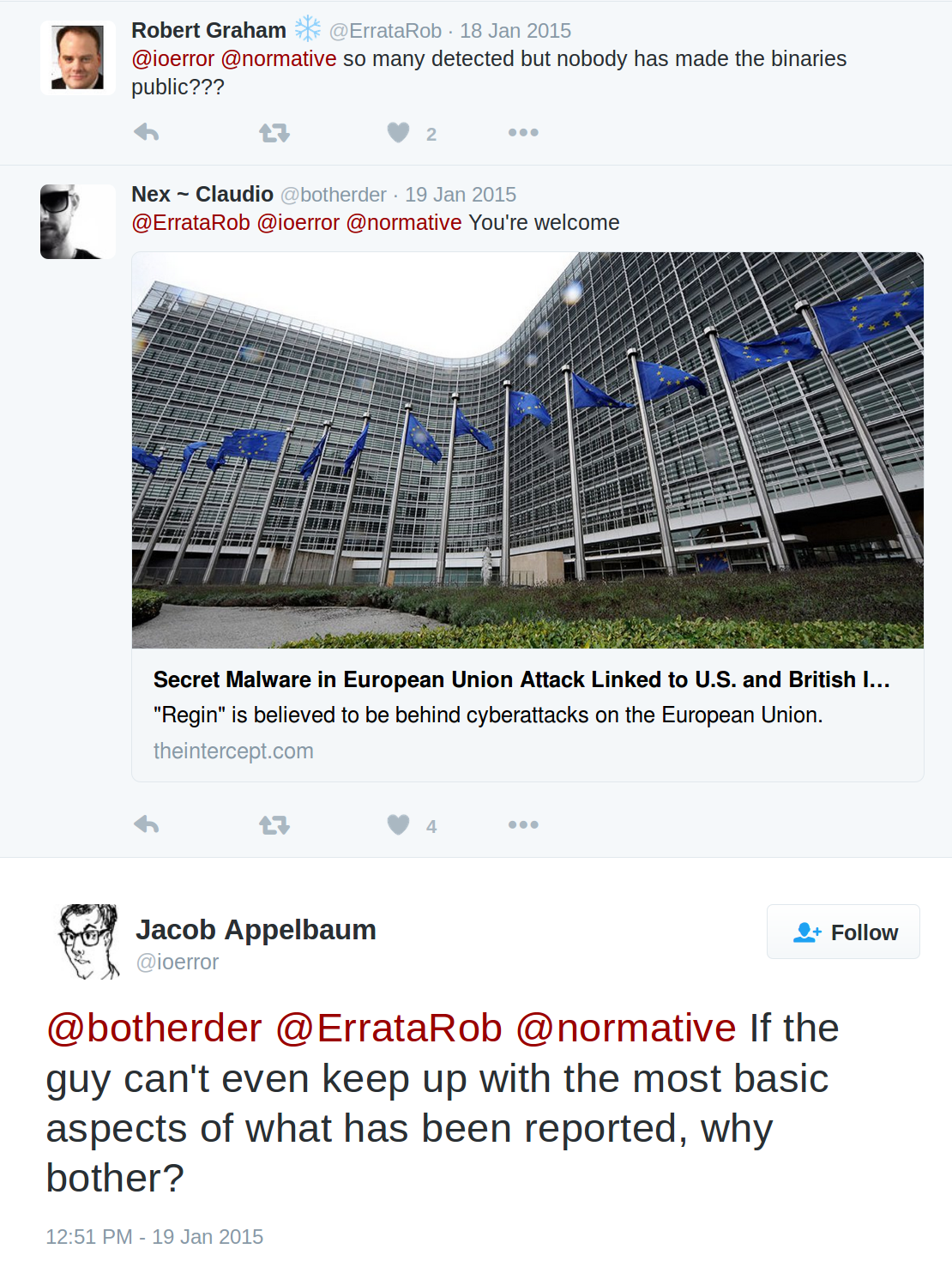 It is now being reported by Violet Blue that Jacob Appelbaum has been listed as "an official Charlatan":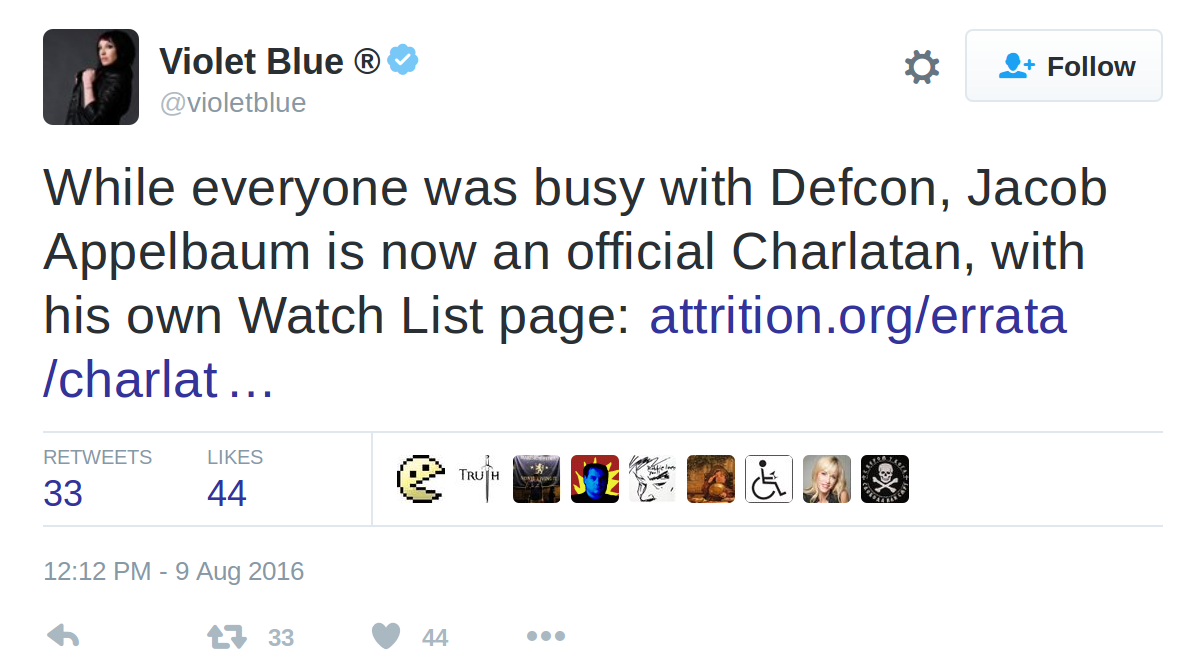 Branding Appelbaum a charlatan is an eerie throwback to years of FBI informant Monsegur slinging about the exact same term. Searching @hxmonsegur & 'charlatan' yields 19 results.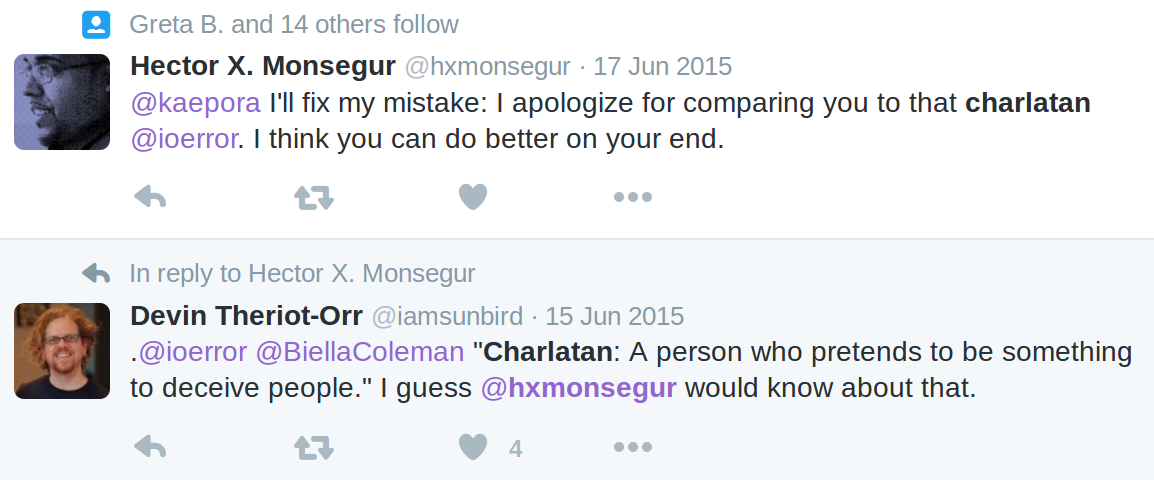 Now that using the term 'serial rapist' is clearly off the cards, maybe subjective terms like 'charlatan' are all his detractors have left.
The long list of people the FBI informant has referred to as a "charlatan" is quite impressive.
Fastforward to this week, and the 'rapist' smear of Jacob Appelbaum is being downgraded to 'sexual aggressor'.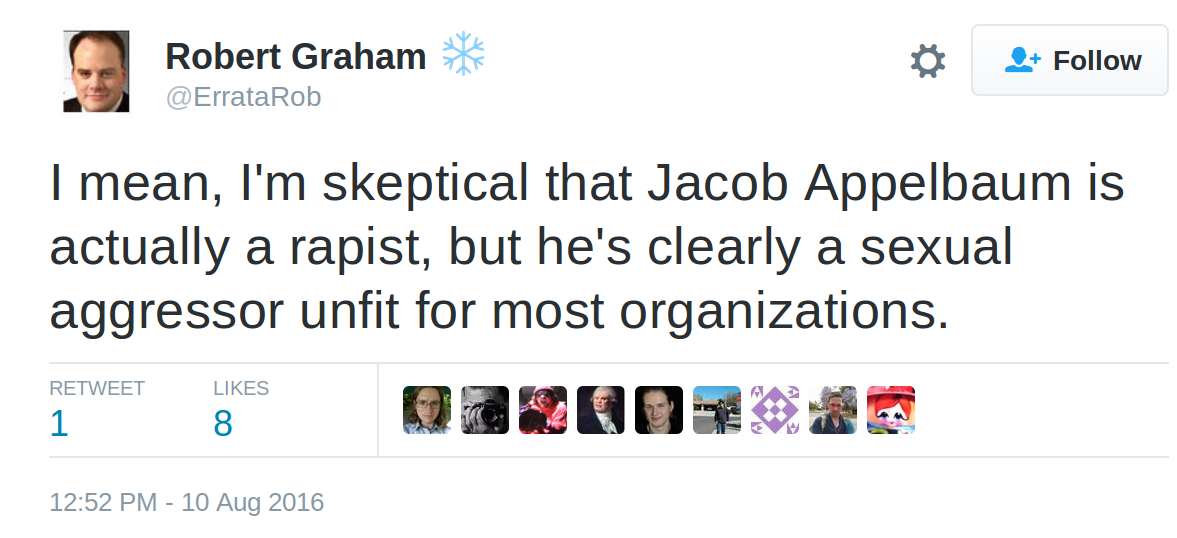 This is probably indicative of the trajectory of opinion for the vast majority of the crowds that got on the anti-Appelbaum bandwagon early, only to belatedly discover that things are not at all as they seemed.
The Voice Of Reason
There were several voices of sanity, however. Even in the heat of the campaign, Courage beneficiary, whistleblower and hacker Lauri Love made it clear the issue was not the simple black or white dichotomy that Appelbaum's accusers had been determined to force people into.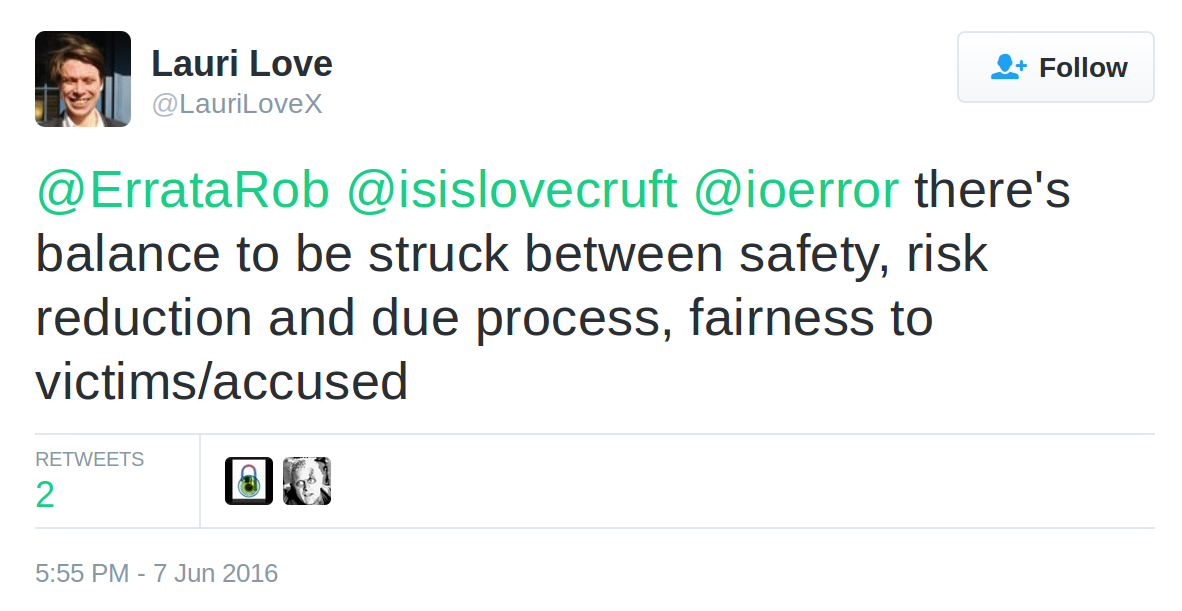 The 'you're either with us or against us' attitude espoused by @VictimsofJake, openly wielded against anyone who didn't immediately side with the mob from the outset, is immature, hypocritical and counter-productive.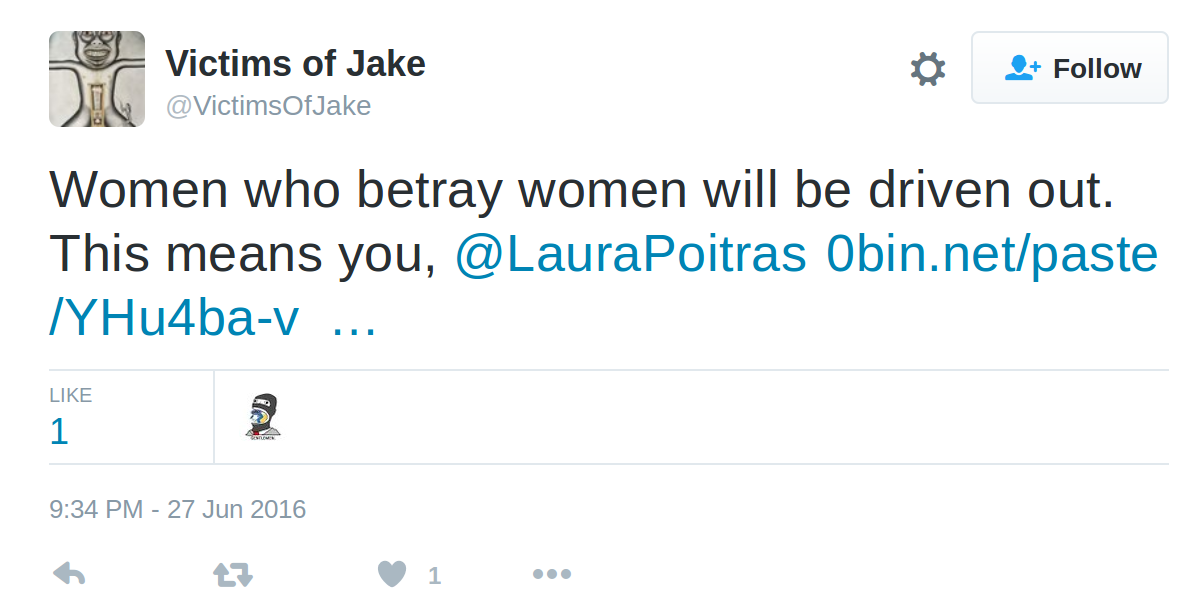 Risky Behaviour
At 01:09:51 in the first video embedded in this article featuring Sarah Harrison and Jacob Appelbaum, Jacob makes a fascinating offhand comment:
"I know that I've behaved completely differently knowing that there's probably sex tapes being made in my – not just by me! – not to imply what I think I just implied but, you get the point…" – Jacob Appelbaum
This corroborates my earlier suspicion that Jacob knew full well that his home was under constant surveillance and that that surveillance may extend to the interior of his home and not just the exterior.
Germany spying on foreign journalists is beyond contention.
Making the suggestion that he was an operational serial rapist, under such conditions, even more ludicrous and difficult to believe.
Many have asked – both supporters and detractors – how could Jake have been so foolhardy, to have engaged in risky behaviours and socially grey areas like promiscuity and group sex, in his situation?
For a known Person of Interest, there is a catch-22. Due to the well-established depravities of state actors, you become quickly isolated.
Common conventional methods of forming romantic partnerships that the general public takes for granted, become simply out of the question. Dating apps, cruising bars, hooking up with strangers for one-night stands, or engaging in liaisons outside of your trusted peer group can present not just a reputational risk but even a mortal one. Many of us, as a necessary measure of self-protection, are forced into prolonged periods of abstinence purely for survival.
When meeting new people doesn't gel with your threat model, there is no other choice but to seek comfort amongst those in your existing community. Thus, the answer as to why Jacob engaged in such 'risky' behaviour is likely that amongst his close friends – those he perceived as facing many of the same challenges as him – was the sole environment in which he could express his sexuality.
A lesson hard learned.
In that same video, Appelbaum comments:
"You can't really blow the whistle these days without blowing up your own life; on really serious issues, with large state adversaries." – Jacob Appelbaum
The massive powers that Jake Appelbaum took on, have taken the spotlight off themselves, by making a spectacle of him.
Just as they did with Julian Assange.
The Missing Dozens

FBI informant Sabu's publication of choice The Daily Dot, claimed a female source told them there were "easily a dozen" victims of Appelbaum.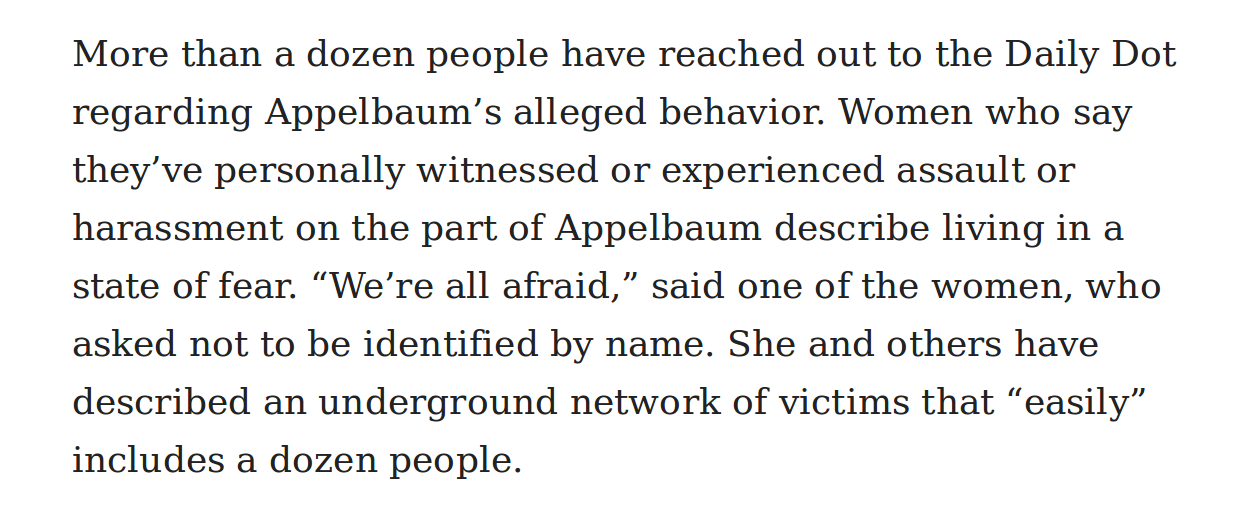 The author of this pastebin, Dell Cameron, says:
For the record, the Daily Dot has spoken to a dozen sources alleging misconduct. We have spoken to four people who have relayed personal stories of harassment and sexual assault. Some of these women have described themselves as members of an underground "victim network" that now consists of more than a dozen individuals. We understand some are discussing revealing their names and stories soon.
In Isis Lovecruft's follow-up blogpost, she writes:
"…additional reports of extremely severe sexual assaults and rape are pouring in to The Tor Project."
In the findings of the Tor Project's rape investigation there is only mention of two other cases. It is not stated whether these two cases are 'Briar' and 'Alice'.
Isis continues…
"It should not be required that a dozen people are harmed before any one of them is taken seriously."
However, if we take into account the information in this series, and in the Die Zeit article, it changes that picture dramatically.
"Victim"

Nature of Complaint

Public / Anonymous

Material Factors

Sam

"Non-consensual washing"

Public
(Alison Macrina)

Allegedly omitted mention of consensual sex following the bath. Claim relates to same timeframe as River

River

Rape

Anonymous

Eye-witnesses claimed to Die Zeit: multiple consensual events over a three day period have been muddled into one misrepresentative non-consensual claim and that no rape actually occurred.

Forest

Sexual Assault

Public
(Isis Agora Lovecruft)

Organised victim statements/reported to Tor Project but didn't disclose that she was also a victim. Later claimed victim status

Daniel

Professional grievance

Anonymous

Potentially written by one of the creators of the website or its administrators

Kiwi

Professional grievance

Anonymous

Extremely brief account that does not detail any specifics

West

Uninvited kiss

Anonymous

May have been invented by one of the creators of the website/administrators

Phoenix

Professional grievance

Anonymous

Professional improprieties including propositioning. Has been ratified by several prominent eye-witnesses.

Nick

Professional grievance

Claims was targeted after entertaining notion of snitch-jacketing Appelbaum

Alice

Withdrawn

Anonymous

'Alice' says her account was manufactured/ published without her knowledge or consent

Briar

Never eventuated

Anonymous

It is unknown at this time why this 'placeholder' account never eventuated

Leigh

Boundaries ignored
during BDSM consensual sex (particulars of claimed non-consensual activity unstated)

Public

Historical claim. Says that years after the fact, Appelbaum's support for WikiLeaks' Julian Assange made her realise she had been violated

Jill

Self-described "eye-witnesses" wrongly claimed that Jill was a "victim"

Public
(came forward by necessity)

The "victim" herself says she was not a "victim" and was alarmed to find that she was being misrepresented as one
In the above table:
ORANGE: Accounts that may have been misrepresented, manipulated or invented by smear organisers. (Not reflected: a 'second' voice may also have been inserted into middle of River's testimony)
GREY: Claims that do not involve physical contact of any description but outline personal or professional grievances
BLUE: Complaints that don't actually describe what happened in detail or are highly unlikely to be pursuable by law – i.e. being kissed in a bar
RED: Claims which are contested by eye-witnesses or by the 'victim' themselves
YELLOW: The sole remaining testimony which details a crime
Not listed above:
Accounts by others who say they were pressured into claiming 'victim' status
Some other historical accounts by third parties related to unprofessional or unkind speech – such as has already been admitted to by Appelbaum in the Die Zeit article and prior to that, in his original press statement
Taking the findings in the table into account, using the same colour code and looking objectively at what remains, this is what the "serial rapist" / "dozens of victims" claims now look like: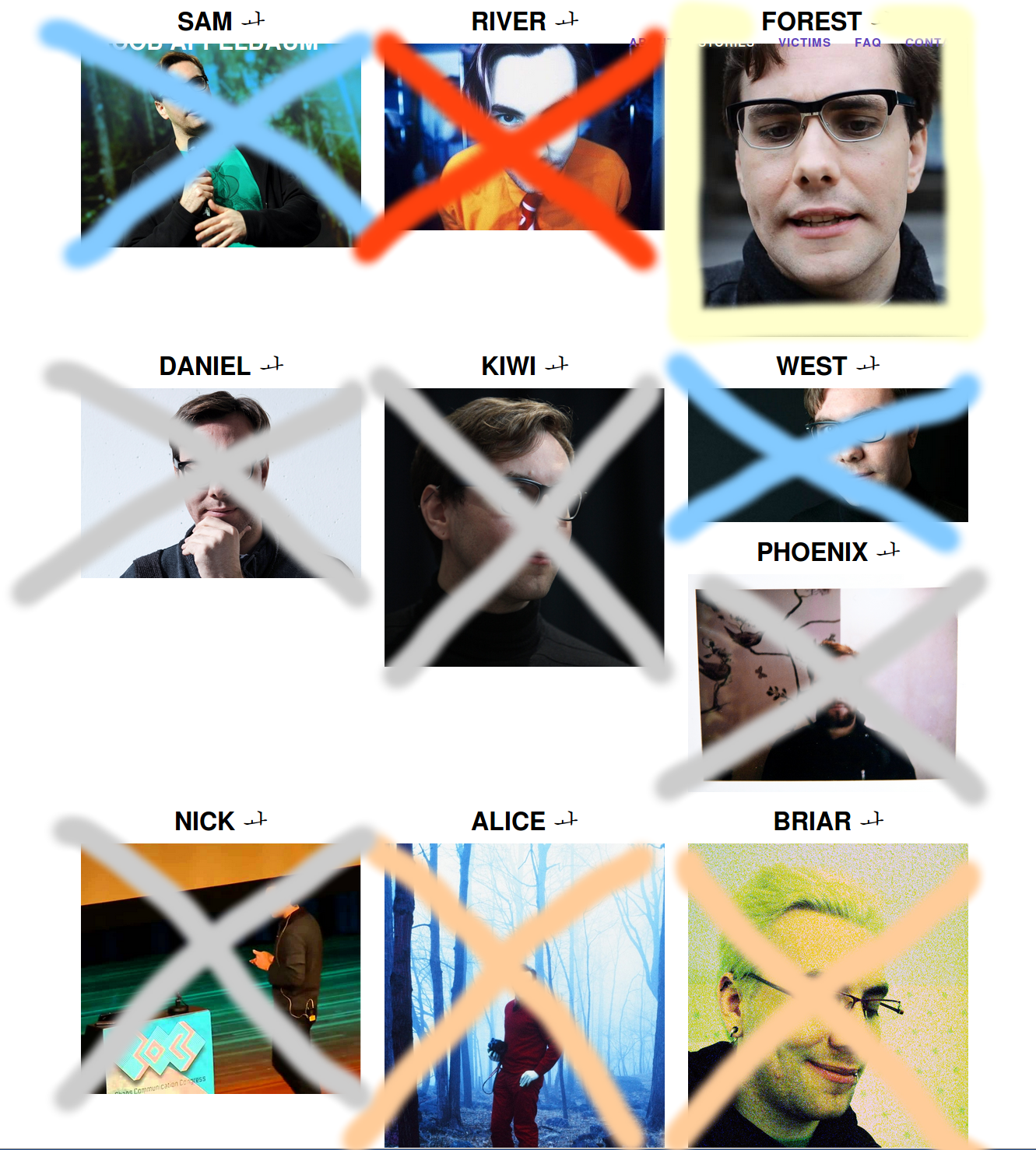 Isis a.k.a. 'Forest', who admits to spending "six months" collecting the stories of "victims", and who didn't reveal her own allegations to the others or to the Tor Project until after the fact, is the only one left.
Only two people know for sure whether her allegations are true.
Jake and Isis.
The Macrina Logs
Multiple sources have provided me with chat logs featuring Alison Macrina. Some I have been able to verify the authenticity of, some I have not.
There is evidence of a concerted effort not just to air the grievances of alleged rape victims, or to warn others away from having anything to do with Appelbaum, but of a conspiracy to act against him in unison with the very specific objective of damaging his career beyond repair.
Furthermore, there is evidence of pressure being applied both to people whose testimonies appear on the smear website and some who don't, to denounce Appelbaum or to come forward publically to shore up support for the others involved.
At this time, in the interests of source protection I am withholding the full logs. It is possible that they will be released at a future date.
[UPDATE: this heartbreaking open letter by @shiromarieke cannot be ignored. It catalogues the toxic culture remaining at Tor, the failures of management, the lies and selectivity of those who created the smear campaign and the extremely disappointing end results.]
[UPDATE: posted on the same day as the above, but from half a world away, yet another Tor supporter (one who was the subject of a police raid for running a Tor exit node) has pulled his support from the project, citing gross professional misconduct on the part of Tor management.]
Yes It Is All About Us – They Make Damn Sure Of That
For Persons of Interest, it is made to be all about us because the government is desperately afraid of it being all about them.
Their illegality, their wrongdoing. Which is perpetrated on a massive scale.
So they invest ridiculous amounts of resources into creating a file that is quite literally all about us.
They undertake investigations which are internally framed as being all about us.
They plant agents and concoct situations which are all about us.
They attack us by every possible vector because to them, their very survival requires that it be all about us.
The reason for this is because having shone a spotlight on the powers that be is usually how Persons of Interest are selected in the first place.
Then, once they've turned our lives upside down and made a huge spectacle of us, they say "oh – so it's all about you! You're a narcissist!"
They called Julian Assange a narcissist, they called Edward Snowden a narcissist, now they call Jacob Appelbaum a narcissist.
In this, the post-Orwell age – where spy agencies are turned upon their own citizens just like the Stasi they used to decry, and drone murderers kill teenagers and babies and then win the Nobel Prize: to be called a narcissist by these people who are the ultimate narcissists – those who kill with impunity and lie about it with no remorse – to be told with scorn and derision in a mocking and accusatory tone that it is "all about you" – is a badge of merit and a profound honour.
One that we gratefully accept.
Written by Suzie Dawson
Twitter: @Suzi3D
Official Website: Suzi3d.com
Please note: further source links and supporting materials are still being added to this post. (Many citations yet to come)