I once tried to tell Jacob Appelbaum a funny joke. He did not think it was funny.
In fact, he was visibly mortified and uncomfortable.
My joke was a retelling of something that had happened to me when I was still on the opposite side of the planet.
I have a really dark, sardonic, acerbic Kiwi sense of humour, that has been sharpened by surviving everything that has been thrown at me to date.
Unfortunately, it didn't translate well.
Fortunately, he didn't make a smear website lambasting me about it.
Warning
There are Persons of Interest who the surveillance state merely monitors – and there are those who it actively harms.
The latter, and those who facilitate and inflict that harm, will instantly understand that every word of this article is true.
Everyone else is going to need to read carefully, do a lot of thinking, and click on all the links and their source links in turn.
For this post is not just about a group of women who accused Jacob Appelbaum of heinous assaults and social improprieties, although that will be extensively covered.
This article is, as promised, about the mammoth and monumental, colossal issues which are intertwined with that and are conveniently being overshadowed by it.
For we are all being polarised into a fake diametric supposition – that either Jacob Appelbaum targets people, or Jacob Appelbaum is being targeted.
But the real target is WikiLeaks.
The Joke
I was stunned by the massive and consequential ramifications of Appelbaum's #30c3 revelations, so I was determined to get the key messages through to non-techy people.
I had been talking about what was being done to activists cellphones by spy agencies since early 2012. The reason I knew what was happening was not from reverse engineering spyware like Jake or Morgan Marquis-Boire or Jeremie Zimmerman and other clever people do, but from my own personal experience of being a target.
Quoting from the blurb of this video of "To Protect and Infect – The Militarisation of the Internet", presented by Morgan Marquis-Boire and Claudio Guarnieri:
"Chaos Communication Congress – 29/12/2013

2013 will be remembered as the year that the Internet lost its innocence for nearly everyone as light was shed on the widespread use of dragnet surveillance by the NSA and intelligence agencies globally. With the uprisings of the Arab Spring where people raided the offices of their regimes to bring evidence to light, we've seen a tremendous phenomenon: a large numbers of whistleblowers have taken action to inform the public about important details. The WikiLeaks SpyFiles series also shows us important details to corroborate these claims. There is ample evidence about the use and abuses of a multi-billion dollar industry that have now come to light. This evidence includes increasing use of targeted attacks to establish even more invasive control over corporate, government or other so-called legitimate targets."
That amazing speech was then followed by Jacob's astonishing presentation: "To Protect and Infect Part 2".
To have hacker-journalists discussing the intracies of the capabilities I had seen in use against me and other Kiwi activists, was incredible. As far as I was concerned, and still am, that Congress was one of the most important ever, and to this day the vast majority of people still remain willfully ignorant of the messages contained in it.
[Note: that also happened to be the very same Congress at which Nick Farr says he entertained the notion of giving airtime to someone who claimed Jacob Appelbaum was a plant. Yet Jake's work revealed in the above talk is utterly beyond reproach.]
So I endeavoured to belatedly tweet out a point by point time-stamped, dumbed-down, layman's-terms version of his speech, hoping that the NZ mainsteam media, who by late 2013 were avidly following my timeline in the wake of the GCSB movement, would pick it up.
As soon as I started the tweets, the stalkers/spies/private contractors who had been increasingly intruding on my life ever since I had first started documenting FBI and DHS activities in New Zealand, during Occupy, went into overdrive.
I could always tell when I was hitting a nerve by their reaction, which would be immediately reflected in the aggressiveness of their interventions in my life and by 2014, their outright physical assaults on me. On this particular occasion, I was at home alone, and once again, they began hurting me.
You see, it isn't just as a rape victim that I had to struggle to be believed. All tellers of uncomfortable yet obvious truths not yet accepted by the mainstream face a hell of a time trying to explain what is being done to us.
For a long time I didn't talk to anyone outside of my immediate activist circle about electronic weapons being used on me. Because they "didn't exist" as far as the public was concerned, and as a solo mother, the stakes were twice as high for me if I disclosed it. It likely would have been used by the state as justification to question my mental health, which is a known tactic that they use to cover for their crimes and silence their victims.
So I developed my own method of coping with it when it would happen. First, I would call someone from my media team and tell them "I'm going onto TrapWire". They would know instantly what I meant – that I would escape my house and go to somewhere as visible and as public as possible. So public in fact, that it was on public surveillance cameras (hence the TrapWire reference).
This was a deliberate tactic that we had developed to force an evidence trail if we were followed and continued to be hurt.
So in this particular instance, I went to the original site of Occupy Auckland at Aotea Square, which is an urban green space wedged between the Town Hall and the Auckland Council building. It is surrounded by cutting edge facial recognition cameras with pan, tilt, zoom, area mics and all the bells and whistles, and I continued my tweeting.
Two years later, in Berlin, what was the joke that I was trying to tell Jacob?
That when being attacked with electronic weapons by teams of private contractors intent on preventing us from spreading his truth-telling, we had evaded them by learning how to use public surveillance systems against them.
To me, especially as someone who had written about TrapWire when the GIFiles revelations came out, the irony of using The Empire's own fascist systems to outwit them and continue my work, was delicious.
Jacob Appelbaum didn't laugh.
He was aghast.
Beyond Any Shadow Of A Doubt
It is a testament to how well truth is hidden that many will get to this point of the article and have decided that I am certifiably nuts.
Because they will not have read this: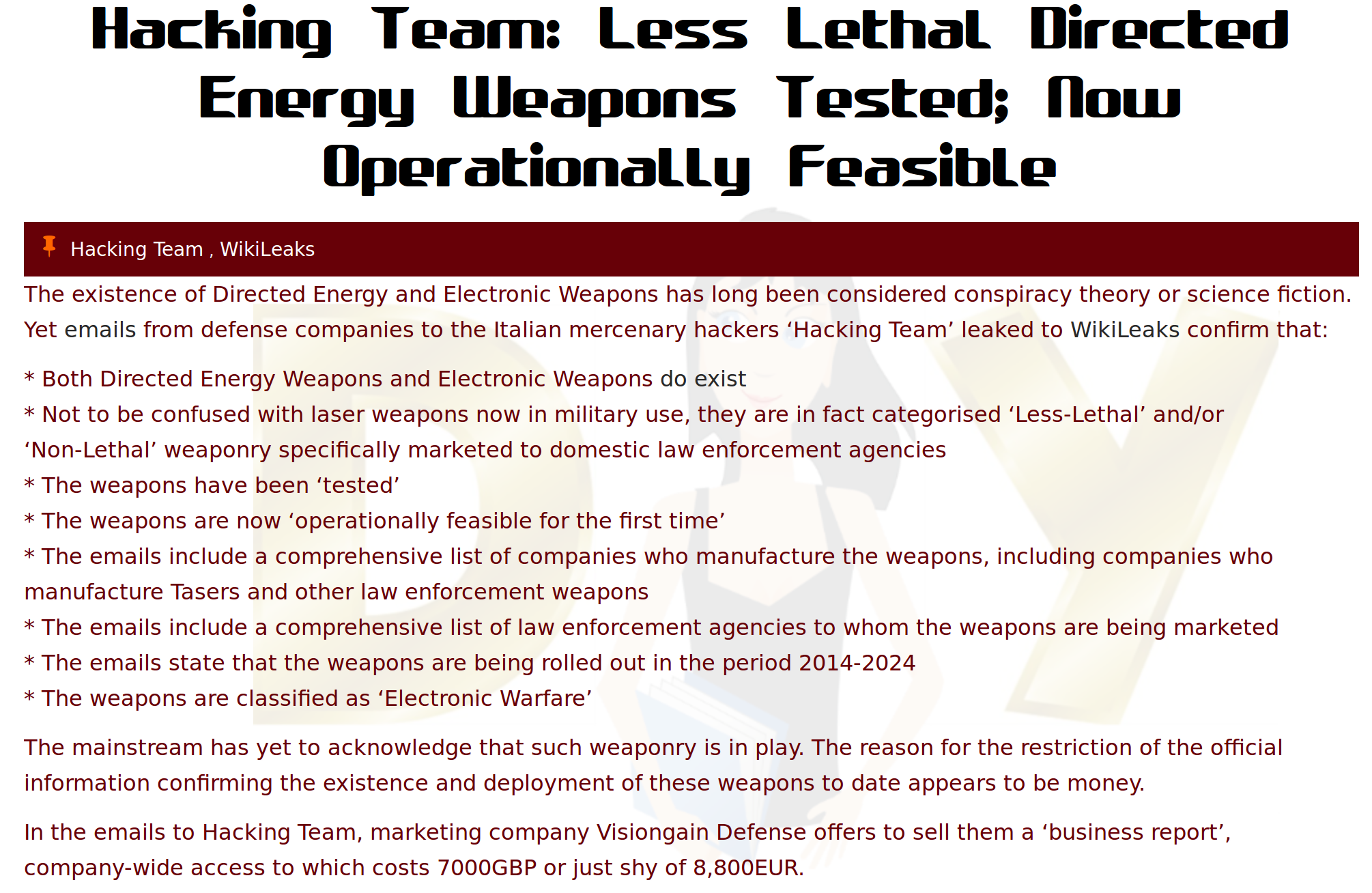 Hacking Team is a government contractor, and they don't hand over EUR8,800 for a weapons procurement report that is conspiracy theory.
They pay it because they know it is fact.
For those who were too lazy to check the link and read the article, here's more: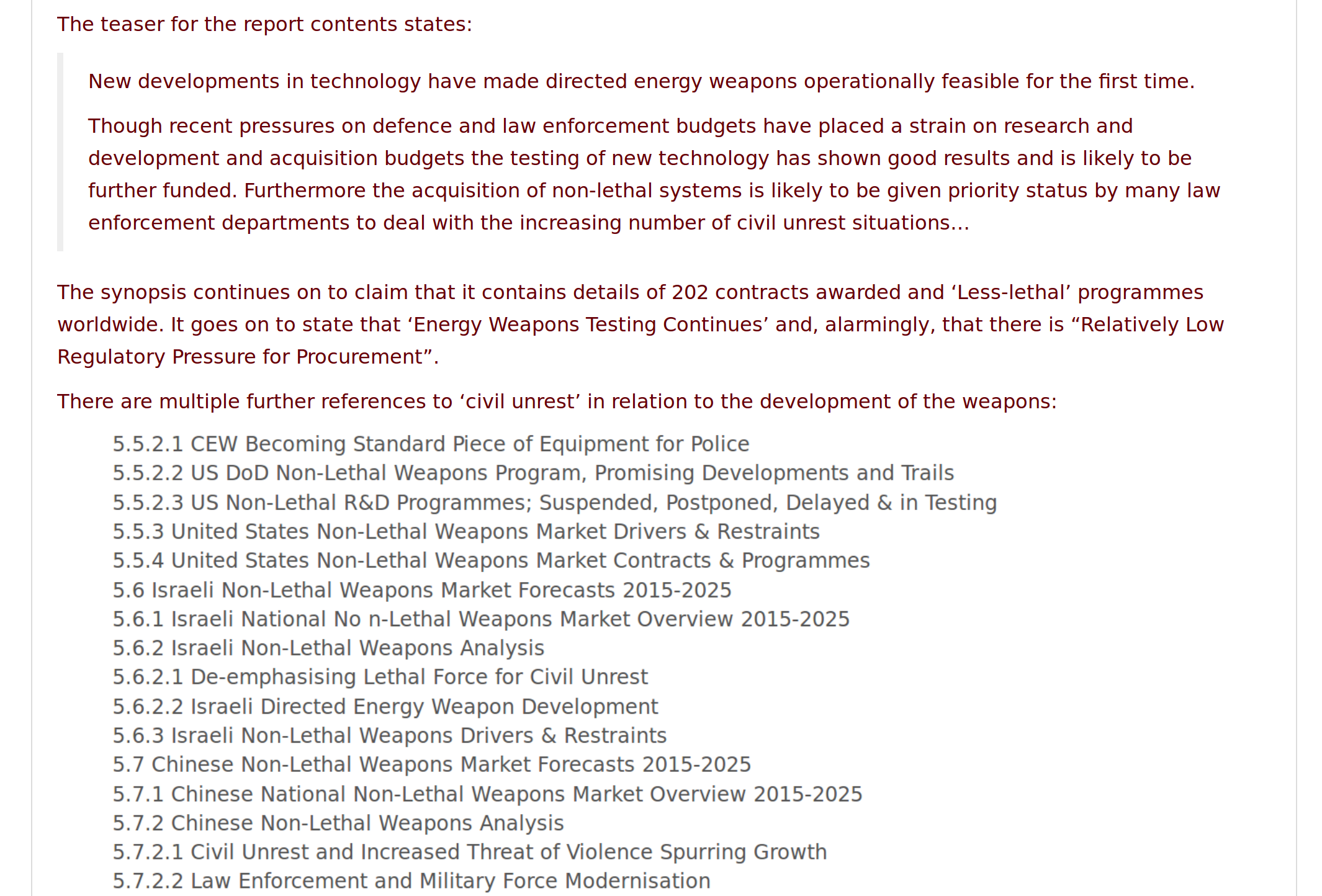 The above is the specific list of contracts for the procurement of electronic weapons and who by.
Below is the list of manufacturers of the weapons.

So we know electronic weapons exist, that they have been tested *prior* to their roll-out for use by law enforcement 2014-2024, we know who manufactures them and who they have been sold to.
We know this because of the Hacking Team leak published by WikiLeaks.
The source email for the above article, can be found here and there are more emails related to this topic if you go to the WikiLeaks' Hacking Team main page here and type 'Directed Energy Weapons'.
What The Hell Does This Have To Do With IOError?
To answer that question, you have to look at what I was tweeting that day, that so enraged those paid to harm me.
This Pirate Pad contains 10 of the key points. [Other people made transcriptions of some of my tweets which were derived from Jacob's speech].
But that's just a drop in the bucket. To read what should technically be all of my tweets from that day of me being chased around Auckland, it seems you need to expand each one to read them all – click here to have a go at it.
(Please note – the dates are Twitter dates not New Zealand dates. Which is why this tweet is marked 4 Jan 2014, when the earlier ones are marked 3 Jan. They were in fact all tweeted on the same day.)
The content speaks for itself.
As does the fact that by attempting to translate and promote Jacob Appelbaum's work to mainstream audiences, activists can be and are subject to such attacks.
What Total Surveillance Really Means
If you work for WikiLeaks like Jacob Appelbaum; or if you start movements against intelligence agencies; or if you write about the FBI/DHS/CIA & co without massive organisational backing, funding and visibility; or if you boldly and righteously declare to people in a position of significant governmental power that they should leak sensitive internal intelligence information about immoral government activity that should be in the public realm, then are flabbergasted and elated to find that they do so; or if you are involved in any serious research which is inconvenient or dangerous to the security state; or if you target any individual in the chain of political hierarchy and they get wind of what you've done; then the great Eye of Sauron feels entitled to, and does, make a point of of trying to know every single thing you do, say and think, 24 hours out of every day, 7 days a week.
It pays for the entire undertaking with a virtually limitless pool of tax money.
Even if Jacob was able to secure all his devices, his communications, his hardware and his personal spaces, he still could not do a damn thing to prevent external methods of surveillance intruding upon him. Satellite surveillance, which is used at the push of a button as readily as XKeyscore, PRISM or anything else, right down to private investigators mounting microphones and sound amplifiers pointed at Jacob's house and wherever else he frequents, are just some of those ways. Let alone HUMINT.
Therefore it is highly unlikely that any events that occurred within the supposedly private space of his home were actually private.
In yet another great irony, if anyone knows the truth about the accusations against ioerror – it is likely to be those who control the global surveillance apparatus, and I presume he would be well aware of that fact.
Listening to the stories being told about him, you would think Jacob a callous, foolhardy, exhibitionist. Every experience I've had of him and his inner circle (and no, I do not know them exceedingly well however, being in Berlin, they are very visible within the community) is that they were the opposite. Careful, reserved, private. Particularly wary of outsiders and newcomers.
Well aware that they are all targets and of the ways in which they could be entrapped.
Early on in my investigation into this giant debacle, it occurred to me that taking down Jacob may be part of a continuing series of major blows against WikiLeaks, stripping it of key allies.
It is election year after-all and as far as The Empire is concerned, Julian Assange is Enemy Number One.
The WikiLeaks Connection
One of the first 'corroborating' public testimonies against Appelbaum was a historic claim made by Leigh Honeywell.
I was instantly struck by the following passage from her blogpost, which at the time seemed anomalous:

Leigh identifies herself as siding with Assange's persecutors.
She says that she didn't 'fully realize how bad [her] own experiences with [Appelbaum] had been' until she saw him support Julian Assange.
The link in the above screenshot leads to a post she wrote in December, 2010.
In that post, she details the reasons why she thinks Assange is at fault, then says 'I'm tired of my friends being assaulted', and links to feminist blogs she has read on the issue, as well as other links she feels are pertinent to support her opinion.
The key problem with this, and which Leigh couldn't have known in December 2010, is that Assange's "victims" themselves say they were not raped.
From John Pilger's special investigation: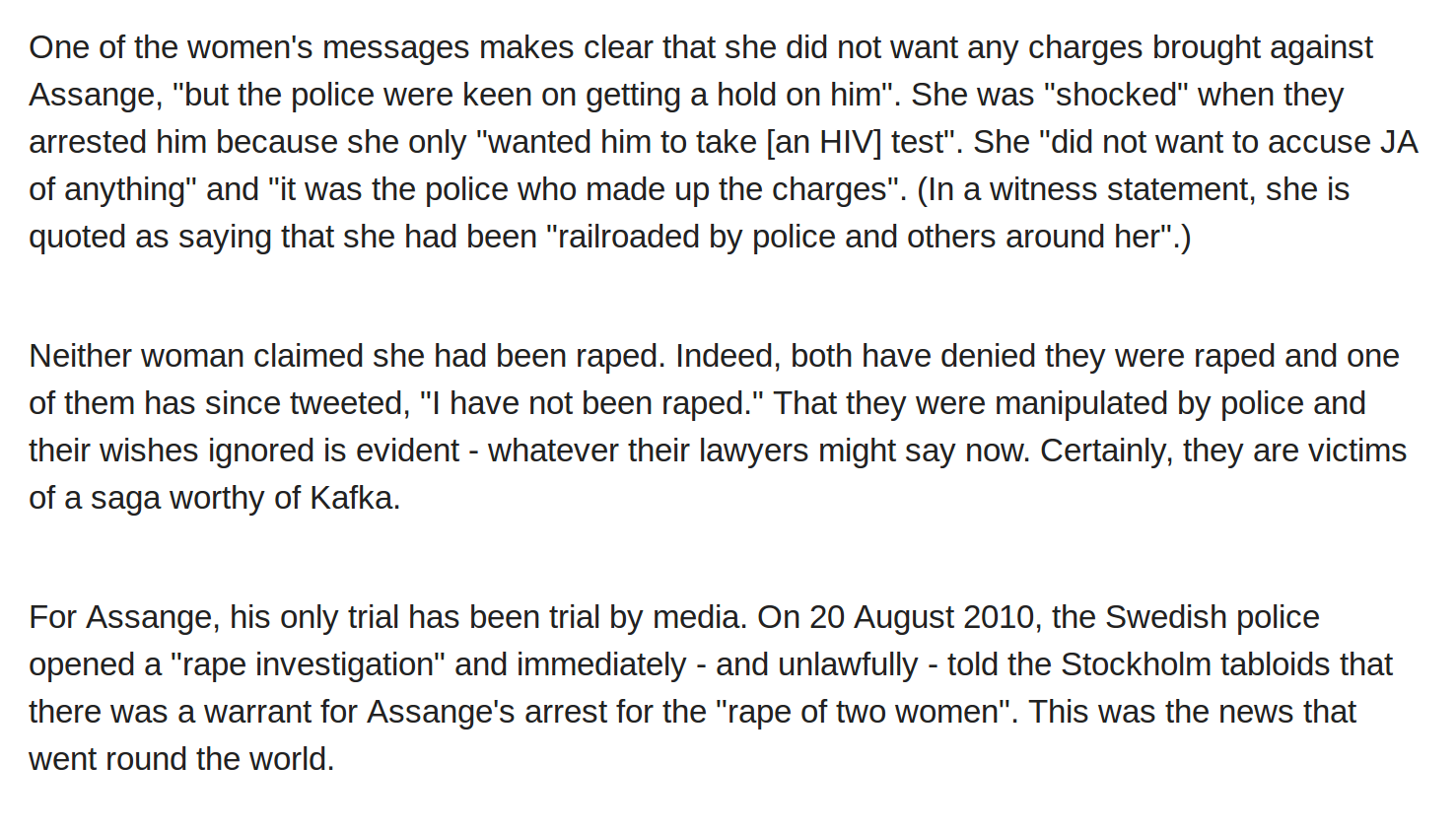 Pilger's source is an affidavit from the case.
The following passage is from this International Business Times article:

Honeywell might not be blamed for jumping to conclusions in December 2010. Many people did and WikiLeaks themselves didn't know about this evidence until December 2011.
But with the "victims" themselves saying they weren't raped, it certainly shines a different light on her position.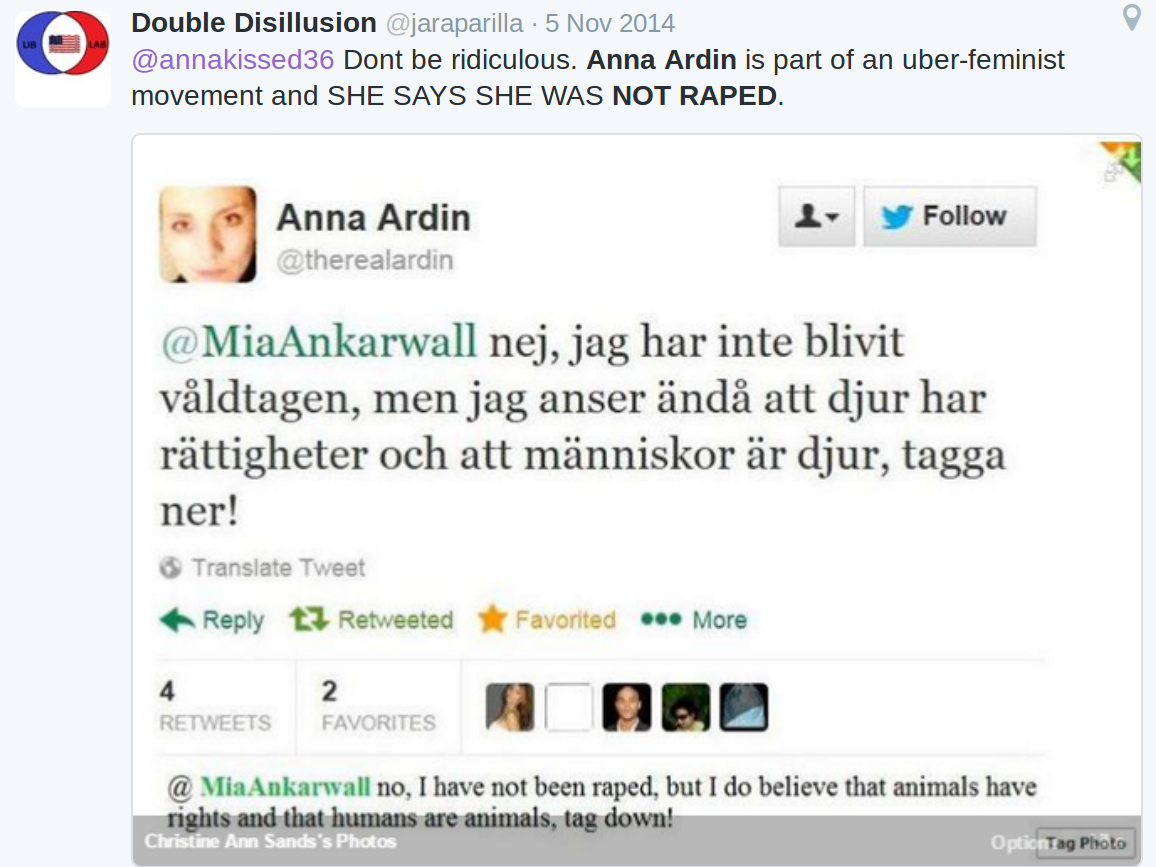 So if Appelbaum supporting an alleged rapist tipped the balance for Honeywell, but then the alleged rapist turns out to be innocent, where does that leave us?
Yet not only does Honeywell still blame Assange, she describes the allegations against him – as recently as this month – as "sexual violence".
Despite there being no allegation of such.
This made me wonder – what are the opinions and positions of Appelbaum's other accusers and key supporters, on Julian Assange and WikiLeaks?
Back in December 2015 – five years after Honeywell's post about Assange and four years after the text messages from the "victims", Honeywell has the following exchange: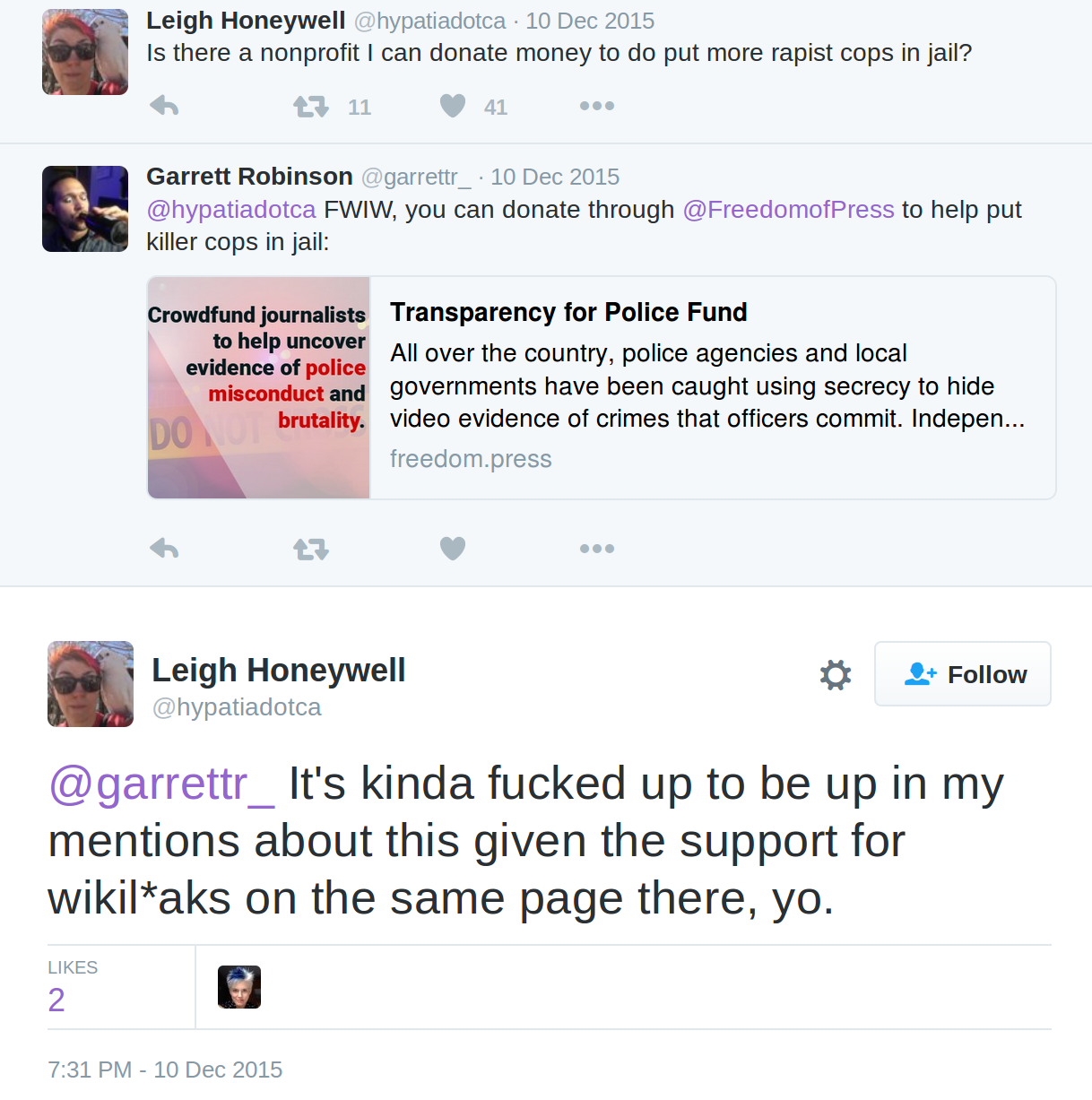 So Honeywell wouldn't donate to Freedom of the Press Foundation because of their support for WikiLeaks.
Her tweet is 'liked' by one Valerie Aurora.
Appelbaum Detractor's Takes On WikiLeaks
Vocal supporter of the alleged Appelbaum victims, Valerie Aurora has been quoted in the media about the case. From her Twitter account: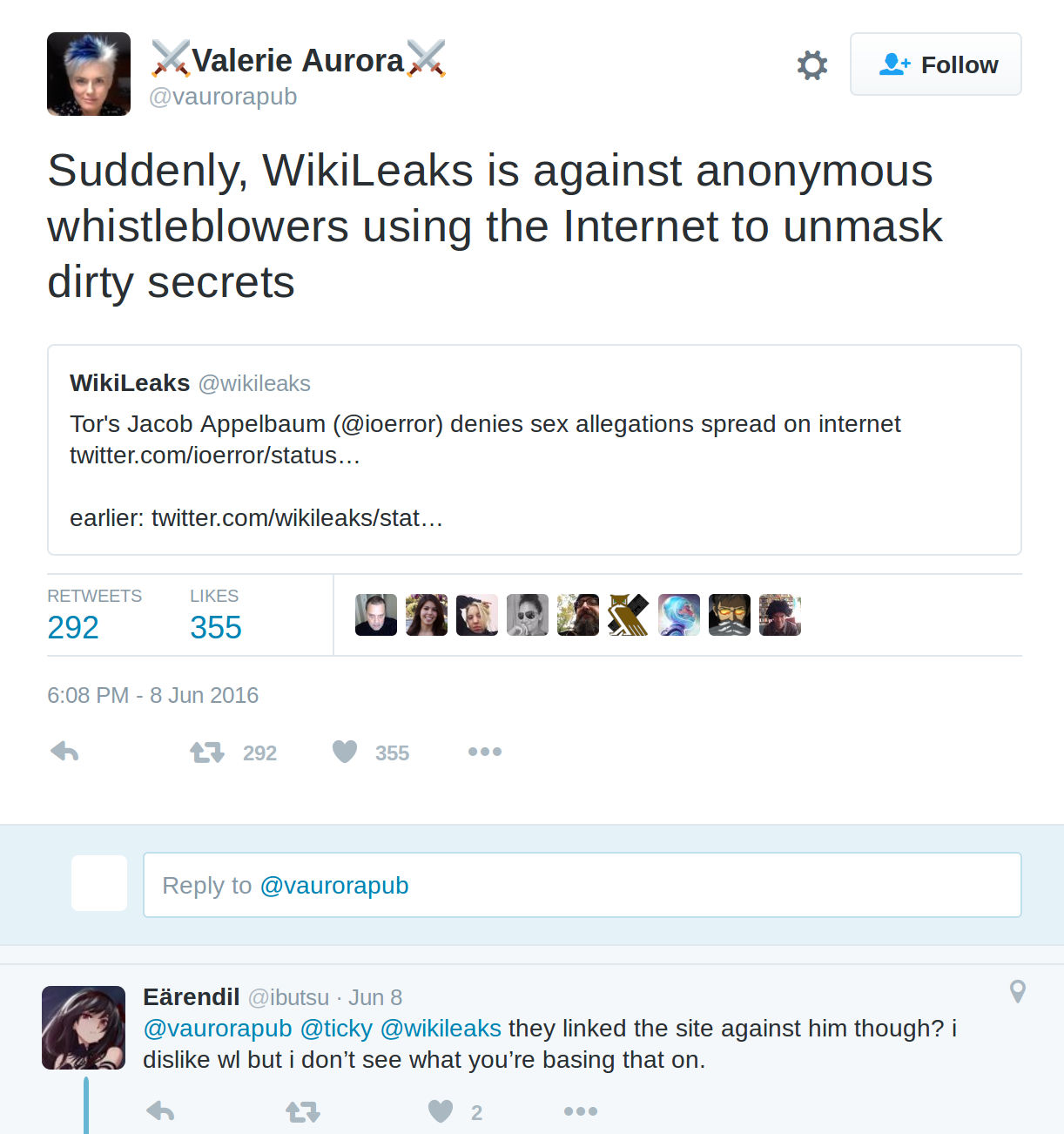 Yet as pointed out by the commenter, WikiLeaks' first tweet had in fact linked to the website featuring the accusations against Appelbaum. Its second, linked to his denial.
They did not take a public position (and still have not, to my knowledge) as being in favour of either side. Yet Valerie Aurora ostensibly deliberately, and quite ridiculously, extrapolates the benign reporting as being an attack on anonymity and whistleblowing, even though neither are even mentioned by WikiLeaks.
Tor Project employee Alison Macrina recently disclosed that she is 'Sam', the 'nonconsensual washing' bath story discussed in the first part of this article.
In that disclosure, she states "it took months to be honest with myself about what happened" and then alleges hearing of "often violent" behaviour by Jacob Appelbaum.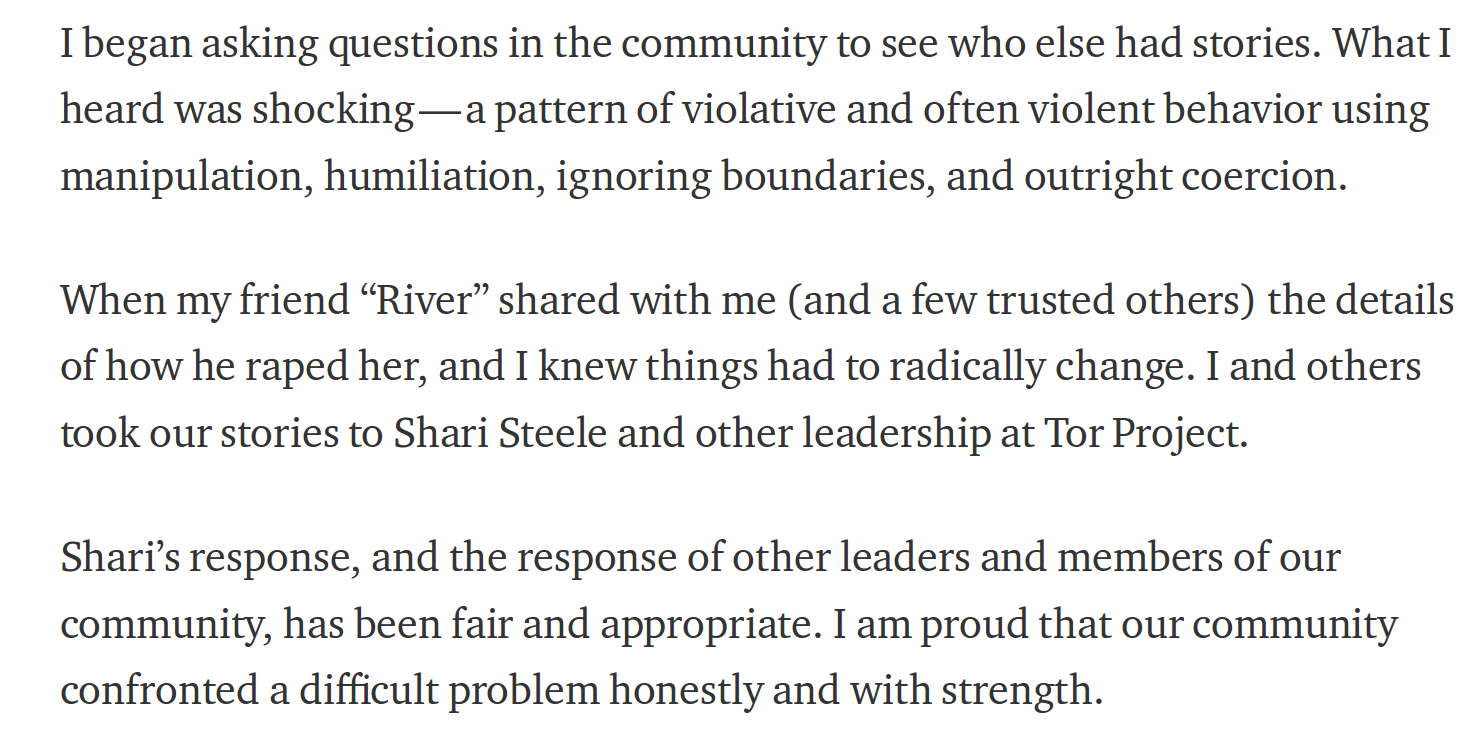 Much like the original 'Serial rapist' claim by @VictimsofJake, the 'often violent' claim seems to be completely unsubstantiated. Taking a protracted period of time to realise she'd been allegedly violated, however, is a recurrent theme in the allegations against Appelbaum.
It seems Macrina has also displayed past hostility towards Julian Assange despite her having shared stages with him as recently as March 2016.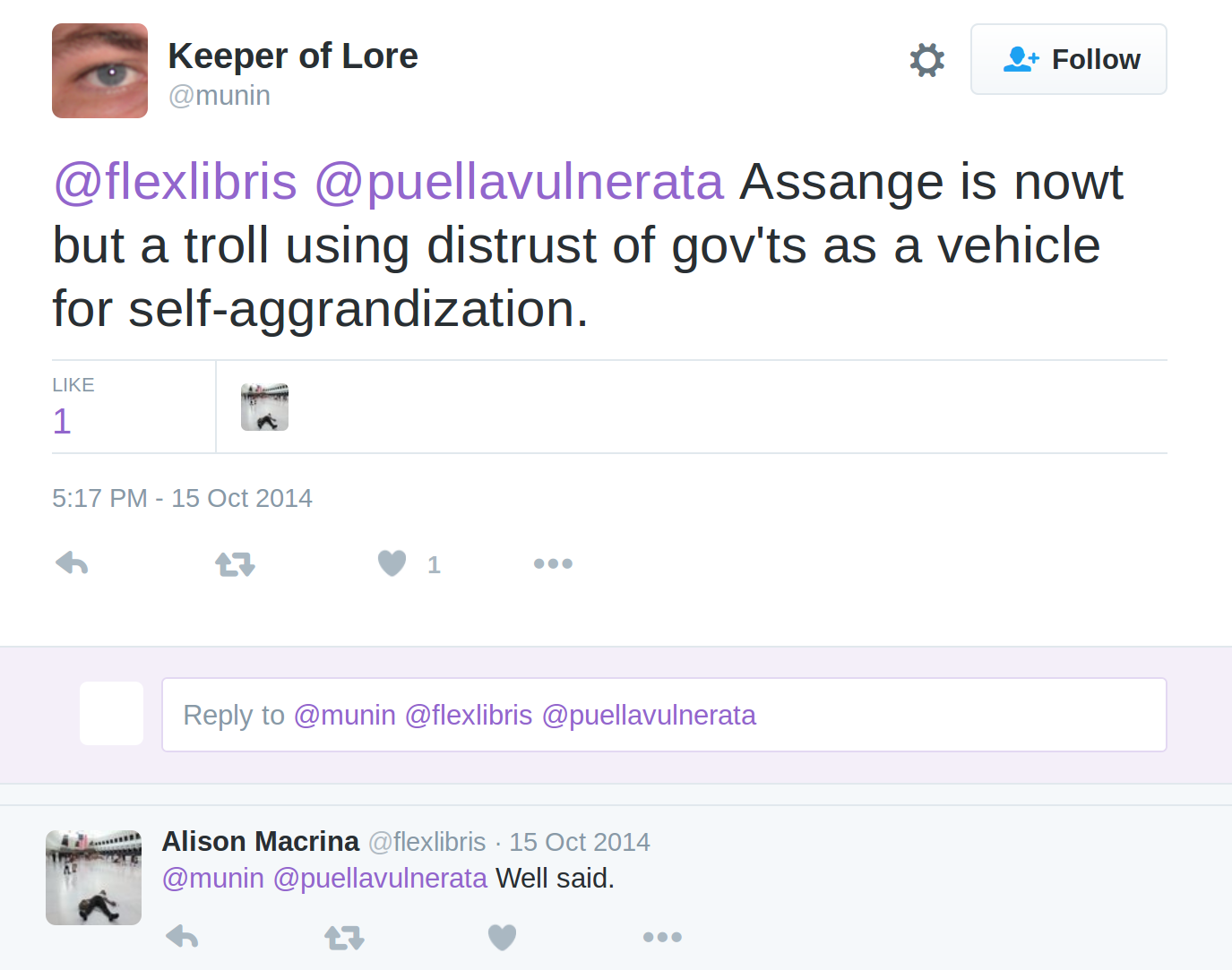 Macrina recently wrote the following tweet: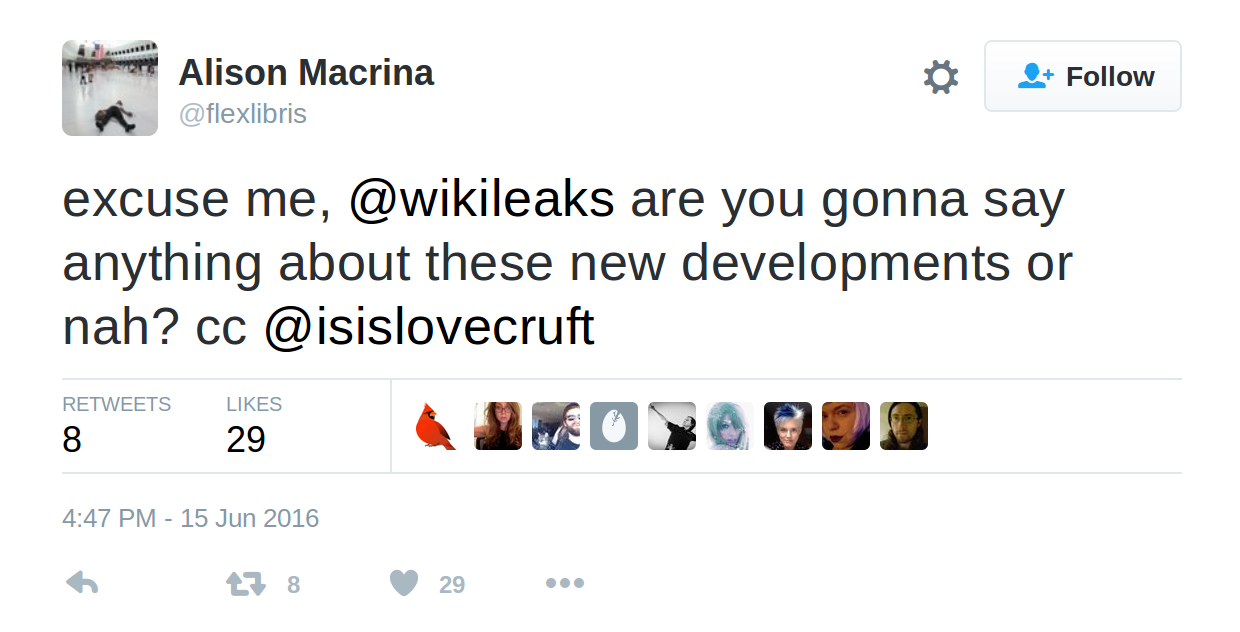 The person she has cc'd into that tweet, is someone who recently disclosed that she is the Appelbaum accuser "Forest".

Her post begins:

"…after two years spent trying to inhibt my rage and convince myself that I hadn't been hurt, followed by seeking out other victims.." – Isis Lovecruft
In a sub-section of her disclosure titled "The Plan", Lovecruft describes how she "first started out seeking other [alleged] victims", and had planned to group them together to confront him at a Tor event in Spain. Jake apparently found out, and that plan was set aside.
"Having run out of ideas and being threatened out of alternative options, I reported everything to the rest of The Tor Project. Well, almost everything. Originally, I only reported others' stories (with their permission). I left my own story out, and I did not tell it until it was decided that Jake would no longer be part of The Tor Project."
Despite repeatedly stating that she doesn't recommend filing legal complaints, (a position endorsed by many rape victims including myself who have had horrific experiences trying to obtain justice through law enforcement) Lovecruft strangely goes on to list a whole bunch of laws and accompanying sentencing guidelines that she feels would apply to Applebaum.
Curiously, these include charges that aren't reflected in the original allegations themselves, even if they are taken at face value, including: "Instructing a third party to rape the victim (§177 of the Strafsgesetzbuch paragraph 2, sentence 2), making it a "severe case"."
Although she attributes the application of this law to the accusations by 'River', those accusations do not state that Jacob instructed another party to rape the alleged victim.
Given the gravity of the situation and that both Macrina and Lovecruft are garnering hundreds of retweets effectively declaring the takedown of Appelbaum as a done deal, it is impossible to reason why the exaggeration of potential charges would be deemed necessary, or in fact the inclusion of them at all.
It is as if those references to laws and sentences exist only as an overt threat to Appelbaum.
Given the pattern of anti-WikiLeaks sentiment amongst the other accusers, I looked to see what Lovecruft's position was.
I saw this: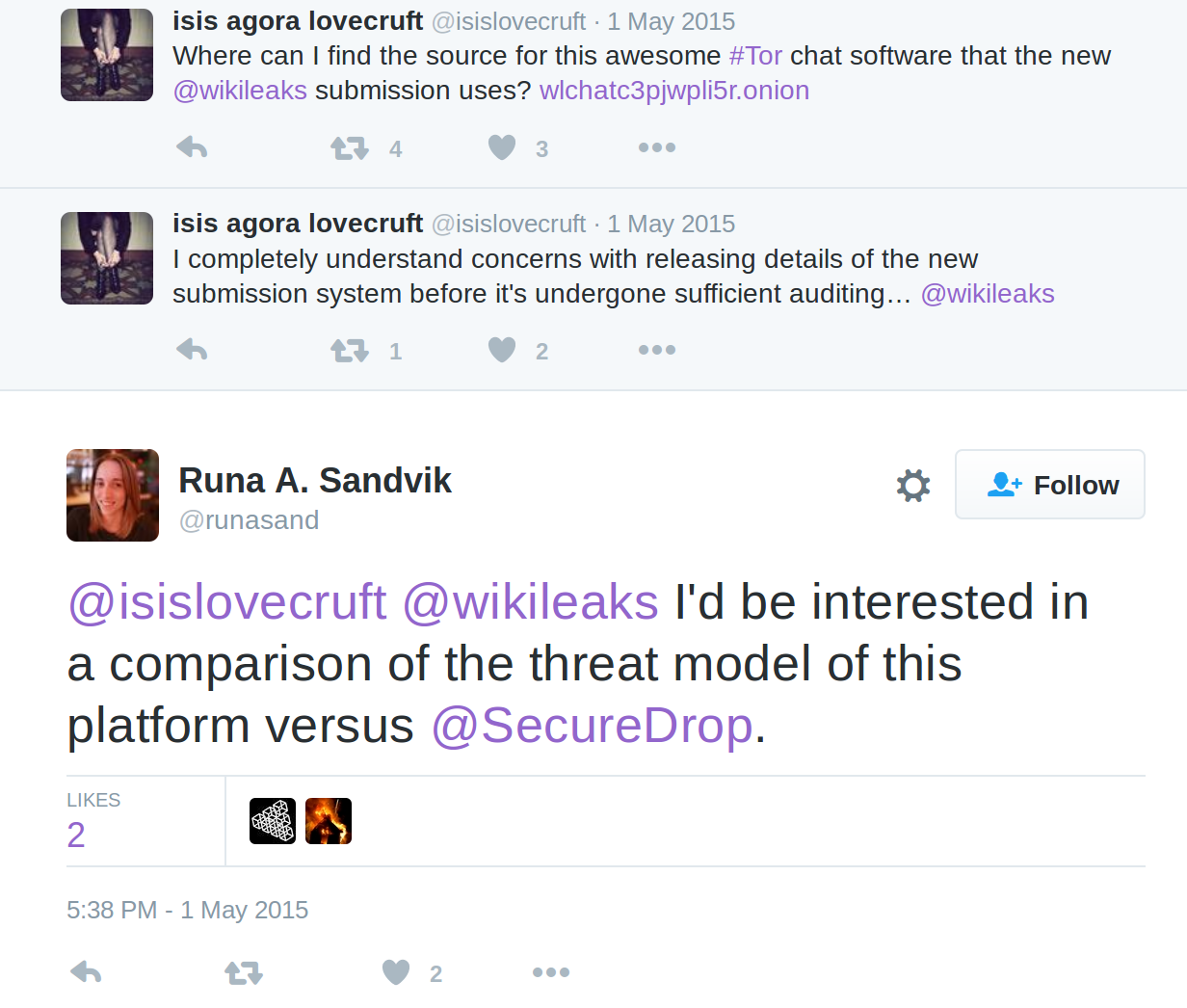 Then I saw THIS: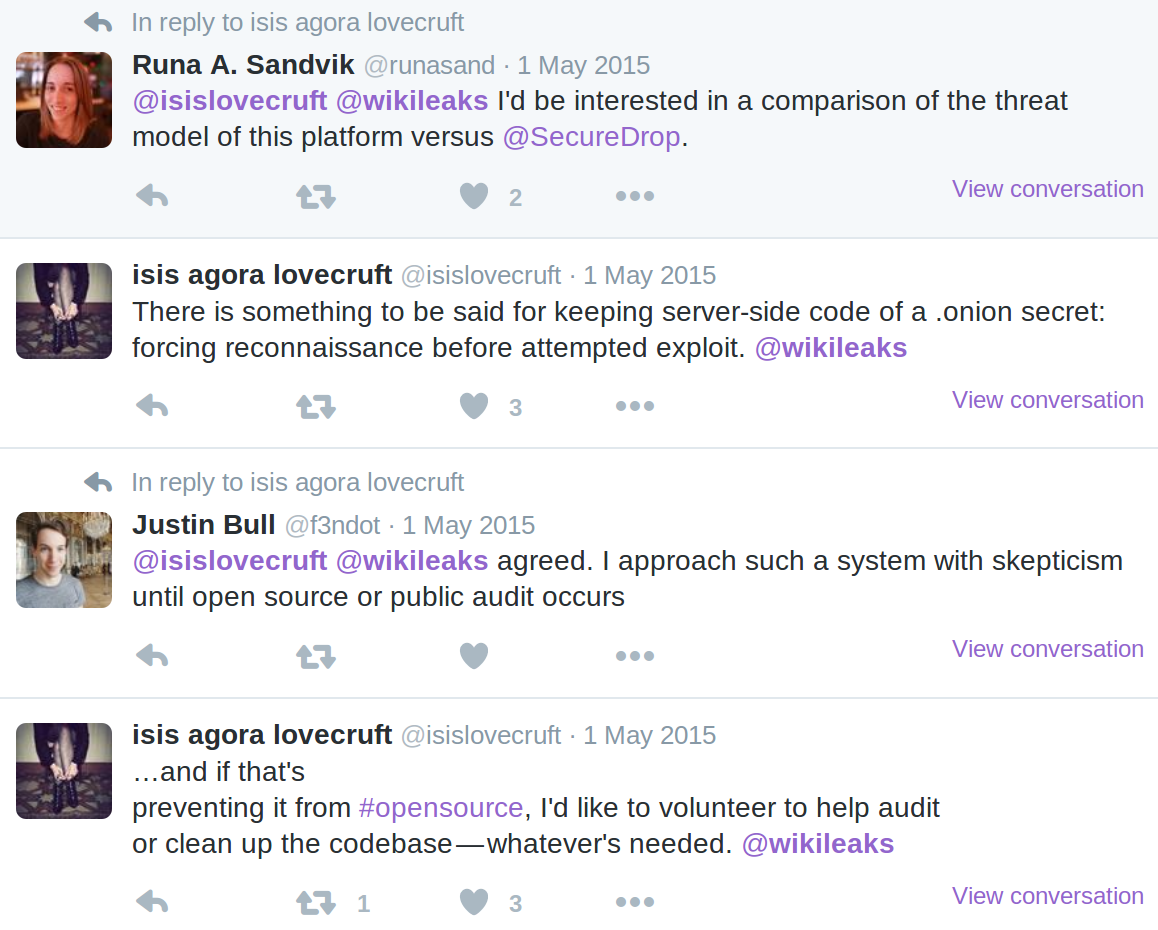 The bottom tweet on that thread is Isis Lovecruft effectively asking for access to WikiLeaks' source code for their whistleblower submission platform.
I'm going to say that twice.
The bottom tweet on that thread is Isis Lovecruft effectively asking for access to WikiLeaks source code for their whistleblower submission platform.
Who Is Behind The Website?
The identities of most of the accusers including the lone rape accusation, and of those who co-ordinated the launch of the site are an 'open secret'.
That said, I am not at all comfortable with revealing the name of anyone who has not already done so themselves in a public forum. I do believe that the alleged victims have a right to anonymity should they so choose to exercise it.
I have also received a number of communications from various people providing further contextual information. I am not prepared to and will not publish the names of, or information provided by, anyone whom I cannot independently verify and who has not given me express permission to do so. Therefore the information that appears in this article is restricted to what is already in the public realm.
Neither of the women who have made these recent disclosures outright admit to being a part of creating the website JacobAppelbaum.net, presumedly either for legal reasons, or because they actually weren't involved in the creation of it, or both.
It might also be because the site itself is a travesty from a privacy perspective. Non-HTTPS, with a stated JavaScript reliance and apparently lacking a no-JS fallback, which is used to make sure a site can be displayed, and forms used, by dated or uncommon browsers.
At the present time it is still not public which person/s actually registered, built, wrote copy for, curated and edited the site, although there are certainly many clues.
Some other people who came forward to media and were named as eye-witnesses to an alleged incident (which, as discussed in the first part of this article, was later disproven) were already named in my previous article, and that incident referenced.
They are Meredith L. Patterson, Andrea Shephard and Emerson Tan.
To the best of my knowledge they are yet to issue a retraction of or apology for their very public false allegations.
Meredith appears to be the root of the 'plagiarism' accusations against Appelbaum, of which there seems to be a tiny bit more light shed on in this thread, which really speaks for itself, both in terms of not actually appearing to justify any accusation of plagiarism by definition, and in her refusal to continue to engage on the subject.
While great pains seem to be taken by the accusers to validate the sexual assault claim, very little seems to be forthcoming about the claims of plagiarism.
Here is the first iteration of the JacobAppelbaum.net 'About' page: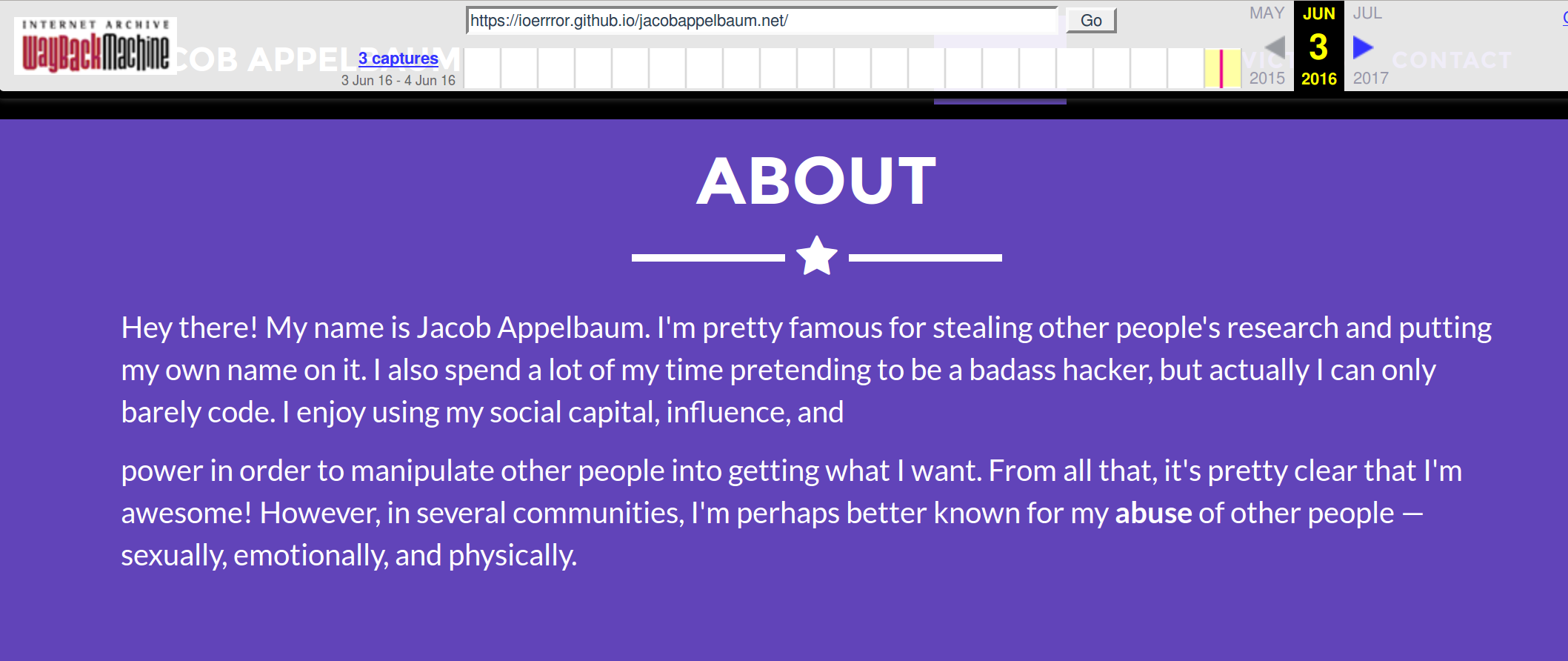 As pointed out to me by researcher Janine Römer, the About page originally consisted of five lines of text attacking Jake for everything under the sun except rape and sexual assault, then the claims of sexual, emotional and physical abuse are shoved into the final line.
Making it really clear where the writer's priorities, or where they felt the strength of their arguments, lay.
In this thread, Meredith explains why a person's behaviour off the stage and on the stage should be considered seperately. When someone argues that it shouldn't, Andrea Shepherd backs Meredith up. Meredith's theory is that if they exhibit unsavoury behaviour off the stage, you should separate it from their public speaking. She says if they exhibit their bad traits on the stage, you can kick them off the stage. But if they don't exhibit it on the stage, to leave them on.
I had a look to see what Meredith's take is on WikiLeaks.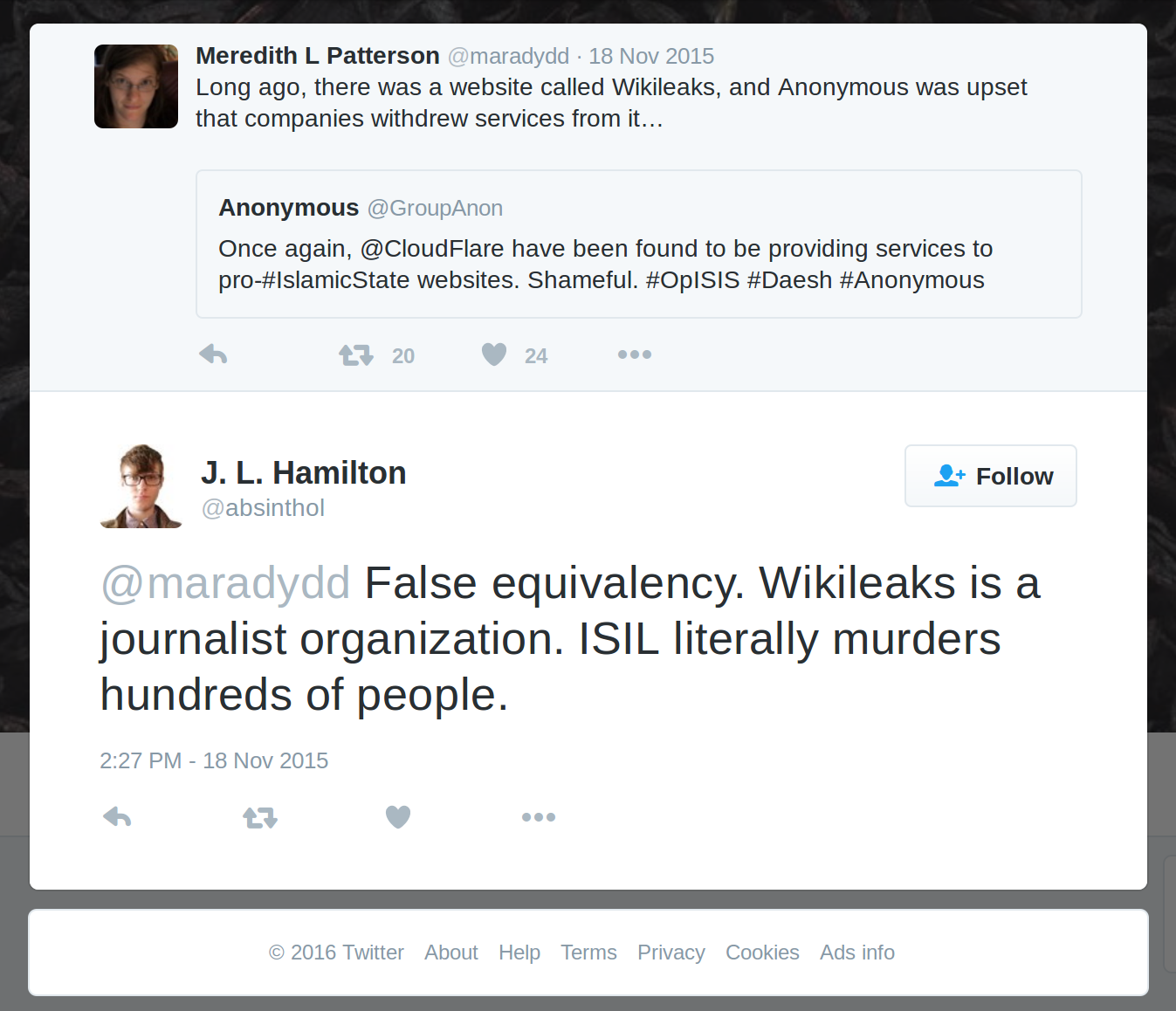 In 2012 Meredith decries "Assange supporters *attacking allies*" and says it "delights both's mutual enemies".

Given that the accusations against Appelbaum have been picked up and are being run with 24/7 by every known anti-Snowden anti-WikiLeaks anti-Assange anti-privacy pro-govt and anti-Tor troll under the sun, the above is just plain ironic.
Targeting an iconic essay by Assange in the book 'Cypherpunks' – "A Call To Cryptographic Arms";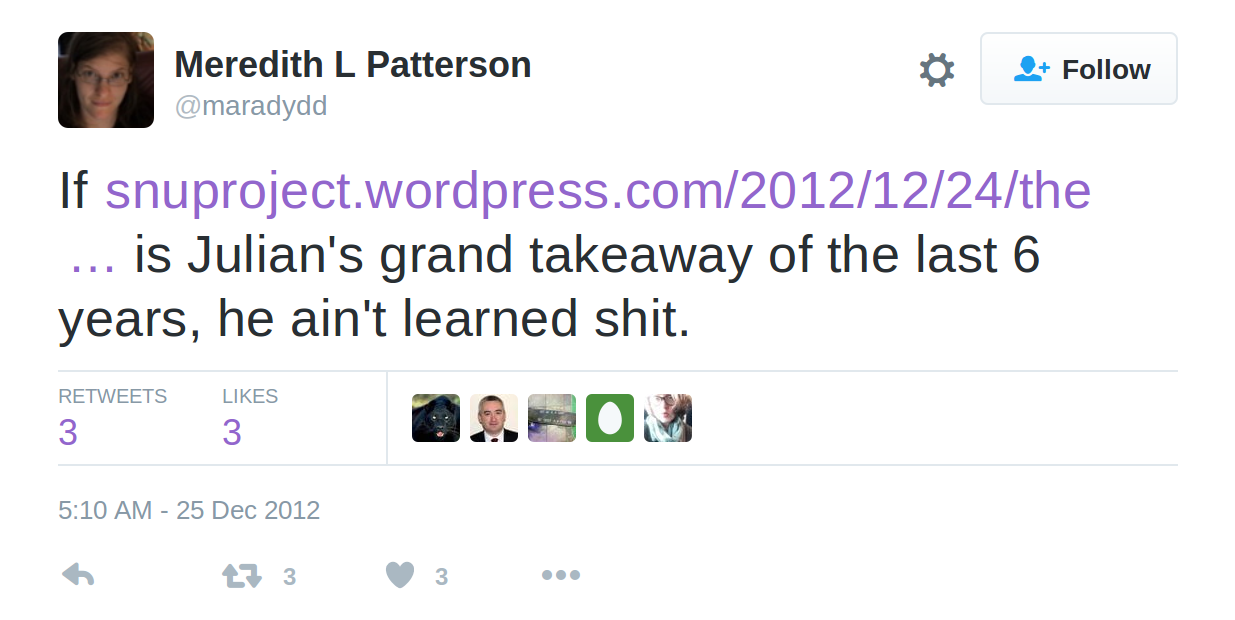 Given sentiments like that, it is getting harder and harder to deny that WikiLeaks, rather than Appelbaum, may be the utimate target here.
Despite the statements of the women involved in Assange's case actually exonerating him, Andrea Shephard agrees with a commenter that she sees "parallels" between the women in both the Assange and the Appelbaum allegations:
Previously, to her credit, she had rightly been critical of the New York Times' tabloid-style reporting about Assange.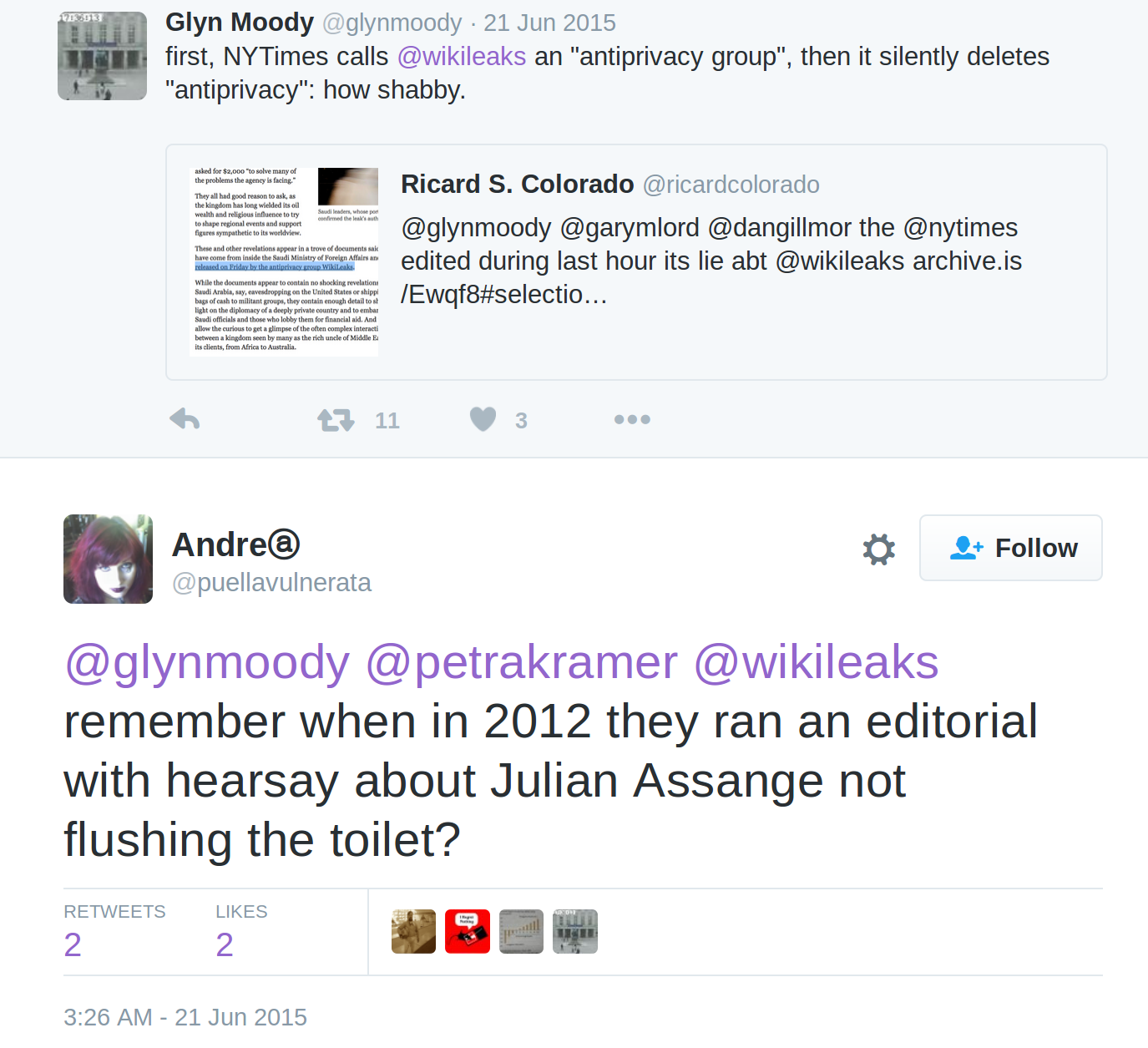 However there is more derision of WikiLeaks by Andrea.
Manhunting WikiLeaks
Stepping back to 2010 again, we discover where Tor and WikiLeaks really intersect.
The manhunt of Julian Assange.



In the same time period as FBI agents were showing up in New York looking for Assange at a conference, and he was being 'manhunted' by the Pentagon, WikiLeaks identified Tor as being a core part of their infrastructure, and asked their supporters to use and help strengthen it.
From Glenn Greenwald and The Intercept's analysis of Snowden documents relating to the WikiLeaks 'manhunt':

So according to the US Government, "non-state actor Assange, and the human network that supports WikiLeaks" are the dangerous ones.
As opposed to everyone named in this article who publicly kick the shit out of WikiLeaks.
Women Protecting Women
As much as I would have liked to wrap up this article and never have to write about it again, it seems inevitable that there will eventually be a 3rd part.
With the creators of the site still not yet taking reponsibility for it, Jacob's enduring silence and the key sole accusation of an actual rape occurring and the context of that remaining obscured, it is highly unlikely this is the end of the saga.
The primary complainant is being sheltered behind a periphery of other women complainants. If this is truly for her protection that is admirable. But if that person is indeed being sheltered to prevent the discovery of other profoundly mitigating information that would dramatically change the overall depiction of this situation, the effort is not only corrupt but is in vain.
The truth will out.
When it does, the 3rd part of this series will be titled "The Weaponising of Social Pt 3: The Resurrection of Jacob Appelbaum".
What caused me to write these articles was not a wish to protect Jacob, or to befriend him. We are not in direct contact, nor have I sought to be.
The "risks" (in terms of that hideous and constantly flung-about term 'social capital') far outweighed the gain for me but if I was risk averse out of self-interest I wouldn't be me.
I am speaking out because of all the reasons above, below, aforementioned, and yet to come.
Why Did I Continue Writing, When His Accusers Are Already Celebrating?
Because there is clearly more to the story than is being told, much, much more. I will not sit idly by while the life of a genuine radical is dismantled by women of privilege bizarrely aspiring to victim status who want to take him down in the name of representing rape survivors.
The initial and most serious allegation of all, that Jacob is a 'serial rapist' is clearly utterly without merit. It is additionally frankly offensive that an alleged 'rape' testimony sits alongside what by contrast seem to be frivolous complaints. Is there such doubt in the original claim that it couldn't stand alone? Does it really need to be surrounded with circumstantial accounts of what, by comparison, are the most minor of alleged infractions?
Has sexual assault really now come to mean 'anything I found uncomfortable, was upset by or was unable to deal with'? From being kissed, to bad jokes, to being propositioned, to being pulled into a bath and washed, to having someone out the fact that you were dating a workmate in front of your workmates?
Who hasn't had these things happen? Why don't we just declare everyone on Earth a victim? Because when you actually are a survivor of a violent rape, you understand clearly what the difference is.
Presenting common social occurrences as being tantamount to sexual assault, or even posting them on equal ground alongside them, profoundly trivialises what real rape and sexual assault are.
Likewise these accusations of 'violence' in terms of the use of the word 'rape' fall well short of the violent rapes that are genuinely prevalent in society – violent, horrific rapes that occur every single day all over this planet – especially to teenagers, street-workers and the homeless. Particularly to women of colour. For some people rape is a seemingly constant experience. There are women who can't remember how many times they were raped. There are victims of domestic violence and incest who are raped for years on end.
Is it really necessary for the accusers to assemble a list of everyone their accused ever offended in his adult life, in order to lend their testimonies credibility?
The lack of victim impact in the statements is massively disturbing. It is as if the statements were written and/or edited by women who are not victims at all.

I have highlighted that in bold type because it is such a profound and obvious discrepancy. It sticks out like a sore thumb, across all of the testimonies.
There is constant complaint of power imbalance and fear of reprisal but no tangible complaint of ongoing personal emotional ramifications from these alleged experiences, other than embarrassment. No claim or description of lasting harm. This contradicts everything I have seen, witnessed and personally experienced over the years, and I find it impossible to ignore.
If you don't understand what victim impact is, let me spell it out for you.
I was abducted from quite literally the central street of my city. I had to walk up and down that street countless times in my life since. Every time, swallowing the memories. Feeling that the concrete under my feet, my very city, had betrayed me.
I was gang raped at night in the rain on a children's playground at what Americans would call an elementary school. I knew that the next day, little children's feet would be skipping over the asphalt where I lay, or playing hopscotch. It haunted me for years. (Massive understatement). I still remember the feeling of the asphalt, the feeling of the rain (which far from soothing, felt like a karmic betrayal in itself; it was just wet and cold and utterly miserable), and anytime I went near a school, I relived the experience as if it was floating in front of my eyes like a translucent movie superimposing itself over my vision. For months if not years afterwards, you walk around in a semi-stupor, as if you are inebriated, out of focus, because you are seeing two things at once – what is in front of you and what is behind you.
The sign at the front of the school is forever burned into my mind's eye. Because when I saw it, I still didn't know whether or not they were going to kill me, so I was trying to memorise everything I saw in case I survived. I constantly had the irrational urge to go to the school and demand that they close it down, because it seemed too sick to allow young children to play every recess and lunchtime on the very ground where a woman was gang raped. Even though I knew on a subconscious level that the closure of an entire school was a ridiculous and extreme measure that would never manifest. For years I wondered inane irrelevant things… had the teachers been told? Did the caretaker know? Did the student's parents know? Even though the school was in a part of town I had never been to in my life and would never go to again. A part of town where I knew no one. Even though the actual location where they did that to me could have been anywhere, I was transfixed on the specificities.
You see, it is not merely the act that is grotesque and destructive it is the haunting. The way in which completely normal things become utterly poisoned by the experience: in later years, going to events at my children's school and wondering if anyone had ever been raped on their playground. Being triggered by the back seats of cars. By petrol stations. By things you have to see again every single day, and somehow have to learn to live with, or else drown in the pain.
It is this haunting, and the profound emotional after-effects, which take a horrendously long time to begin to fade, All of your relationships are affected. No matter of what type. From re-learning how to answer when a stranger says "How are you?" To how to face your parents. How to explain to your friends why you stare off blankly into space when they're trying to talk to you. How to make love again without fearing an impending act of violence with every touch.
Your very identity is internally called into existential question.
There are a hundred, a thousand more intimate details of aspects that haunted me, which I will not detail here because they are utterly disgusting and despicable and it is frankly no ones business. It took a significant portion of my life for the memories to start to not be so jagged, the triggers to not be so visceral, all-encompassing.
Generally speaking, I actually consider myself healed. Enough so that I don't feel physically ill anymore. I am finally able to live in the present now.
I am re-opening that old wound for the sole purpose of demonstrating for you all what victim impact is. It is hideous and embarrassing to have to do but it serves a greater good. The difference between the Stanford rape survivor's victim impact statement and the allegations on the Appelbaum-hit site should be abundantly obvious to even the most casual observer. Seven supposed testimonies on that site and not a single one describing post-trauma victim impact. It is not a coincidence.
They have conflated common tenets of rape culture with actual rape.
There was a time when a trigger would cripple me for an entire week, then eventually just an entire day. Now when I read the Stanford rape testimony – all 7,500 words of it, I just press my clenched fist against my mouth, squeeze my eyes shut, tell myself 'breathe, breathe' for a few seconds and then I can resume reading.
I can tell you exactly how many triggers I had while reading that testimony. Three. And its been 17 years.
Victim impact is what made the Stanford rape victim's account so compelling, because real rape testimony cannot be manufactured.
Sadly, with the level of co-ordination behind their efforts and realising that they've been seen right through, I wouldn't be surprised if they have a belated go at it now, so vociferous is their opposition to Appelbaum, so fervent their stated desire to prevent him speaking truth on stages. Still, they will fail.
Survivor status is not something to aspire to or to claim lightly.
It is an indescribable burden.
Ending Appelbaum's Career
The constant demand that Appelbaum, who so directly confronts superpowers, stop doing so in the name of victims is just plain suspicious.
What is being exercised by his accusers is the power to harness social media to cause mass distraction and brutal damage, to their own ends.
In practice, their demand for the utter exclusion of Appelbaum entails preventing him from continuing to explain to Persons of Interest the precise ways in which the agencies trying to torture and kill us on taxpayer dollars are doing so.
Information that has been of extreme value to targets and should be also to the public, who largely remain blissfully unaware of the full extent of what is being done on their dime.
Information that he has long been circulating that, more than an inconvenience; is an extreme danger to the perpetrators of torture, rendition and murder.
Information which cannot be replaced by a bunch of Tor developers waxing lyrical about safe spaces and self-care while ripping our community apart.
Just try self-care on for size if 3-letter agencies have decided they want to actively destroy your entire existence. I wish you the best of luck.
Mammoth resources – literally BILLIONS OF DOLLARS – are being wielded against people like us, and the too few truly combating it, those like Jacob and Julian, are constantly under life-threatening attacks, including from personalities in our own movements.
I would be far more sympathetic to a description of how the state interferes with and meddles in every single aspect of the lives of Persons of Interest as being 'rape', than I am someone being kissed in a bar or propositioned at dinner, or embarrassed in front of workmates.
POI's are unable to hold down a job because the state will not allow them to have access to funds or employment. The Empire literally destroys any and every opportunity that comes their way because one of their main priorities is to not allow POI's to have any assets or sustainable resources. They set teams of HUMINT against POI's in the workplace, in domestic spaces, in social spaces.
(Don't believe me? The Snowden docs aren't academic. They are an in-practice guide of what is still happening every single day.)
At least that kind of all-encompassing trauma comes closer to the after-effects of an actual rape because it fucks up your entire life. But for those who have made a career out of privacy, those who came to it from academia or because they work for an NGO, or because it is "The Scene" – or because they heard about it in some cool videos – guess what? You might be monitored but you aren't individually targeted. Any more than someone who has been hit on or propositioned is a sexual assault victim. You live in a bubble of luxury – a meritocracy as you call it – where you can actually make something of yourself despite being monitored.
Unless a gang of people and their group-think activism come after you and do the government's work for them.
For first they came for Julian Assange… then they came for Jacob Appelbaum.
Real militant truth-tellers can only run and hide and seek refuge however and wherever they can, while telling as much truth about The Empire as they can, in whatever time they have left before they are taken out of the equation. The truth is not permitted in this day and age. The truth is not published by Dell Cameron in The Daily Dot. If it was, they would have Michael Hastings'd him. Yes, my hero, and that of thousands, Michael Hastings, is now a verb. You won't see Dell running articles on how we know for a fact electronic weapons are being used on human beings, on activists and (truly radical) feminists, on journalists, and have been for years. Or how Julian Assange's vanguardism through WikiLeaks, which the WikiLeaks detractors are all busy shitting on, is the only reason we even know that. Nor will you see the Guardian writing that, or Violet Blue, or any of the half dozen publications that it is now claimed are interested in running more stories about the accusations against Appelbaum.
Have a guess how long any mainstream journalist would remain employed if the manufacturers and sub-contractors making, distributing, experimenting with and selling electronic weapons became their subject of choice.
The last person to seriously go after that network was Barrett Brown.
Instead everyone wants to play popularity contest, and protect-my-job'ism, and be-politically-correct'ism, and listen to each other wax lyrical about power and social capital and solidarity, while the bodies of real POI's, activists, journalists, hacktivists and lawyers stack up around them.
While they sit in comfy chairs critiquing WikiLeaks and convincing themselves that they are "dangerous together", hardcore supporters of WikiLeaks are being taken out one by one. People are losing their LIVES, their citizenships, their liberty. The biggest investigation in US history is ongoing – remember why the FBI supposedly wants to talk to Isis Lovecruft?? Because they're already after Jake and WikiLeaks. Yet these women are now writing congratulatory tweets about how they took down someone who is actually an FBI target.
The difference between the instances of alleged sexual assault and all the other superfluous crap that has been kicked up could stretch from the North Sea to Antarctica.
The way this campaign against Appelbaum – and let's be frank, that's exactly what it is – has been conducted is a disservice to rape victims, a disservice to activism, a disservice to the privacy community and a disservice to humanity.
Somewhere the heads of the agencies that harm us are rubbing their hands together with glee at our own-goals. Proposing toasts. Laughing at our collective foolishness. Exactly what Meredith once accused WikiLeaks supporters of, Appelbaum's detractors are fulfilling. That is their legacy.
Every time this scandal is used to smear Snowden, to smear Assange by association, to hurt WikiLeaks, and subsequently all the whistleblowers and journalists they support through the Courage Foundation, Freedom of the Press and anywhere else.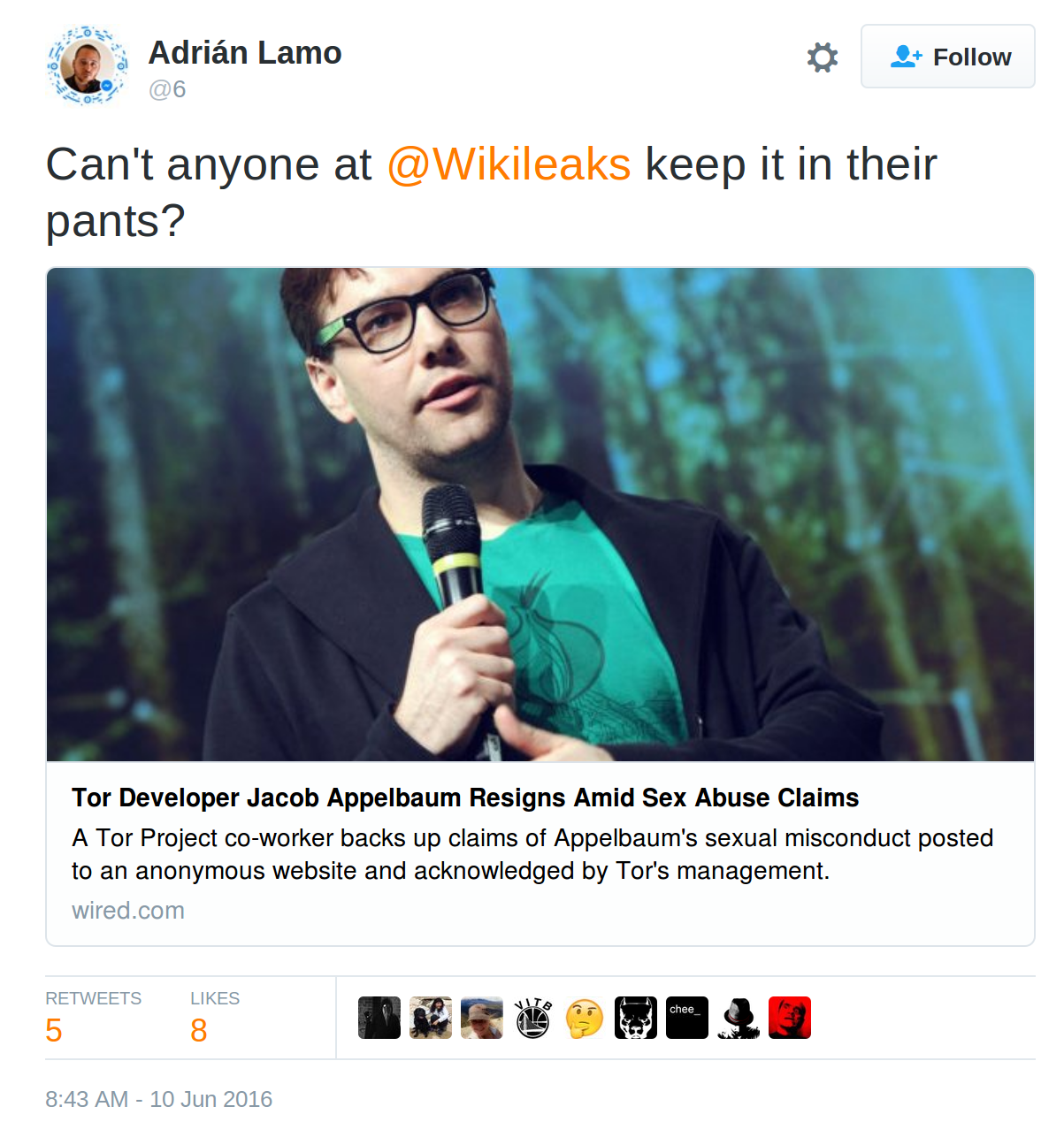 The above tweet using the Appelbaum allegations to disparage WikiLeaks is authored by the FBI snitch Adrian Lamo. Lamo is responsible for social engineering the heroic whistleblower Chelsea Manning, who as a direct result of Lamo's manipulations, was arrested and sentenced to decades in jail.
For the next 5 years, this hit on Appelbaum will be used to undermine everyone whose life is actually on the line. It is already happening.
Dear Jake
If someone passes you this to read and you make it past the reminder of my terrible joke, the documentation about the electronic weapons, the umpteen stupid tweets from foolish people, and the example of an actual victim impact statement, to this point: here's my unsolicited advice.
You helped start Noisebridge? Start another collective. Make it invite only. The most skilled of the skilled will continue to work with you just as they continue to work when targeted by the same shit themselves.
Funding-dependent conferences jumping on the CIA bandwagon? Start your own conferences. They don't even have to be attended in person. Put up a black sheet and tell us the truth Snowden-style. We will still listen, be inspired by it, and share it.
Your audience will follow you.
Because to be honest, we don't give a flying toss how many new libraries are running Tor nodes nor do we want to spend hours on end listening to a bunch of pseudo-"victims" waxing lyrical about the inherent violence in their non-violent would-be-rapes.
We want to hear about what you described as those who operate on the dark edges of society – the agencies, the contractors, the sub-contractors, and the technology they use against anyone that they perceive is standing in the way of their fantasy of global domination.
You helped build the following that the deluded think they can usurp.
You can do it again and time will tell all truths.
Karma Rules
Karma rules and I suspect that there are many, many more revelations to come. They will come from people way smarter and more accomplished than me. So I am going to set this aside for now and do what I do best.
Writing, for free, about which country the CIA wants to pass new laws to legally-illegally kill people next, or why we are being taught to hate refugees, or what immoral weapons of torture are being used against Persons of Interest in the shadows of the mainstream, or what the Prime Minister of my country, which exiled me after trying to kill me, has been up to with his dodgy lawyer.
In the meantime, Appelbaum's accusers will continue collecting their salaries while sticking Jake's head on a pike and dancing on his grave. THAT is their privilege.
Trading on the profiles they have gained from sitting on stages that WikiLeaks' support of the Tor Project put many of them on in the first place.
Click here to read Part 1: The Crucifixion Of IOError
Click here to read Part 3: The Resurrection Of IOError
Written by Suzie Dawson
Twitter: @Suzi3D
Official Website: Suzi3d.com
Please note: further source links and supporting materials may be added to this post given time.